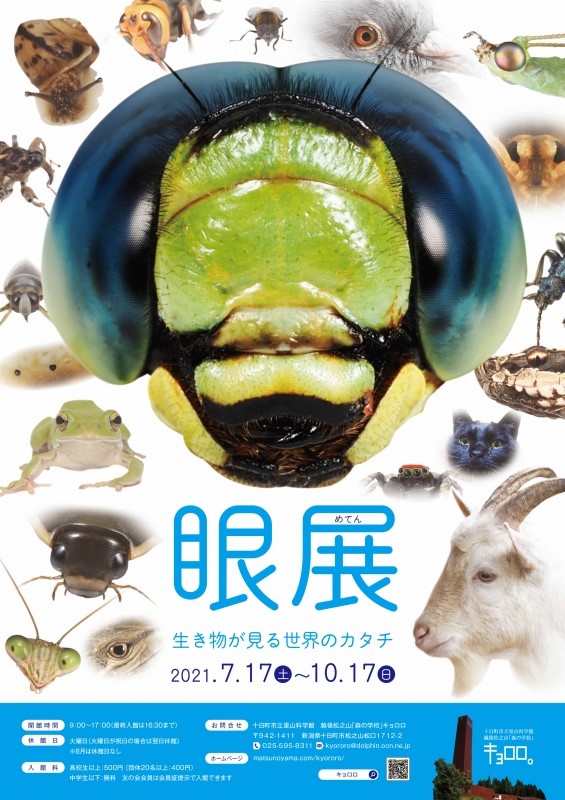 Summary
Kyororo is pleased to present a special exhibition "Visions: the shape of the world seen by living creatures" featuring "eyes" of animals, opening from Saturday 17 July 2021.
Information taken from eyes dominate most of the information processed in the human brain. More than 90% of living creatures have eyes and visions play an important role for lots of animals. How do these living creature see the world? There are so many different shapes and functions of eyes and thus  "how the world is seen" is different to each animal. This exhibition will introduce the diverse aspect of eyes of living creatures of satoyama including insects, spiders, frogs, snakes and birds and show how they see the world.
【Duration】
From Saturday 17 July to Sunday 17 October 2021
※ Closed for changing exhibitions between Monday 12 to Friday 16 July 2021
Highlight of the exhibition
The exhibition helps you gain insights into mechanism, function and evolution of the eyes of various animals with photographs and illustrations. Moreover, visitors can also learn about the eyes of insects and frogs living in the surrounding satoyama through their living bodies and specimens as well as participating in the quize rally. The special spot designated to observe beetles will return in the COVID-19 safe setting this year.
Related exhibition
We have been working on the digital archiving of natural history materials, mainly specimens and organisms in our collection. Working with Mr Hashimoto Norihisa, one of the participating artists in ETAT, we will print out some of them into a size of human in high resolution and display them including newly created one outside. You will be truely amazed by the beauty of the forms and diversity of familiar insects.