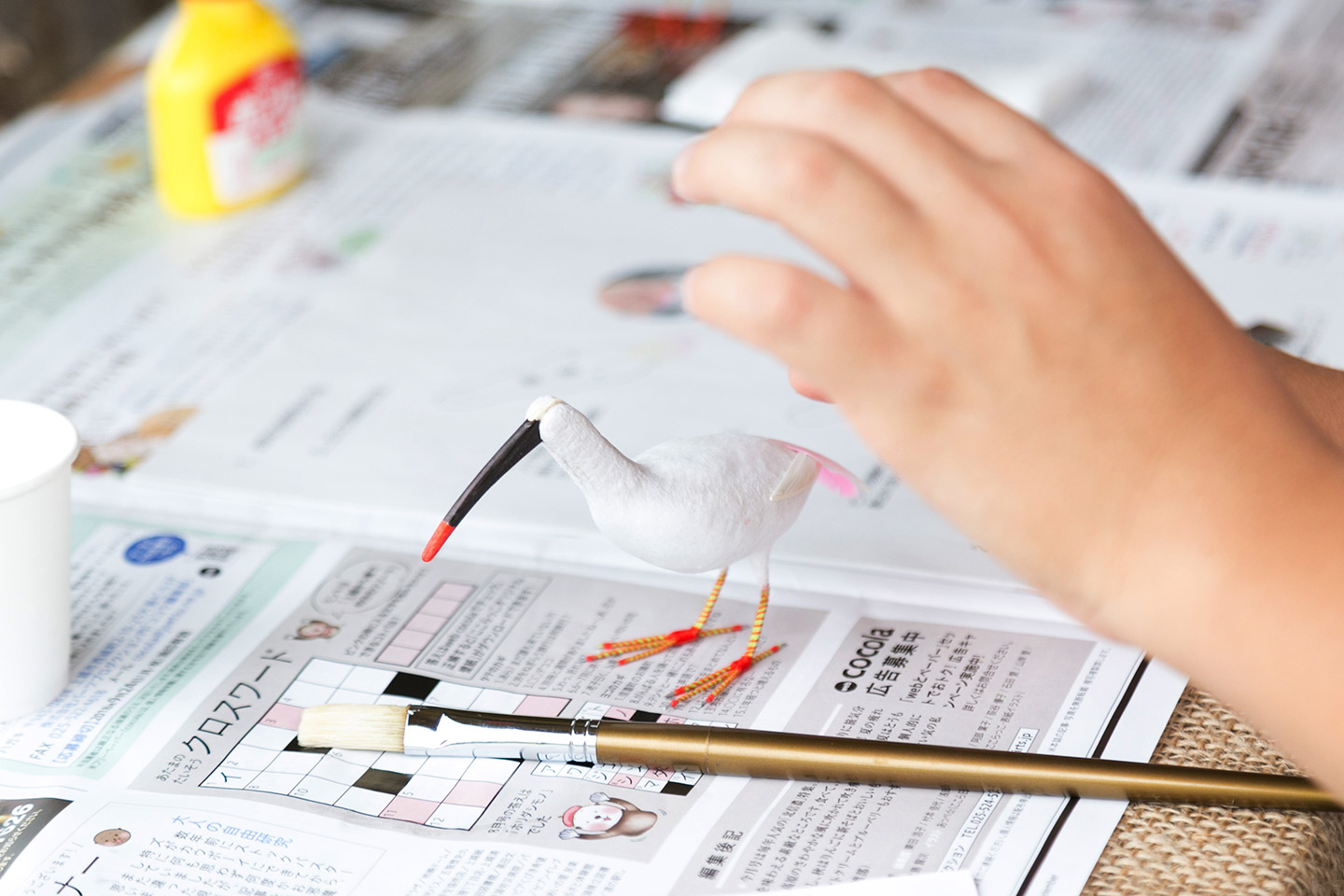 Summary
Satoyama Art Zoo: Social Distancing of Animals
Animal sculptures by approximately 25 young artists are presented on the large lawn. Farmers in satoyama have co-existed with wild animals as they have kept the appropriate distance from them. Animals also understand well about "social distancing" with their instincts of the wild. The artists express such animals through sculptural works.  This year, several fun workshops have been organized as well. Please come and create your own memories in Satoyama!
*It is possible to participate in multiple workshops on the same day.
*Kids who participate must be companied by adults.
---
(1) Workshop for making a handmade little bird "silvereye"
"Wild bird kokeshi" is a craft that is hand-made by local mothers, and has been loved by visitors as a souvenir.
Local mothers make "silvereye", a little green bird who drinks the nectar of cherry blossoms, and "Ruddy Kingfisher", a red bird that is the symbol of the Matsunoyama area. Let's make a little cute bird under the lecturer's instruction!
*You will be able to take home the bird after you have made it.
Instructor: Fukuhara Natsuki
Date: August 5 (Fri.)  14:00-,  August 19 (Fri.) 14:00-
Place: Nakago Green Park (Nakago Green Park, 2930-3 Ueno, Tokamachi City, Niigata Prefecture)
Fee: 1200 yen per person(cash only)
Capacity: 15 people
Duration: about 1 hour
Reservations: Reservations required
---
(2) Workshop for making a little baby rabbit for yourself!
While seeing the big yellow rabbit who got lost in Green Park, let's make a little baby rabbit together with the artist. You can bring it with you and decorate it in your room.
*Kids should be companied by adults.
Instructor: Watanabe Motoka
Date: August 13 (Sat.)  15:00-,  August 20 (Sat.) 10:00-17:00
Place: Nakago Green Park (Nakago Green Park, 2930-3 Ueno, Tokamachi City, Niigata Prefecture)
Fee: Free
Capacity: Up to 3 people can experience it at the same time. Ends when materials run out.
Duration: about 10-15 min.
Reservations: Not required