Twelve players and newly appointed director and GM
FC Echigo-Tsumari, launched as a part of ETAT, is a female soccer team who also work on farming. After winning all the games in Niigata Prefecture League last year, it is starting the second chapter with newly appointed director and GM and twelve players this spring. On 24 April 2021, we held the following press conference to introduce new members to the team to start the second chapter.
Date and Time: 10:30-11:00 on Saturday 24 April 2021
Venue: Community space at KINARE (designed by Ryohin Keikaku Co., Ltd.)
Programme: Opening remark by KITAGAWA Fram, introduction of twelve players, speeches by a player rep, senior director and GM/director followed by a photo session.
Attendees: KITAGAWA Fram (ETAT General Director), SAKAGUCHI Hiroaki (FC Echigo-Tsumari Senior Director), MOTOI Atsushi (FC Echigo-Tsumari GM and director), FC Echigo-Tsumari players, people from Tokamachi-city council, local people and more
---
FC Echigo-Tsumari 2021 season players
Senior Director
SAKAGUCHI Hiroaki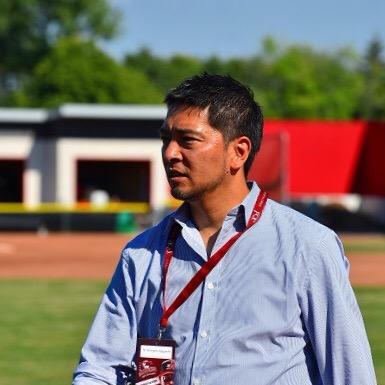 Originally from Yokosuka-city, Kanagawa Prefecture. Graduated from the Faculty of Law at the University of Tokyo. Lawyer (specialised in business revitalisation, M&A and other corporate laws and regulations). In February 2011, he was appointed as the representative of Tokushima Indigo Socks of the Shikoku Island League plus, an independent professional baseball league. After taking up a secretary-general position of the Shikoku Island League plus in January 2016, he continued to have worked as a chairperson of the board directors, president and chairperson. He retired from the chairperson's position in March 2020 to take up a position of COO at GATHER inc as well as an Executive Advisor to V1 female Hisamitsu Spring. Apart from these experiences, he has also worked as a board member of the Tokushima Educational Committee (August 2013-August 2017) and currently holding a position of a visiting professor at Tokushima University Industry-University R&D Start-up Leading Institute.
(Comment from Mr Sakaguchi)
Football players who have faith in satoyama train themselves as professionals while engaging with local people and contribute to the community building for the future of region. I believe that FC Echigo-Tsumari plays a significant role in this region as a driving force to create such flow of people and engagement. I am determined to devote my expertise and experience so that FC Echigo-Tsumari, which was born as a unique hybrid of female football players, agriculture and art, can fullfill its role.  I, too, wish to be part of the community and look forward to working here with you all!
---
GM and director
MOTOI Atsushi

Originally from Chiba Prefecture. After graduating from Juntendo University, he worked as a director at prefectural high schools, a coaching staff at Omiya Ardija from 2005, and GM at AS Elfen Sayama in 2012. He returned to Omiya Ardija in 2013 as a coaching staff of U-12 team and was appointed as a director of Chifre AS Elfen Sayama in 2016. He contributed to the team to be promoted to the division one of Nadeshiko League and became GM in 2018. He took up a director position at Bunnys Kyoto SC in 2019 before being appointed as GM and director of FC Echigo-Tsumari in 2021.
(Comment from Mr Motoi)
Hello – everyone who is part of FC Echigo-Tsumari. I am MOTOI Atsuhi who is taking up position of GM and director of FC Echigo-Tsumari. I feel grateful for being offered the opportunity in this challenging time inposed by COVID-19 pandemic. I decided to take up this position as I was impressed by the unique activities of the club which can't be found anywhere across Japan, people and place of Echigo-Tsumari and players who have been working hard here. I look forward to building a team with players and staff members which makes local people smile and also make a wonderful season for the team. Thank you for your support with the team.
---
About FC Echigo-Tsumari
Female football team which players move to the community to live and work on farming while training and playing football as professionals. As a project born out of ETAT, FC Echigo-Tsumari offers an opportunity of working as a professional football player while living in satoyama. It is also a pioneering project to help maintain terraced rice fields in the community which have lost people to look them after due to depopulation and ageing through Matsudai Tanada Bank. The club is aspire to win the second division of Hokushinetsu League this year.