The summer season of ETAT 2022 has finally begun on 30 July. While a couple of works are still under maintenance, we try our best to welcome you to the festival with comprehensive COVID-19 measures. I am pleased to hear positive feedback from those who have visited so far.
Kuwakubo Ryota said on 17 July regarding the re-production of his destroyed work as follows:
There is a certain kind of beauty in the way things are scattered around.

That was how I felt when putting away fragmented pieces of my destroyed work.

While it was an inappropriate and inconvenient feeling, how you find something beautiful, in the first place, occurs to your mind regardless of whether it is right or not. It is tricky in this regard.

In order to make sense of this awkward feeling myself, I am allowed to create a new work.

In this work, fragmented pieces of a mirror that are randomly placed, somehow reflect orderly mosaic patterns.

Through this work, I tried to create a situation where orders that are once lost make alternative orders when rearranged.
So, we will present "Entropia" from 30 July to 4 September and re-open "LOST #6" from 8 September onward.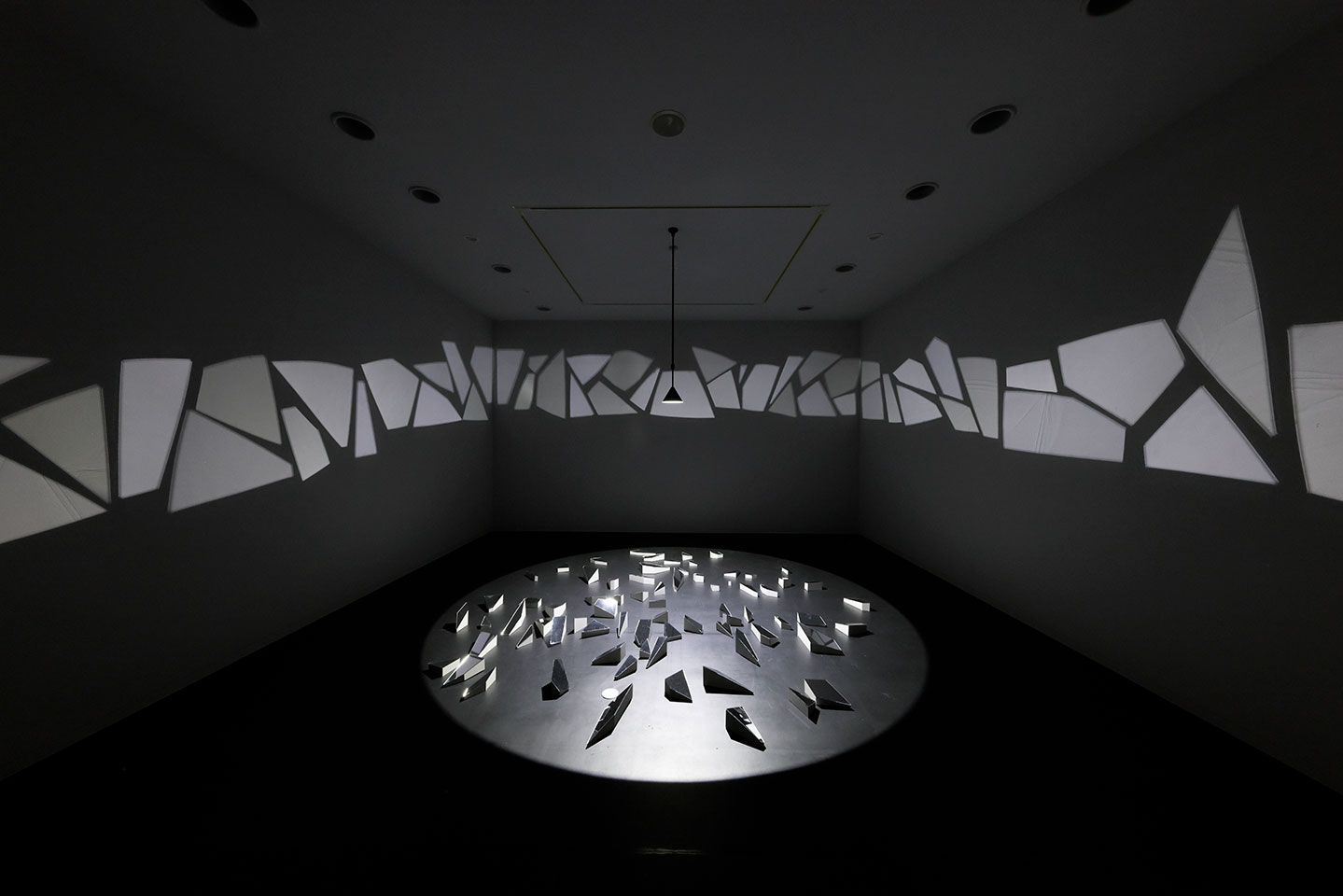 Special exhibition of "Entropia" by Kuwakubo Ryota (30 Jul – 4 Sep 2022) Photo by Kioku Keizo
I have conveyed the following message to the school and Niigata City Education Board:
・How do you resolve the issue. Children are watching adults.
・We will present the general damages but we will leave it to you to decide.
・I would like to have a dialogue or to organise a workshop at school conducted either by me or Mr Kuwakubo.
After the work was destroyed on 21 April, I had had conversations with Mr Kuwakubo from time to time that had lead to his comment on 9 June as follows:
—First of all, I can withstand the damage caused by this situation because I now know that how many people love my work. I am grateful for their support.

—I still don't understand everything about what happened in the dark exhibition room and how the students came to do this. Since they are still in junior high school, we have to be very careful in what we say about them and how we respond. As you can see from looking back on your own life, everyone makes little mistakes when they are young. The result alone may have crossed the line, but still, no one was hurt. Indeed, the work was destroyed, but a thing is a thing. Fortunately, each of the materials used in this work appears repairable or reproducible. (Most of them were contributed by local people). Furthermore, the artist is still alive and has the will and physical strength to restore the piece. So from a physical point of view, the situation is not so serious.

—More importantly, they need the help of adults, schools, and the community to let them express their inner frustrations, anger, and desires in different ways. These things are beyond the artist's control. But at the very least, through the restoration, I will do my best to ensure that this incident does not leave a bad mark on them, their community, or those who love the arts. Let us all have a great summer holiday.
I was pleased by the feeling shown by people including those on social media. It was a wish for the restoration of the work and a desire to see it again. Could it be an outcome of the twenty years of running the festival? It was reassuring to see that those who support the festival have a firm perspective on the regional environment and the role that art plays in contemporary society.