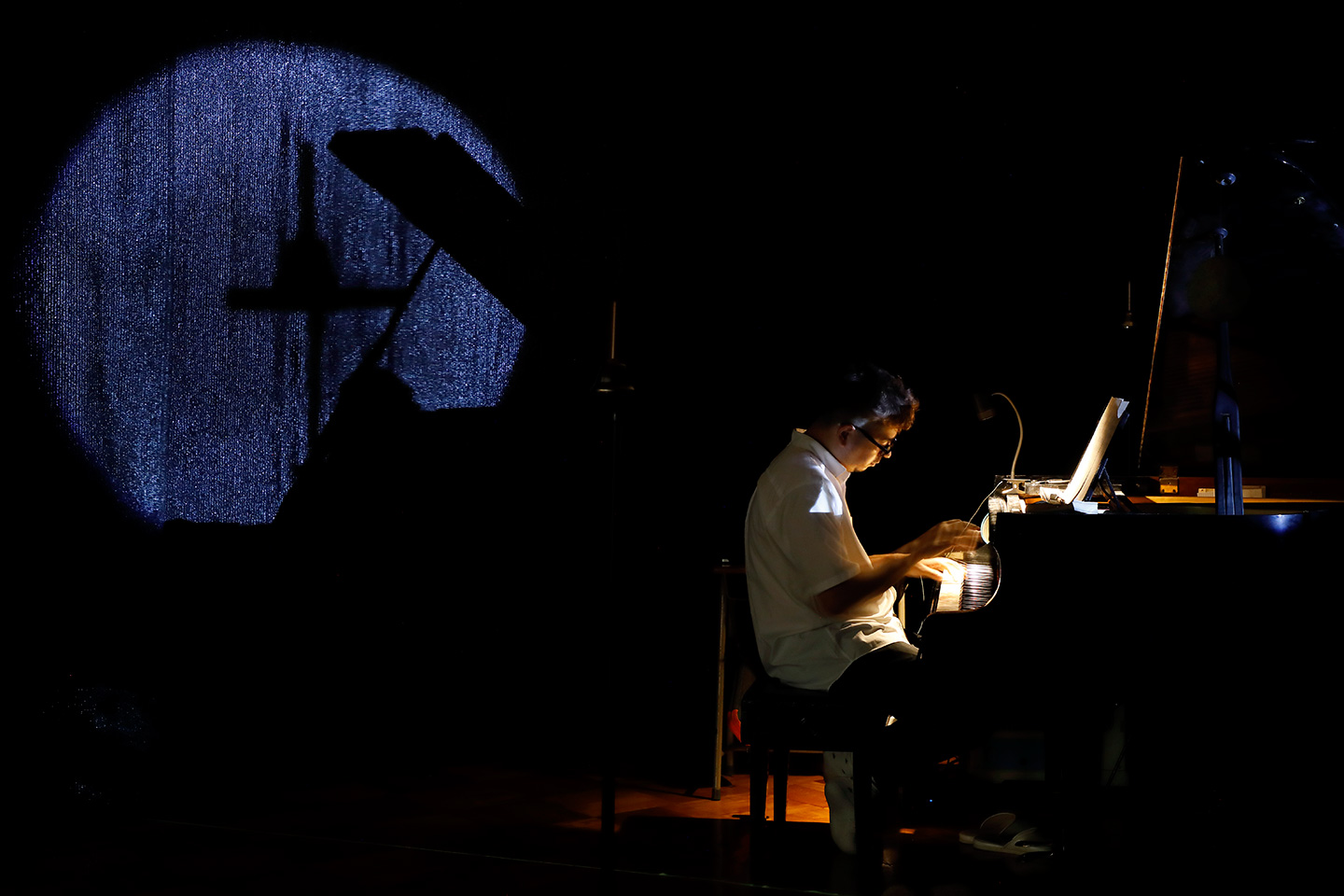 For inquiry
An artwork of "showing how a composer composes a music" - with breaks in between as in need
There has been a new artwork in Echigo-Tsumari Kamigo Clover Theatre in Tsunan Area. In addition to "The Kamigo Band – Songs for the Seasons" by Nicolas Darrot, a new artwork "showing how a composer composes a music" by a composer, Yasuno Taro has been installed. A new music score completed on the day is on display at the entrance. Please note that the artwork on display, in other words, the composer is a human – so he takes rest or not on stage for other reasons from time to time. 
Moreover, a small cinema is set up for screening a film featuring twenty-four divisions of the solar year of Echigo-Tsumari which is taken by Can Tamura throughout the year. Hong Kong House adjacent to Echigo-Tsumari Kamigo Clove Theatre welcomes Lam Tung-pang presenting his new work which highlights distinctive characters of Japanese TV programmes.
【Opening dates】Saturdays, Sundays and public holidays from Thursday 22 July to Sunday 31 October 2021
※ Open studio of Yasuno Taro: AM on Sat 28, Sun 29 August, Sun 12 Sep, AM on Sat 25, Sun 26 Sep, Sat 9, Sun 10, Sat 30, Sun 31 Oct 2021
【Opening hours】10:00 – 17:00 (Last entry by 16:30)

(Cover photo: ""Deceptive Elementa Harmonica" – Composition for Room and Piano" by Yasuno Taro / Photo Kioku Keizo)
A gigantic Sugoroku in Katakuri House that makes everyone crazy!
Katakuri House is a renovation of the local closed school in Akiyamago which has been transformed into an accommodation, located in the same Tsunan area as Echigo-Tsumari Kamigo Clove Theatre and Hong Kong House. We are pleased to invite you to try a new artwork sets in the gym space of the Katakuri House. A gigantic "Tsumari Sugoroku" helps you learn about the region while being physical. Please make sure to drop in to play on the Tsumari Sugoroku if you are in the area.