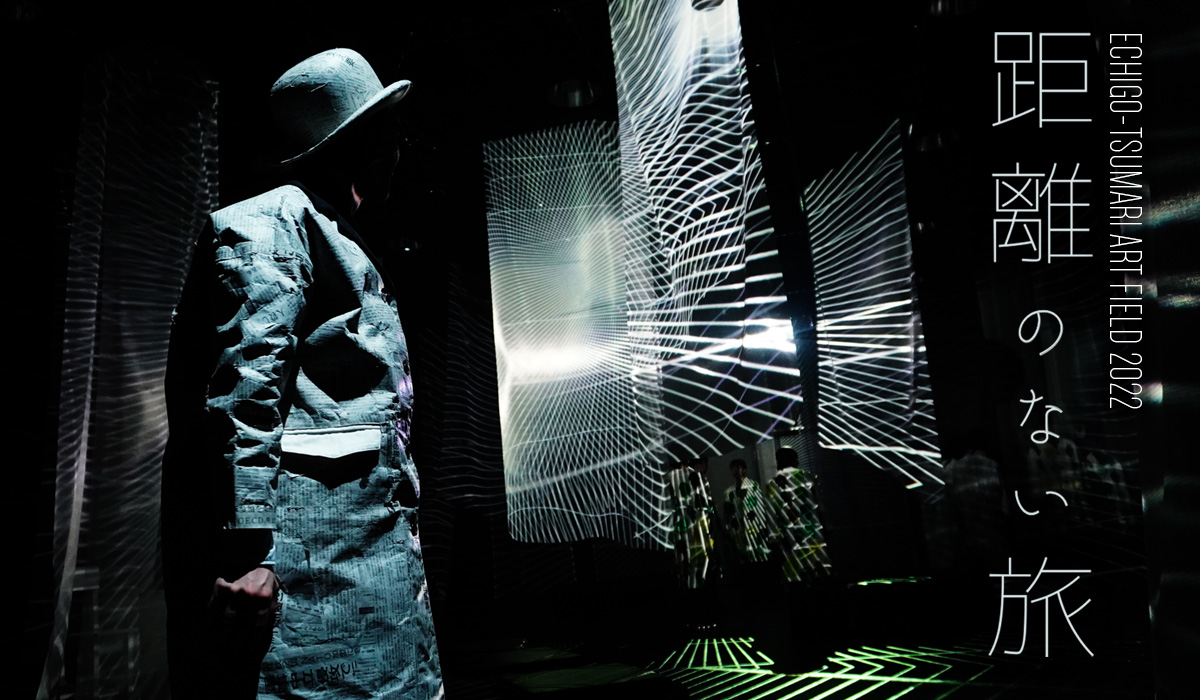 For inquiry
▼ Additional Tickets on Sale for Nibroll's "Journey Without Distance" [Updated 9/12].
Due to the popularity of Nibroll's performance "Journey Without Distance" on 10/7 (Fri.)-10 (Mon. Holiday), additional tickets will be available online + on-site (MonET Information Center / Echigo-Tsumari "Kamigo Cloveza" only) from 9:30 on 9/17 (Sat.).
---
DRAMA, The Creation of the World: Pilgrimage Time of Ondekoza by Ondekoza (E083)
Ondekoza will stay and practice in Echigo-Tsumari leading up to their performance at Matsudai Nohbutai. They will make sounds in the place where they  live, run, eat, and sleep.
【Dates and Time】From 16:30 on Sat 1 Oct / Sun 2 Oct
【Venue】Piloti at Matsudai Nohbutai (3743-1 Matsudai, Tokamachi-city, Niigata)
【Ticket to be sold by online】from 4 Sep-
【Ticket local sales】from 5 Sep at Tokamachi Station West Gate 2F, MonET, Matsudai NOHBUTAI, Matsudai Station Information Center, Naeba Sake Brewery
【Ticket】Adult JPY1500 (advance price) or JPY2000 at the door. JPY1800 for ETAT2022 Passport holders . Child age between 7 and 18 JPY800
【Maximum capacity】200
---
"A journey without distance" by Nibroll (E088)
"If it wasn't pandemic I would have done that – we will embark on a journey of time which has gone missing. Whether you are here or not, if it exists there or not – it occurs to me that the situation that one has to feel the distance to each other rather sharpens our physical sense. This is a performance that takes you around and uses the entire space of Echigo-Tsumari Kamigo Clove Theatre which use to be Kamigo Junior High School. Let's go on a journey together without distance, a journey to time and place born from dance, theatre play, art, movie, and music." (The artist's comment)
【Dates and Time】From 16:00 on Fri 7, Sat 8, Sun 9 Mon 10 Oct
【Venue】Echigo-Tsumari Kamigo Clove Theatre (7-3 Miyanohara, Kamigo, Tsunan-town, Nakauonumagun, Niigata)
【Ticket to be sold by online】from 4 Sep-
【Ticket local sales】from 5 Sep at Tokamachi Station West Gate 2F, MonET, Matsudai NOHBUTAI, Matsudai Station Information Center, Echigo-Tsumari "Kamigo Clove Theatre", Naeba Sake Brewery
【Ticket】Adult JPY1500 (advance price) or JPY2000 at the door. JPY1800 for ETAT2022 Passport holders . Child age between 7 and 18 JPY800
【Maximum capacity】30 people each time*Due to the popularity of the tickets, additional tickets will be sold online + on-site (MonET Information Center / Echigo-Tsumari "Kamigo Cloveza" only) from 9:30 on 9/17 (Sat). (Updated 9/12)