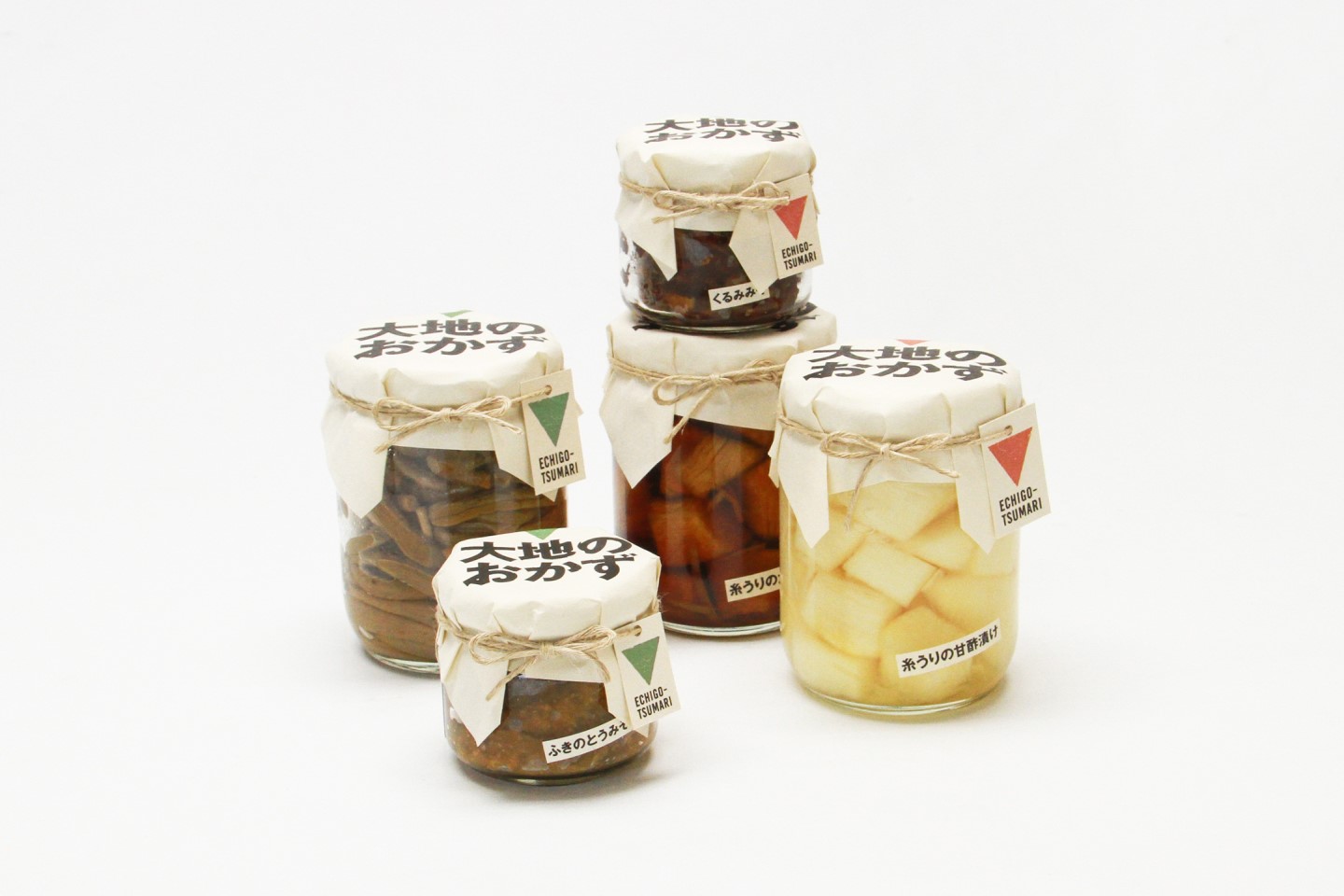 For inquiry
"Daichi-no-Okazu" project is to put local and seasonal delicacies in jars and bring to people across Japan. They are on the Makuake from 24 Decmeber and available for purchase until 18:00 on 17 January 2021.
■ Pass the wisdoms of food to next generations
"Okazu" (side dish) of satoyama are traditional flavours cooked by local women in Echigo-Tsumari using seasonal vegetables and sansai (mountain vegetables) in miso, shoyu (soy sauce) and vinegar. The recipe is filled with wisdoms of how to make use of local ingridients as well as how to preserve these foods in order to live through long winter. "Daichi-no-Okazu" is traditional and home cooking in a jar which aspires to pass the local and distinctive wisdoms of food to future generations while also aims to create jobs for local people.
■ Mothers in the region are in the spotlight
The core members of the "Daichi-no-Okazu" project include KITAGAWA Fram, the General Director of ETAT, YONEZAWA Fumio, chef de cuisine at The Burn who has been engaged with Echigo-Tsumari to pursue an alternative direction, and AIMA Yuki, President of D&DEPARTMENT Inc who supervised the d7 Matsudai Tanada Bank Museum at Matsudai Nohbuta. With full engagement of local women in the project in co-operation with project members, we are very pleased to have managed to bring Daichi-no-Okazu to many people within and outside of the region.
---
■ 5-jars of Daichi-no-Okazu
1- Stir-fried Zenmai 120g (Best Before 6 Mar 2021)
2- Fukino-tou-Miso 80g (Best Before 14 Mar 2021)
3- Yama-Kurumi Miso 80g (Best Before 11 Apr 2021)
4- Itouri Tamari-zuke  130g (Best Before 1 Mar 2021)
5- Itouri Amazu-zuke 130g (Best Before 8 Mar 2021)
About "Makuake"
"Makuake" is  a crowd-funding platform which provide supports with transactions of new products and experiences, operated under the vision "a world where all great things can be born, grown & preserved". Based upon the vast network involving over 100 financial institutions across Japan, the platform has been utlised by many business in different parts of Japan. Makuake also works in co-operation with logistic partners both within and outside Japan to continue providing support with further development of crowd-funded projects.
"Art from the Land": ETAT official web magazine
Dialogue between YONEZAWA Fumio, chef de cuisine at The Burn and AIMA Yuki, President of D&DEPARTMENT Inc.
---
---