Thinking 21st century art in the world from Niigata
Echigo-Tsumari Art Field - Official Web Magazine
Staff / From the backstage of Echigo-Tsumari
Meet Katsuhiko Hibino –The Day After Tomorrow Morning Glory Harvest Festival
29 October 2019
On 27 October 2019, we had the harvest festival at The Day After Tomorrow Cultural Department at Azamihira village bringing diverse range of participants including Katsuhiko Hibino, the artist, Yu Sato, local people, lecturers and students of Tokyo University of the Arts and Senshu University and STAT supporters.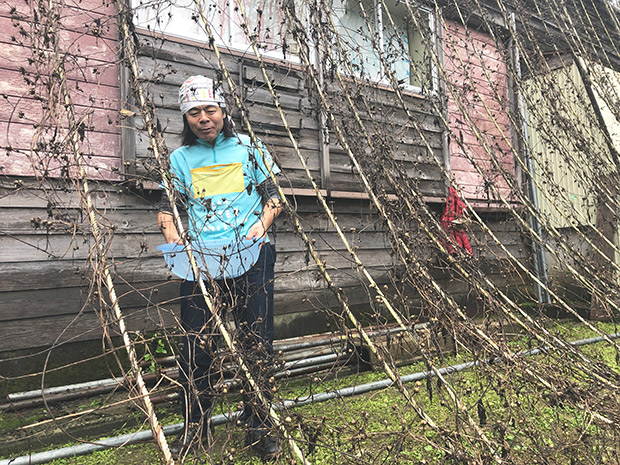 Hibino picking up the seeds of morning glory
Unfortunately seeds were soaked by rain. Shaking off seedpods by swingingropes withcoilingivy, crush those seedpods, blowing off their shelves and sort out these seeds.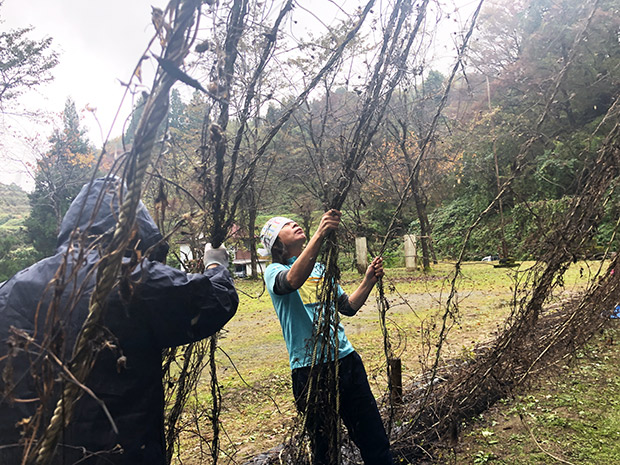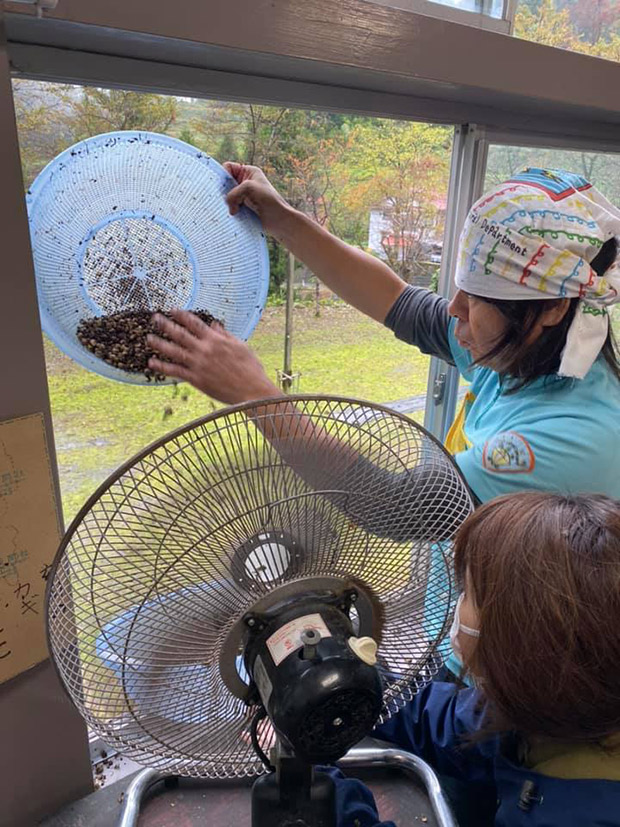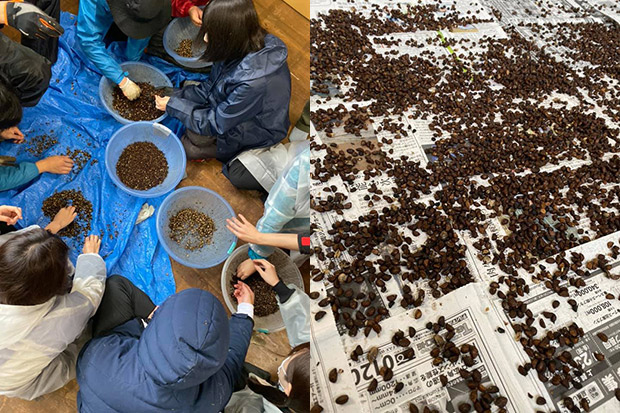 Hibino announced the start of the harvest festival as we finished our jobs.
Dip mochimade from newly harvested rice into a bowl of soup filled with various ingredients cooked by local women and eat with large peanuts and pond snails! It was already surprising to see pond snails on the table but conversations with local people with hunting certificates were even more fascinating. We learnt that while wild boars are believed to be "rushing recklessly", it can actually make a quick 90degree turn and their tusks are at the height of human thigh and thus could stub our femoral artery – much more dangerous than bears. We even heard that police would have a through check on your house and neighbourhood prior to giving you a hunting license. They also told us who is in charge of pulling feathers to share ducks they hunt in winter. We do encounter distinctive deep experiences every time we visit Azamihira.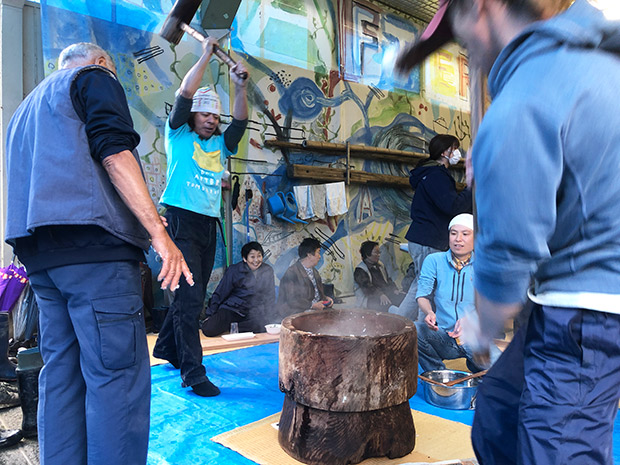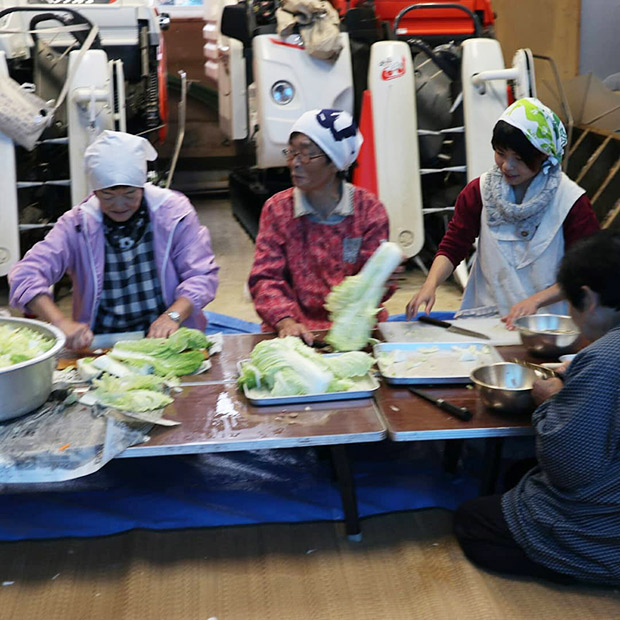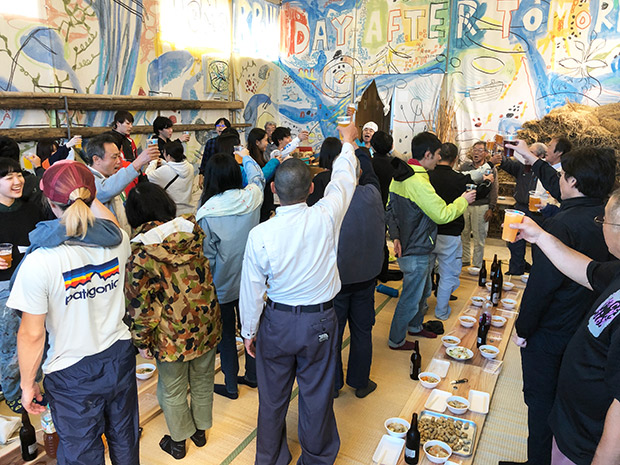 It was ETAT2003 when Hibino presented the work in the Azamihira village, an evolving art project "the Day After Tomorrow News Paper Cultural Department" to map the future beyond tomorrow was born. However, Hibino recalled that there was a distance between his team and the village at start. At meetings, it was difficult to continue conversations regardless of topics he suggested. While feeling uncomfortable and wanting to leave, Hibino mentioned about the flowerbed that came into his sight – which managed to break villagers into a lively conversation. They decided to grow flower together as a cultural project and a remark by Kaya Takahashi, "we could grow morning glory", resulted in the birth of "the day after tomorrow morning glory". "If Kaya said "let's do sunflower as it is summer now" we would have picked up sunflower seeds" Hibino smiles.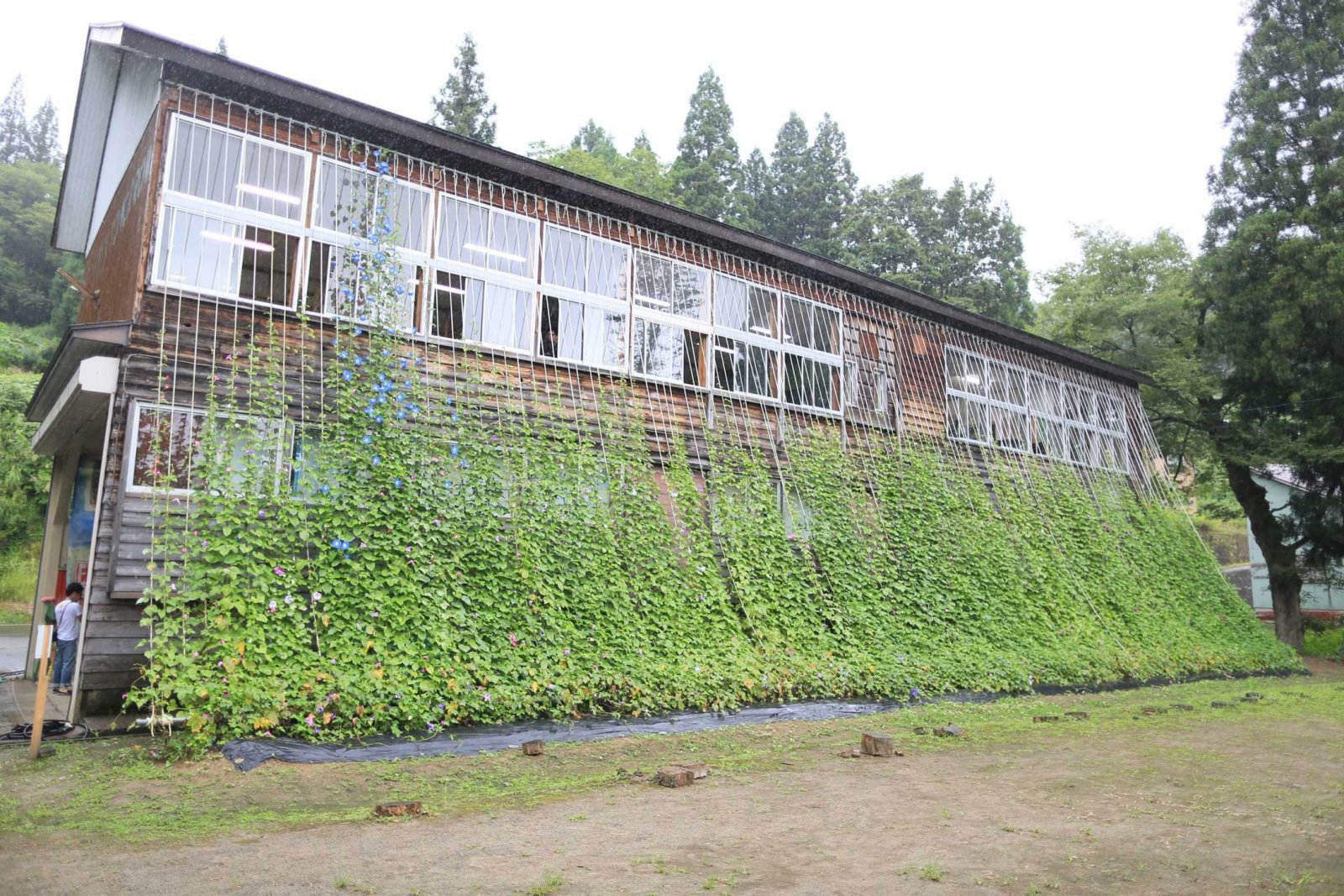 Photo by Gentaro Ishizuka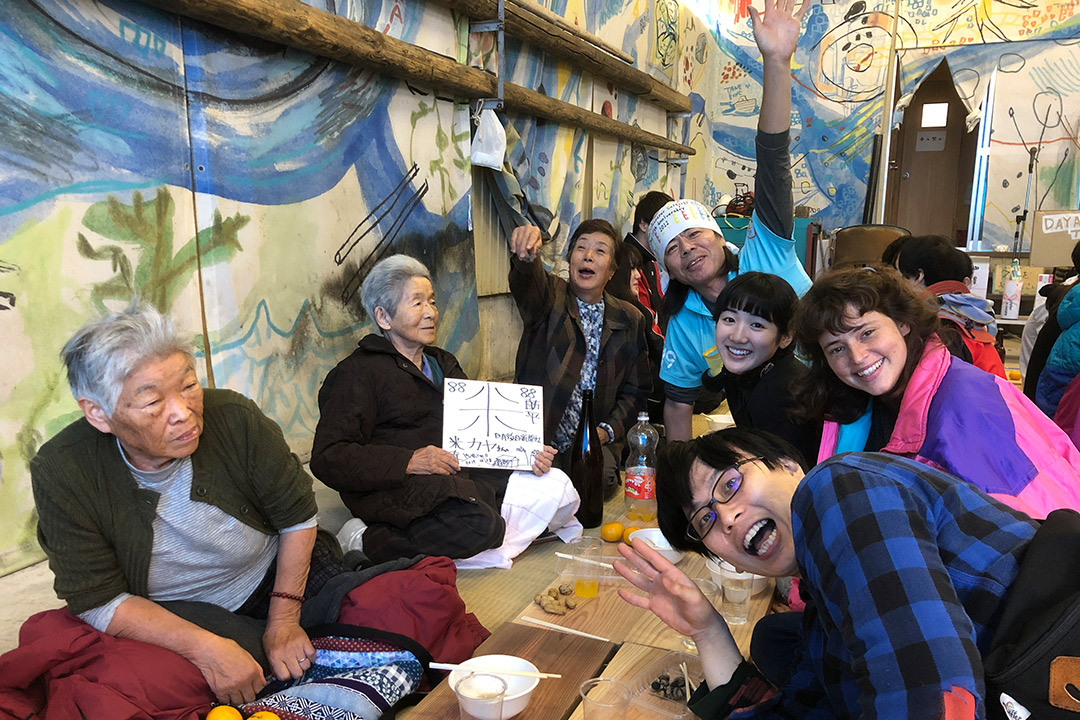 Kaya, second from the left
After the ETAT2013 was finished, people realised that "we could pick up seeds of morning glory" and "we could then plant them again" – as a result Hibino has been visiting the village every year since then and we celebrated the 17thharvest in 2019. Moreover, the day after tomorrow morning glory project has reached out to 29 different places from Azamihira village including Mito, Gifu, Yokohama, Okinawa, and Hualien in northern Taipei. Some seeds even went into the space on the rocket launched from Tanegashima and "the day after tomorrow morning glory nationwide meeting" has been taking place once every year. Kaya and other villagers visit different places across Japan as pioneers and give other people advice. The project has been bridging people to people, people with region and region to region.
The Day After Tomorrow Morning Glory Project on HIBINO SPECIAL website
In addition to the harvest festival, Hibino and his team visit the village frequently throughout the year for planting rice in spring, joining bon-odori (a ritual to dance for welcoming the sprits of the dead in summer) in summer, harvesting and festival in autumn and celebrating koshogatsuin winter. Who would have imagined to see Hibino and his students and villagers sharingsake, laughing together while putting their arms around shoulders each other and saying "see you next time in koshogatsu" when they leave the village in autumn. These kinds of miracles have happened at many different villages across Echigo-Tsumari. Remembering such scene and going back to the office, seeds fell out when I took off my jacket and another one dropped from the bottomedgeof my pants. My entire body was under the rain of seeds. I picked up them and glanced at lovingly for a whole day.
Staff member in charge of "The Day After Tomorrow News Paper Cultural Department"