Thinking 21st century art in the world from Niigata
Echigo-Tsumari Art Field - Official Web Magazine
Staff / From behind the scene of Echigo-Tsumari
Evolving Echigo-Matsudai Satoyama Shokudo: Exploring the potential of food in Echigo-Tsumari
28 December 2019
Soon it will be four years since Fumio Yonezawa, the chef began to engage with Echigo-Tsumari.
Every time we threw special dinner parties including NUNAGAWA Campus in autumn 2015, 2-days at Rei House in spring 2016, Art Camp at Sansho House in autumn 2016, and Satoyama Cinema at Sansho House in 2017, the seats were fully occupied. 
The ordinary local ingredients were transformed into something completely different and served by the chef. The kitchen was always filled with surprise as the chef cooked together with local villagers.
During the ETAT2018, Yonezawa supervised "TSUMARI KITCHEN", a temporary restaurant opened exclusively to the official guided tour participants. The course menu packed with the wisdoms of distinctive food preservation in the region and seasonal bounties were served to over 5900 visitors during the festival.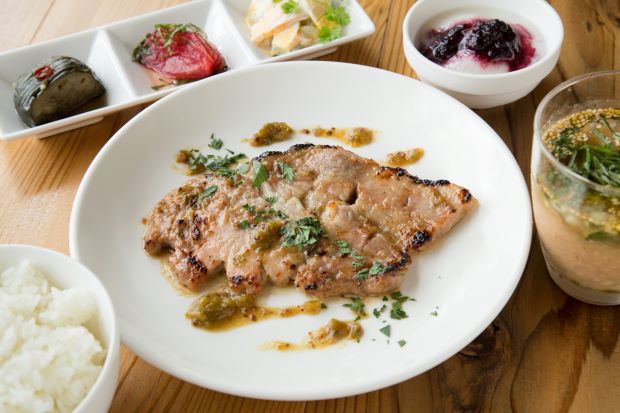 The course menu served to the official guided tour participants at TSUMARI KITCHEN.(Photo by Ayumi Yanagi
We continued to have sought for his advice for restaurants and cafes in Echigo-Tsumari and appointed him as an advisor of Echigo-Matsudai Satoyama Shokudo in 2019.
The first thing we worked on was to review the offerings of the buffet.
While Yonezawa complimented that dishes which were the same as what's been cooked at home by humble local women, he suggested to revisit the menu and thing again what guests may like to eat at Satoyama Shokudo.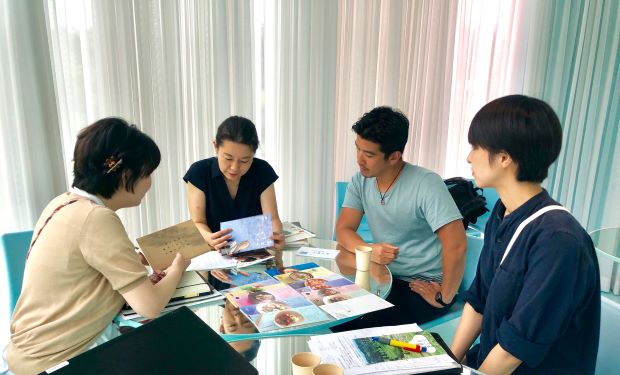 In addition to the regular menu such as "Tsumari pork shabushabu and roasted rice salad" and "fried and pickled summer vegetables", lots of new dishes were served including "fukinoto and tomato in spicy curry" supervised by Yonezawa and "itouri and grapefruits salad" featuring colourful itouri like dessert.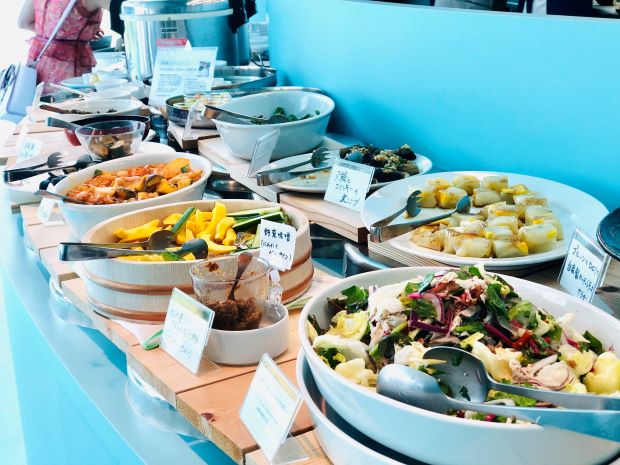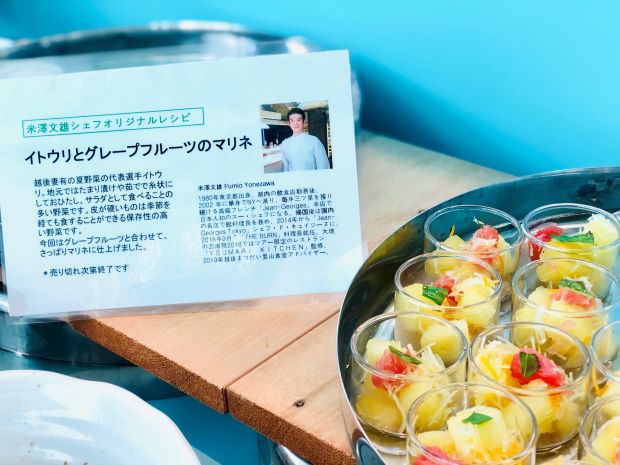 One of the regular dish, potato gratin was dressed up with béchamel sauce made of rice and soy milk as well as fried summer vegetables with tomato sauce and cheese. Cropped carrots were turned into hummus while their leaves became addition to summer vegetable genovese. Completely new dishes ranged from "local vegetable tapas", "local vegetable latatouille", "boiled yugao and okura", "plum and celery salad dressed in home-made cottage cheese", "bean in honey mastered sauce", to "watermelon caprese" as well as sweets such as "eggplant pannacotta" and "pumpkin pancake".
Dishes once created for the purpose of consuming summer vegetables which were harvested all during the same period were transformed into new dish and presented as buffet options, filling the entire building with mouthwatering smell.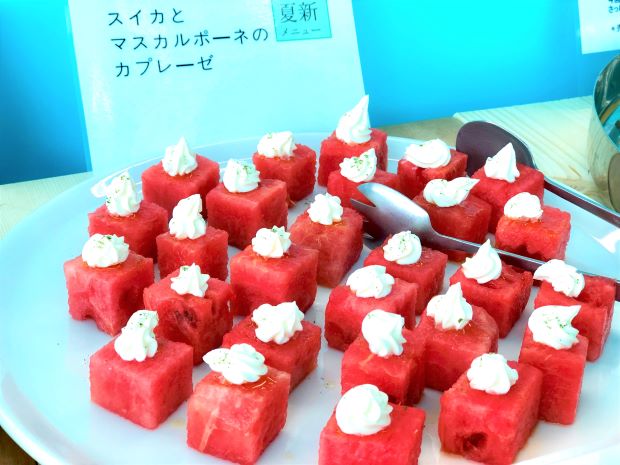 In autumn, we organised one-day special dinner presented by Yonezawa. When he started to cook aged-meat, we were so impressed by the delicious but never-encountered fragrant that wrapped up the restaurant. While we always feel pressured prior to the dinner starts, we were amazed by the atmosphere created by the energy of the chef.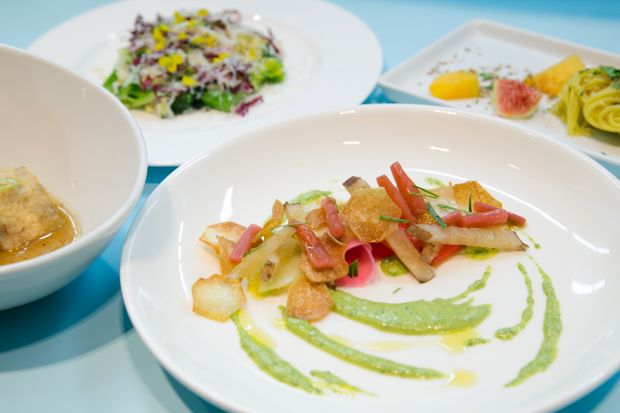 Photo by Ayumi Yanagi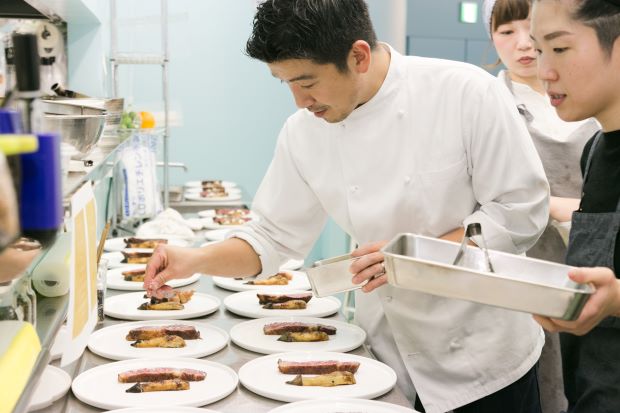 Photo by Ayumi Yanagi
Satoyama Shokudo had been busy starting the preparation for winter with support from the local villagers by drying zuiki and daikon as well as pickling nozawana. Cheese fondue has been added to the buffet option from December while menu for tea time offer warm drinks during winter. The winter buffet menu supervised by Yonezawa will be available for tasting from January 2020.Visit us at Echigo-Matsudai Satoyama Shokudo, overlooking the terraced rice field covered with snow this winter.
TOBITA Akiko:
Food team leader / Matsudai Nohbutai
(NPO Echigo-Tsumari Satoyama Collaborative Organisation)
Translated by Miwa Worrall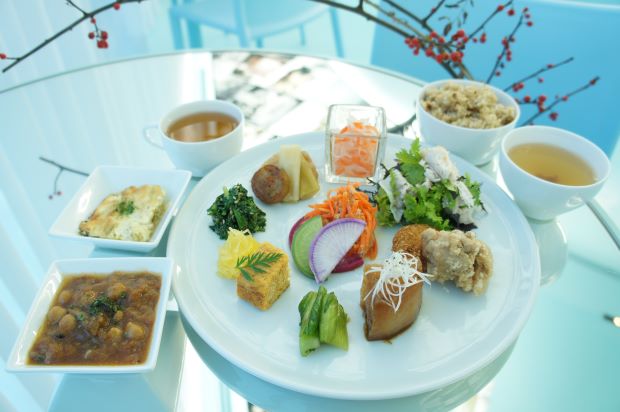 PROFILE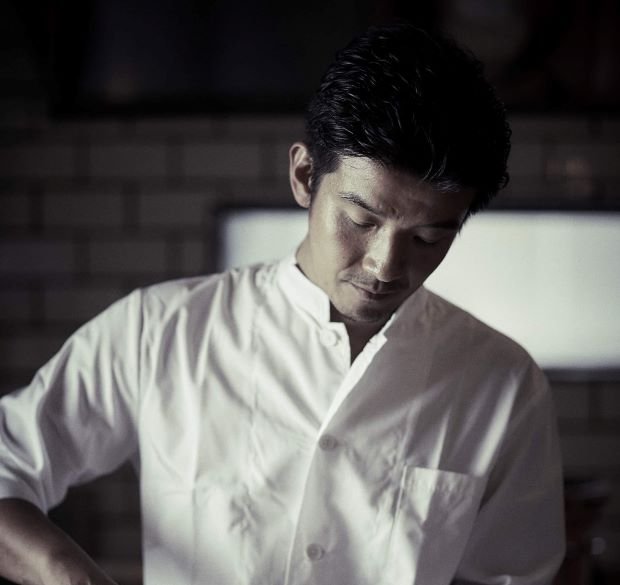 Fumio Yonezawa
Born in 1980 in Tokyo. After working in restaurants in Tokyo, he moved to New York in 2002 and was appointed as the first Japanese sous-chef at the Michelin three-star French restaurant "Jean-Georges". After returning to Japan, he worked as the head chef at various famous restaurants and became Chef de Cuisine of Jean-Georges Tokyo in 2014. He had taken up the head chef position at THE BURN in September 2018.