Naturally, the relation between the local people and ETAT is important. The origin of ETAT was the "Riso Plan," a plan by Niigata Prefecture to revitalise community. The history of Echigo-Tsumari goes back more than 1500 years and it was once a region that supported Japan through rice production. However, the region faces the challenges of depopulation and ageing due to the concentration of population in the big cities and changing industries as a result of shift in agricultural policy.
Although ETAT was proposed as a means to find what can be done to support this region, the doubts and opposition amongst local people towards such an unfamiliar proposition were strong, and the first festival, set for 1999, was postponed. After long discussions, we managed to launch the first iteration of ETAT in 2000 and since then the meaning of ETAT for the local people has gradually evolved through ongoing discussions and exchanges with artists and visitors.
Meanwhile, I have come to realise one thing as I have continued my endeavour. While depopulation, ageing and the decline of industry exist as pressing local challenges, what is felt most painfully for people who have been living in this region is losing a place to make use of their wisdom and skills. For example, a place in the mountains where you might find the best sansai(mountain vegetables) that you would keep as a secret even from your family members, or the distinctive skills and wisdom of farming and clearing snow which they have been routinely engaged with.
When the festival asks these local people for help on something that they can utilise their experiences, they genuinely seem pleased. As mentioned, Boltanski used straw for "The Last Class", and I would imagine he was very impressed when he saw the way locals bundled the straws. That was the distinctive skill of the region and mastery of those who make things.
When you see an artist going through trial and error and working hard, those who have previously regarded artists as people who deal with things that are beyond their comprehension begin to appreciate or empathise with them. "The Seat of Rain Spirit" (2000-2009) by Takamasa Kuniyasu is a large scale work assembling bricks and timber from forest thinning. Local seniors who watched the artist working silently and diligently from a distance at first eventually provided their expertise as a team and helped complete the work.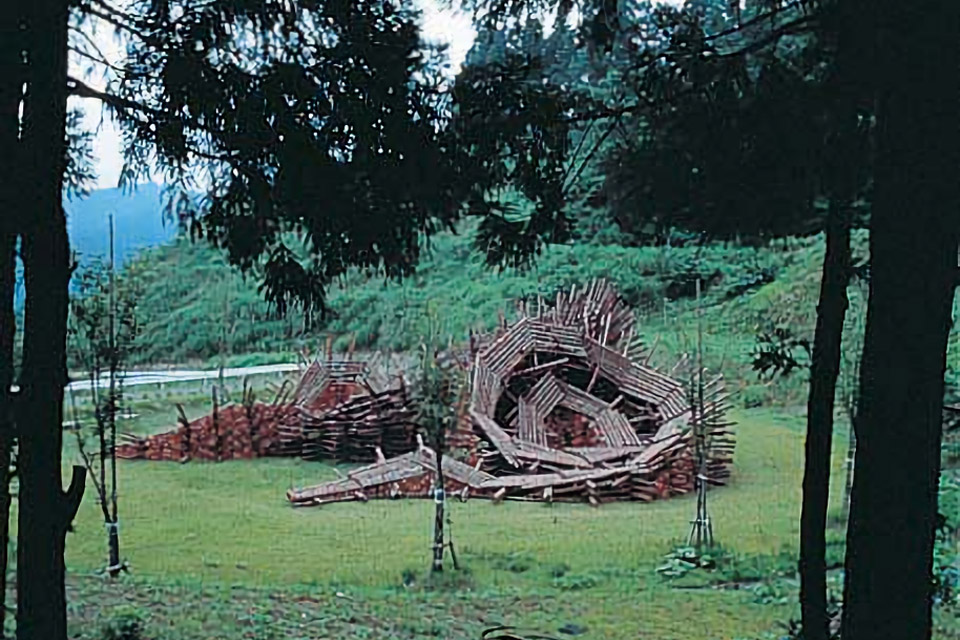 "The Seat of Rain Spirit" by Takamasa Kuniyasu, 2000 (photo: ANZAI)