Thinking 21st century art in the world from Niigata
Echigo-Tsumari Art Field - Official Web Magazine
Travel / Stay overnight in Echigo-Tsumari
Stay with art – spending time in Sansho House
A classroom with wooden tables and chairs laid out in order and shining corridors polished with wax – these features of an elementary school building always bring us back memories of childhood. ETAT has diverse artworks that occupy the closed school buildings. "Yukihisa Isobe Memorial Echigo-Tsumari Kiyotsu Soko Museum of Art, SoKo" repurposed the school building as a gallery whereas "Echigo-Tsumari Kamigo Clove Theatre" accommodates artists as residency where they will also present their performances and these art sites are popular places to visit amongst fans of the art festival. What we visited was Sansho House, one of the old school buildings transformed into an accommodation.
Text and edit by Mayu Nishikawa (asoview) / photo by Wataru Kitamura
24 September 2019
What is Sansho House?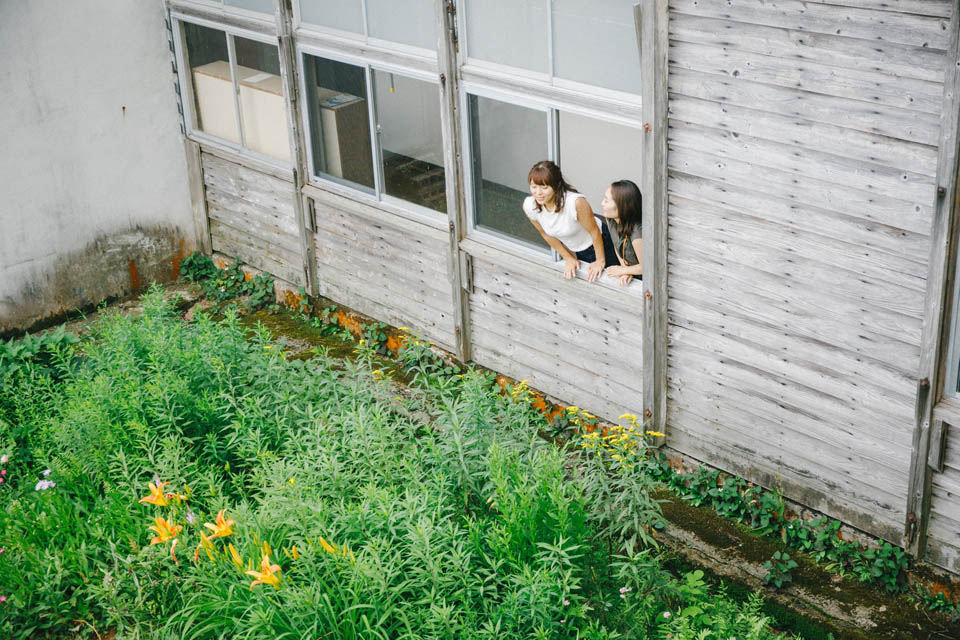 A wooden school building renovated into an accommodation. Seasonal flowers on the window.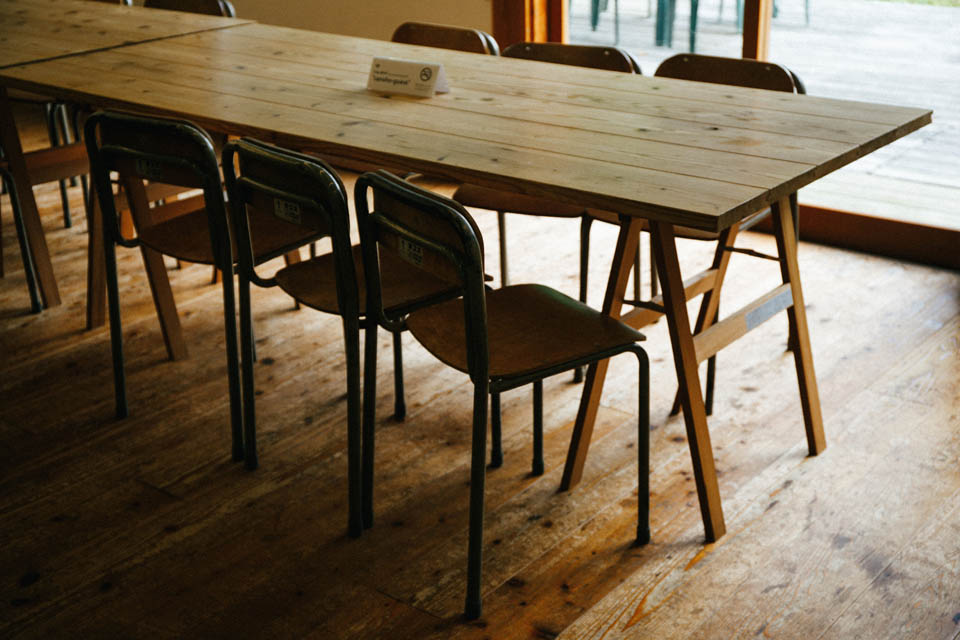 Chairs in the dining were once used in the school.
"Sansho House" is an accommodation which renovated the wooden school building built in 1955. It is still utilised as one of the hub facilities of ETAT after more than 50 years since its establishment. Guests can immerse themselves in the world of the festival during their stay by enjoying the artwork in the building by Leandro Elrich, an internationally acclaimed artist.
A school building that you feel familiar. It reminds you of your childhood memories.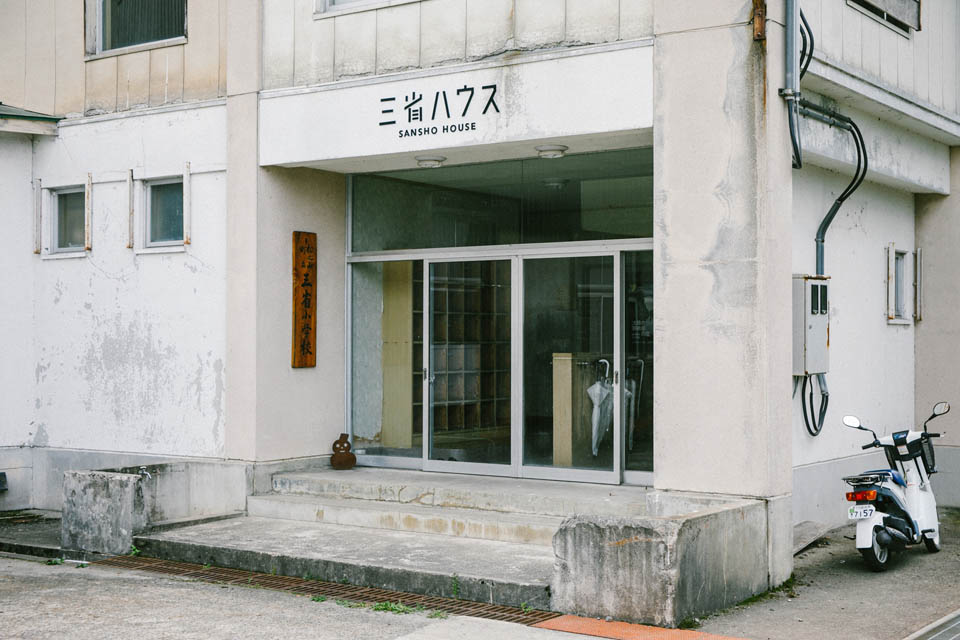 "Sansho House" sign at the doorway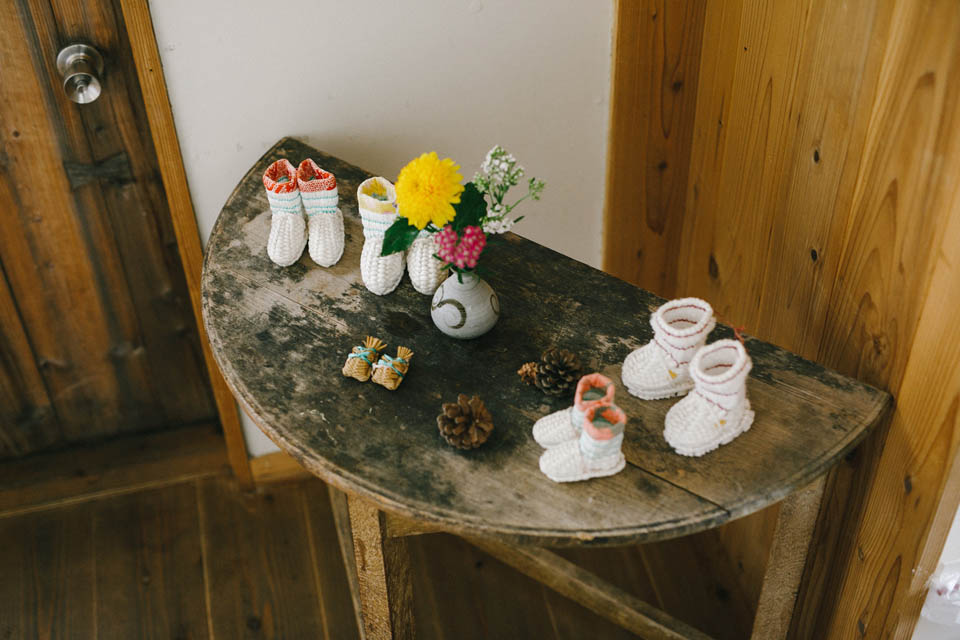 "Sansho House" sign at the doorway
"Sansho House" is located in Matsunoyama area, southern part of Echigo-Tsumari. It look like an ordinary elementary school building from outside at first glance but the interior space is fully renovated to a contemporary standard. The wooden corridor is left to appreciate the old school building which is also used as a space for displaying works created in workshops or information on the festival as if it is a small gallery.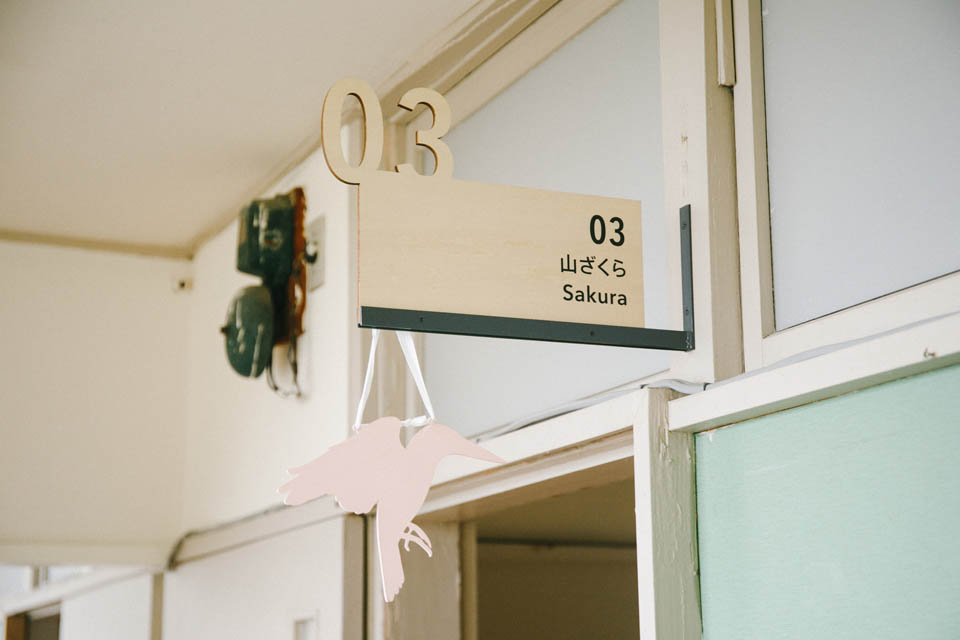 Adorable sign plates for the bedrooms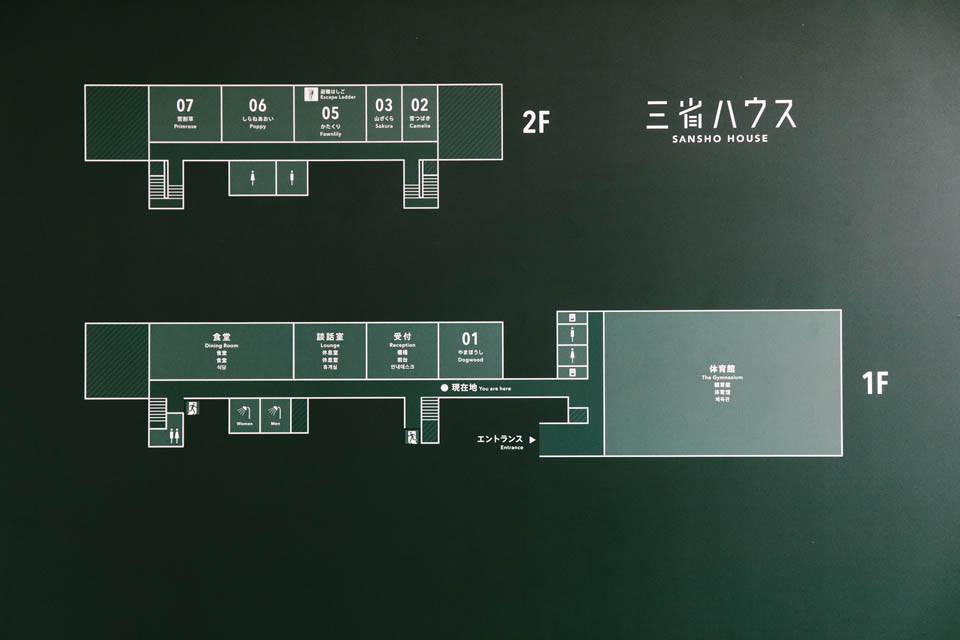 Ground floor serves common space such as lounge and dining room whereas bedrooms are located on the upper floor.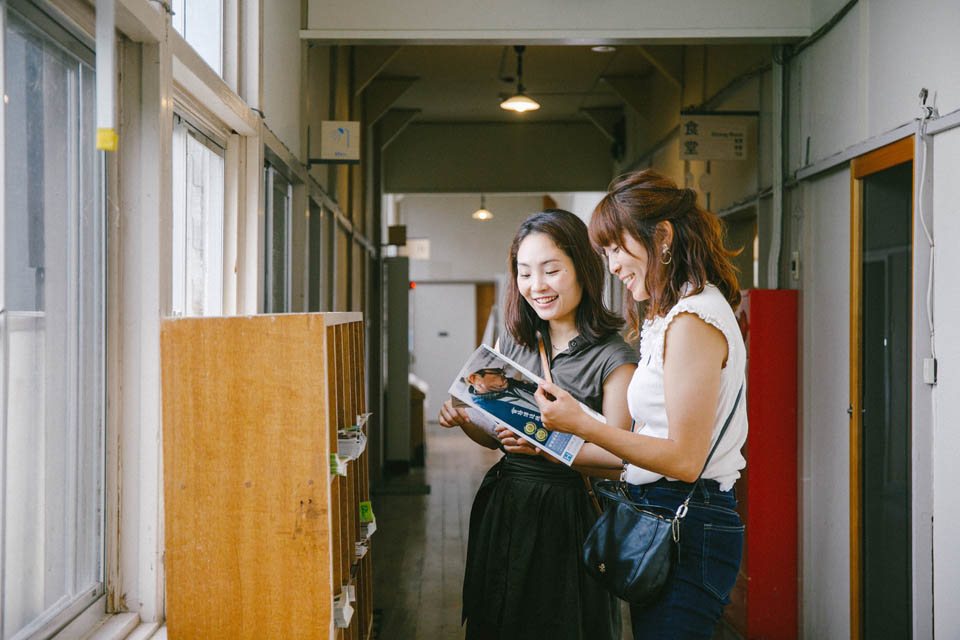 Each bedroom have bunk beds as a shared room designated to different genders, with names such as "katakuri" and "yama-zakura" – taken from plants growing in Satoyama. The room looks cozy with a view of greens of Matsunoyama from a window. 
Guests are free to use gymnasium space or schoolyard during their stay to play badminton or balls – remembering how you once played in school days.
Heartfelt meal cooked by local people.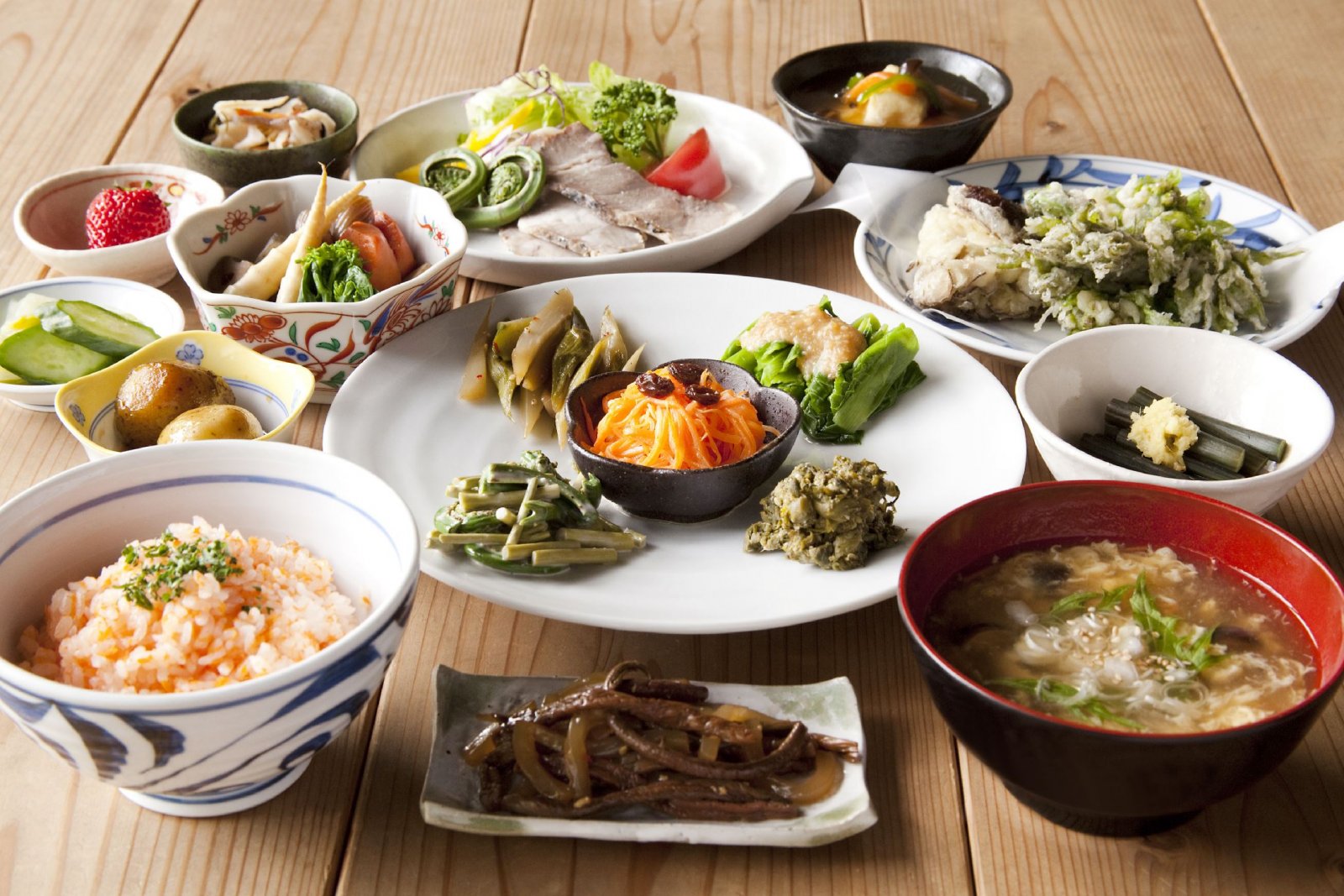 Please note that the photograph is a reference only. Menu changes from season to season. (Photo by Ayumi Yanagi)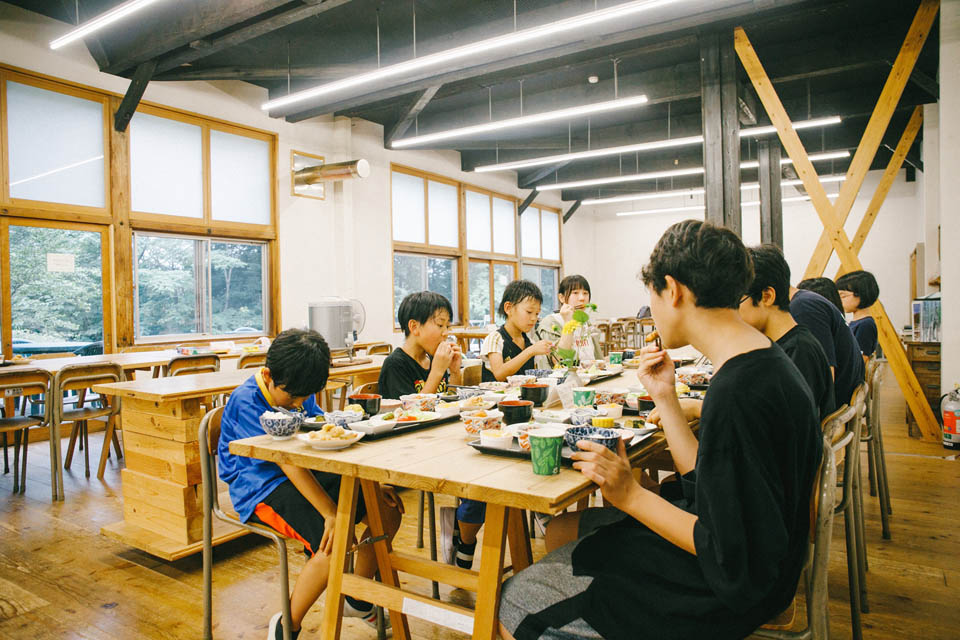 A snapshot from Echigo-Tsumari Forest School. Children ate well.
What you would look forward to when staying at Sansho House is meal. Local people cook at the kitchen for guests using seasonal local ingredients. Menu changes every day with careful choice of condiments to go with such as miso (prepared during the peak of winter) or shoyu-no-mi. They decide what to cook and serve when they see what are harvested on the day.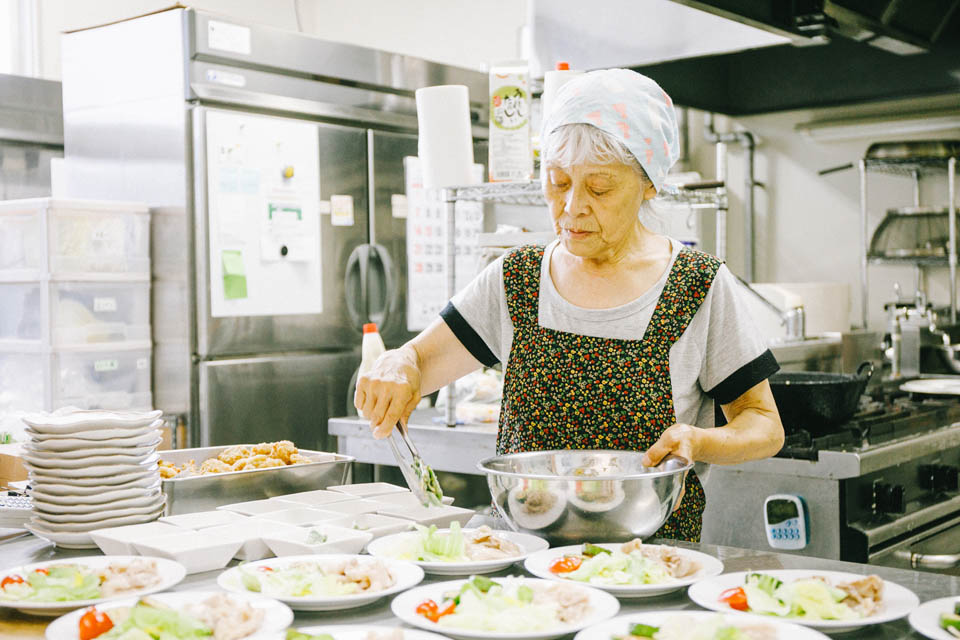 Wonderful smell of cooking fills the building from dining room.
Local people served guests during the dinner time. The menu of the day goes, sansai tempura, Tsumari-pork shabu-shabu, dressed sansai with bowl of Koshihikari rice.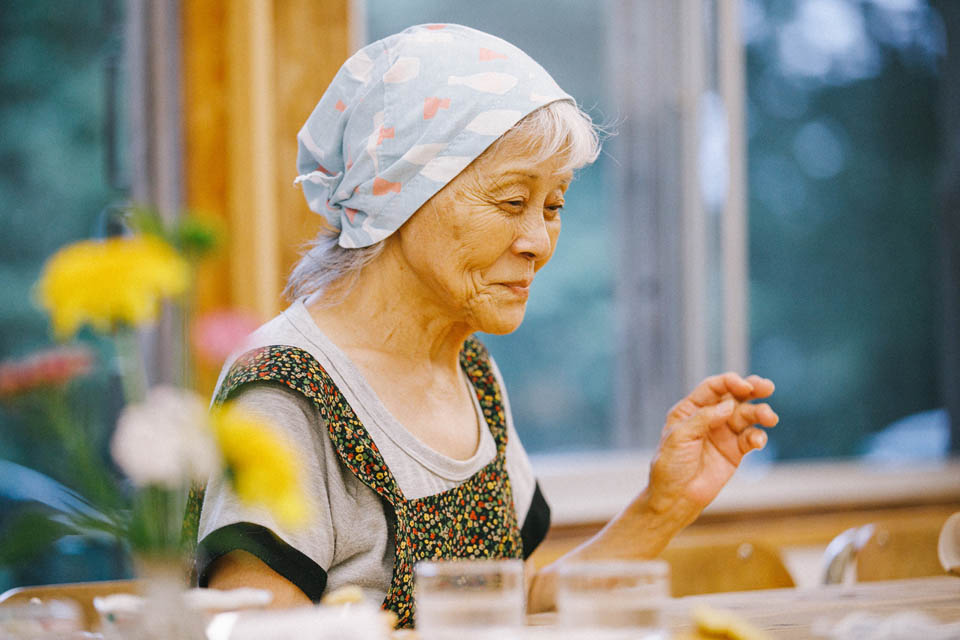 Toshiko Aizawa, working in the kitchen
We had an opportunity to speak with Toshiko Aizawa who has been working in the kitchen for long time. When asked what brought her to work at Sansho House, she told us with smile that "I used to work in a kitchen at a different school and I was asked if I would be interested in working here. I wasn't sure what would be happening here at the beginning. I planed to work for 50 days during the festival but somewhat I continued then and it has become an indispensable joy of my life."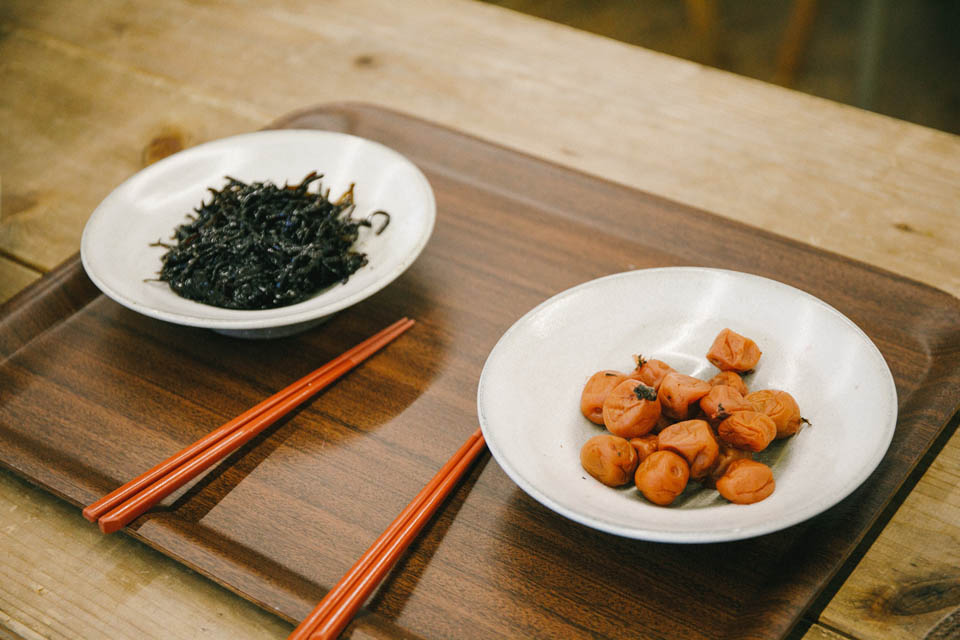 Umeboshi and Niboshi are all cooked here. Special flavours by locals.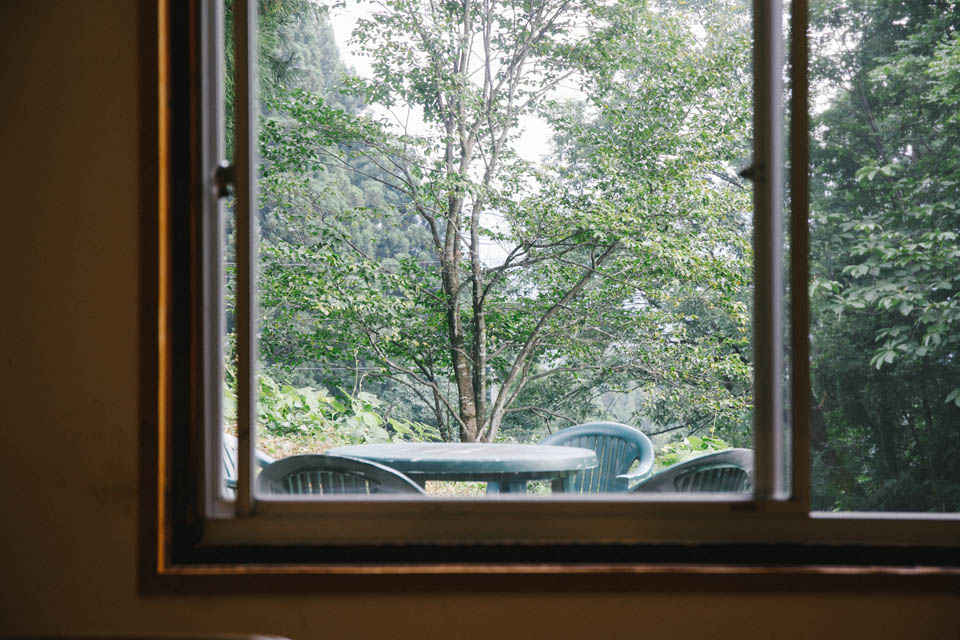 There is outdoor seating where you may like to have a cup of coffee in the morning.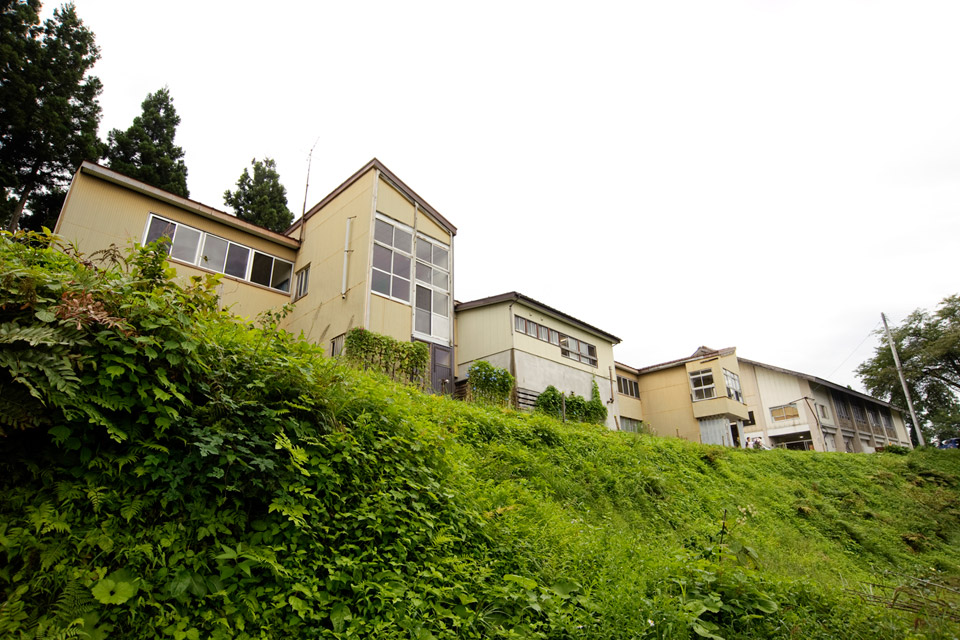 Photo by Hiroshi Noguchi
When I told them "what a delicious cucumber", one of them told me "Today's cucumber was marinated in vinegar, sugar, soy sauce, chili and ginger – which really goes well with rice. Shoyunomi also compliments well with rice so please try". I feel so content as we exchange these words.
"Sansai (mountain vegetables) picked up in spring are cooked in the way that they can be preserved and eaten during winter. Matsunoyama is particularly known for deep snowfall where room windows are buried under snow completely in winter. As we can't expect to have fresh vegetables during winter we follow local wisdoms to preserve food for long duration." They told us particular tips of local cooking.
"We would like guests to feel that they come back home or visit their grandmother's house whenever they visit us. We want them to consider this place as their second home. We immensely enjoy meeting with people."
Meals served at "Sansho House" may be so delicious because of such generous hospitality of local people.
Artwork by Leandro Elrich. Meet other guests and relax at the lounge.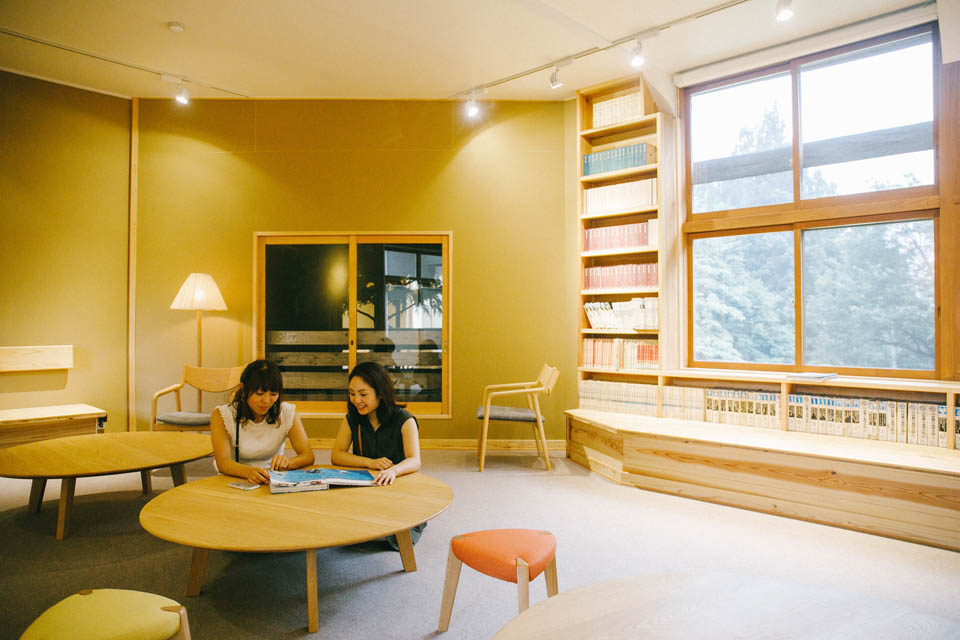 The lounge is adjacent to the dining room where guest can relax in the warm light.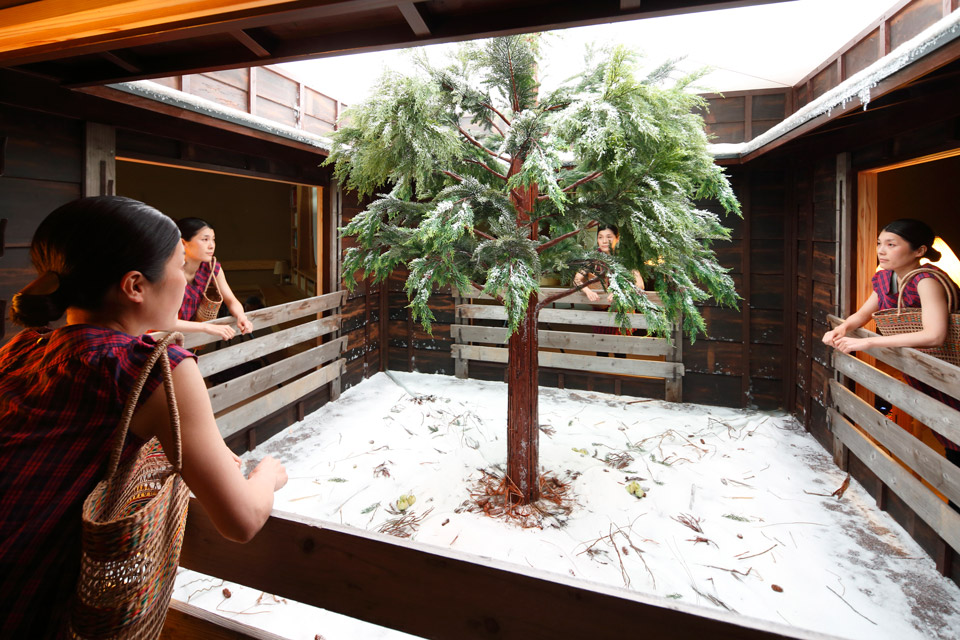 Wooden board to protect building from snow called "Yukigakoi" and local needle-leaved tree and plants (photo by Keizo-Koiku)
This is where the artwork "Lost Winter" by Leandro Elrich is presented. When you look into the glass window you will see yourself looking into the window as well as landscape of Echigo-Tsumari in spring when the snow starts to melt.
This artwork was created based upon the past work by Elrich called "Lost Garden" where people looking into the artwork appeared in strange places. There is an exclusive program for guests to experience. As the program begins, the time suspended in the artwork re-starts and the scene changes from the dusk to night as you hear wind blows and owl hoots. 
Art, nature and onsen. Explore neighbourhood.
"Sansho house" is located in Matsunoyama area.  It is the place that can enjoy a mountain, field, and seasonal scenery  known as original scenery of Japan.
"Black Symbol"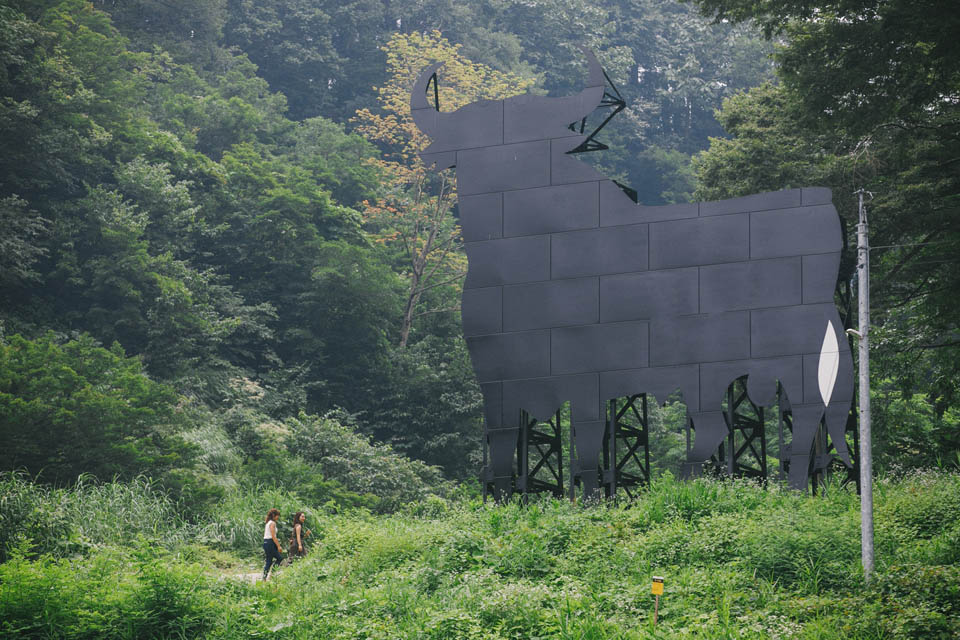 It is huge as you get closer to it. It was created to be a landmark of Matsunoyama.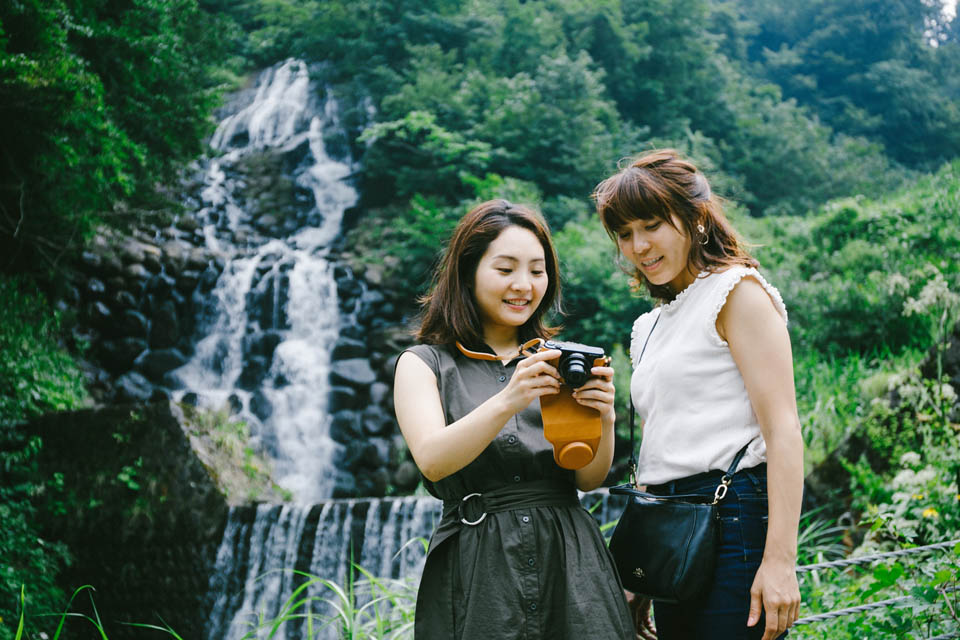 Strolling in onsen town and checking fudodaki (local fall).
The huge monument of black bull standing close to fudotaki (fall) captures your eyes as you walk through the onsen town. It is an artwork by Santiago Sierra who took a motif of the brand icon of Osborn Group, a Spanish sherry brewer. The artwork was created in the hope to produce an alternative world where the robust and beautiful nature of Matsunoyama resonates with the iconic symbol from Spain. 
Bijin Bayashi (beech tree forest)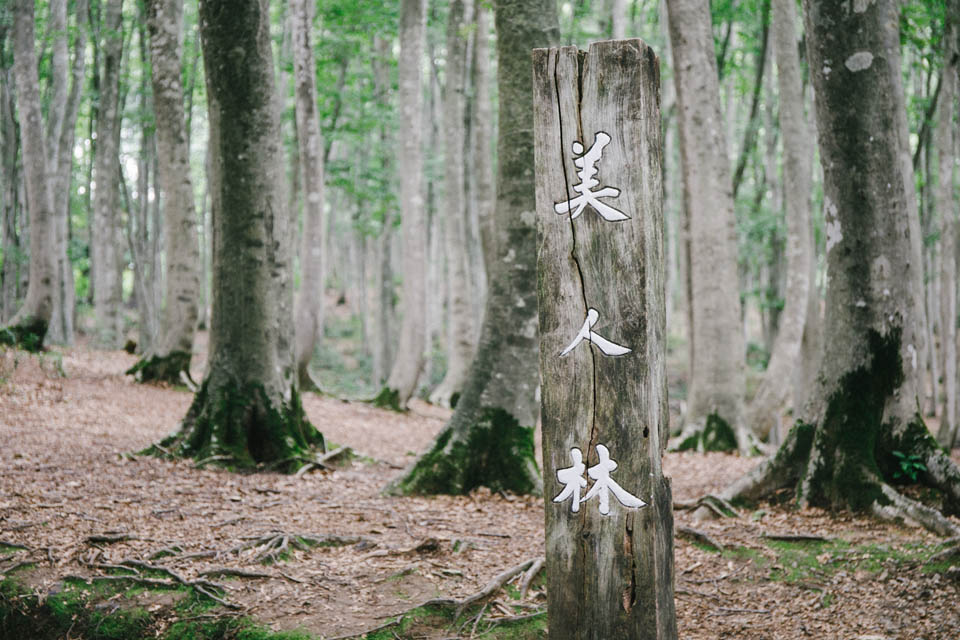 As the name says, a beautiful forest of beech tree standing straight.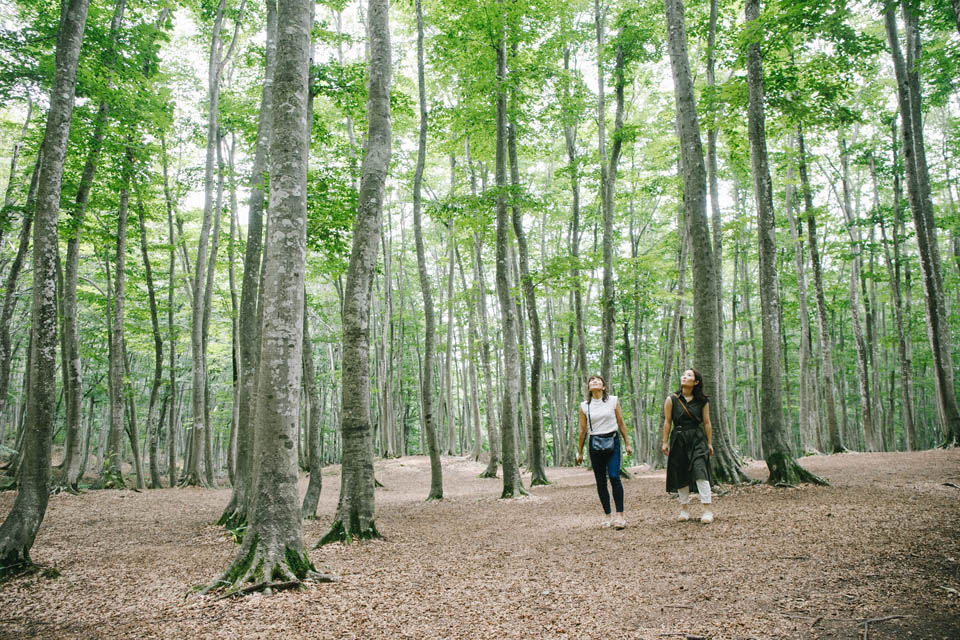 You can enjoy different views across four seasons.
Beech tree forest called "bijin bayashi" is approximately ten minutes drive from Sansho House. It was name after the way beech tree gracefully stands straight. It is cool inside the forest in summer, providing a perfect place to enjoy a walk. You will also see local vegetables being sold in the stall.
Nasteview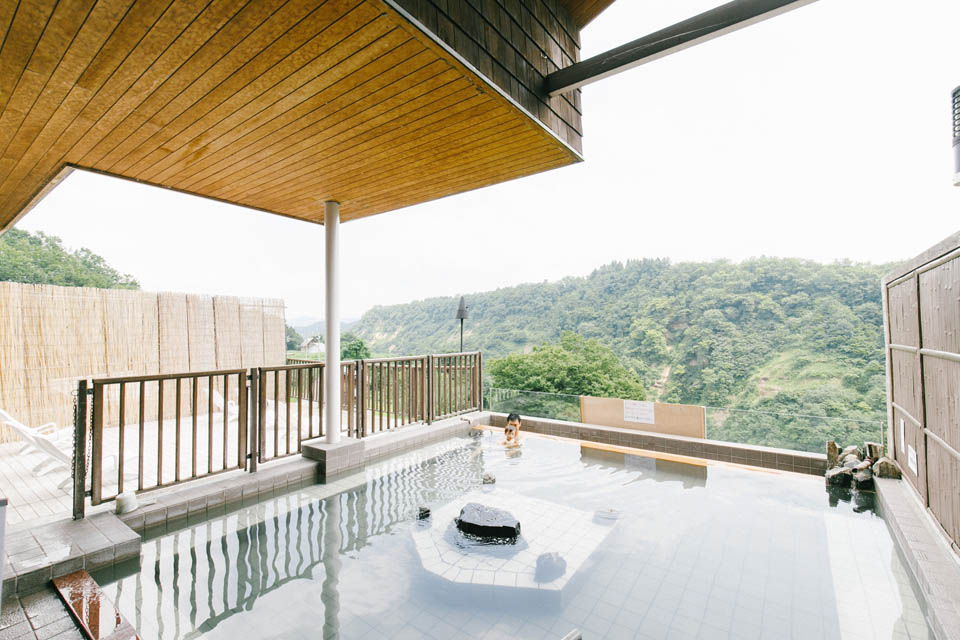 The quality of water is guaranteed as soon as you dip in. Matsunoyama-onsen is a must visit.
Matsunoyama onsen is known as one of the medicinal onsens in Japan. Open to visitors to enjoy such onsen in Nasteview. Located only about fifteen minutes drive from Sansho Ones, you may like to come here during your stay. Facility include an outdoor bath with magnificent view, Finish-style sauna and a water bath using underground water.
We featured Sansho House in this edition. It welcomes us with such a warm hospitality and is a special place making you feel at home whenever you visit.
Information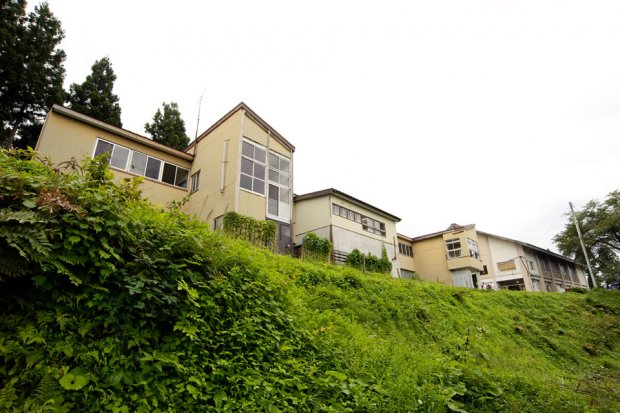 Sansho House
Address: 327 Kotani, Matsunoyama, Tokamachi-city, Niigata 942-1402
Phone: 025-596-3854
Website: http://www.sanshohouse.jp/index.html
※Sansho House is open for booking by a group of more than 10 people in principle. However, it may take bookings by individuals during the seasonal program or triennale. Please visit its official website for details.