Thinking 21st century art in the world from Niigata
Echigo-Tsumari Art Field - Official Web Magazine
Travel / Exploring Echigo-Tsumari
Tracing the history of "ETAT": Report of the official guided bus tour
ETAT operates official guided tour throughout the year. We participated in the guided day-trip bus tour including stop over for lunch. We are pleased to share highlights of the tour which plays back the 20-year-long history of the festival.
Text・edit by Mayu Nishikawa (asoview) / photo by Takeshi Yano (asoview)
26 September 2019
Arrive at "Echigo-Yuzawa station" – this is where the journey begins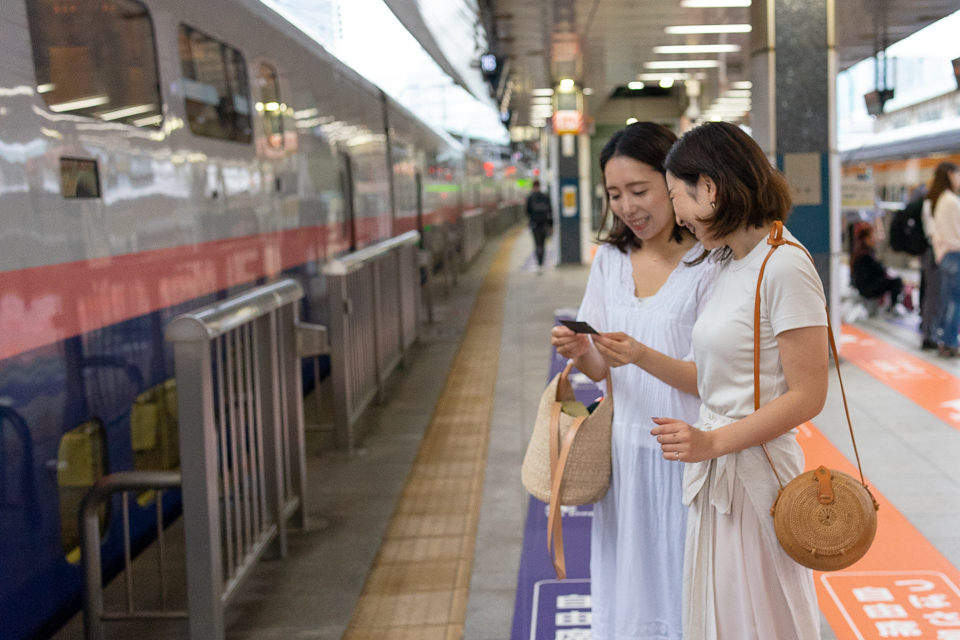 Approximately 90 minutes on Shinkansen ride from Tokyo – Niigata is much closer than we thought.
Approximately 90 minutes on Shinkansen ride from Tokyo. We arrived at Echigo-Yuzawa station where we start our journey.
No hustle of driving a car or changing to another train to get to Tokamachi where the festival is staged if you go on the official guided bus tour. The tour starts from and finishes at Echigo-Yuzawa station. It is a perfect day-trip destination from centre of Tokyo.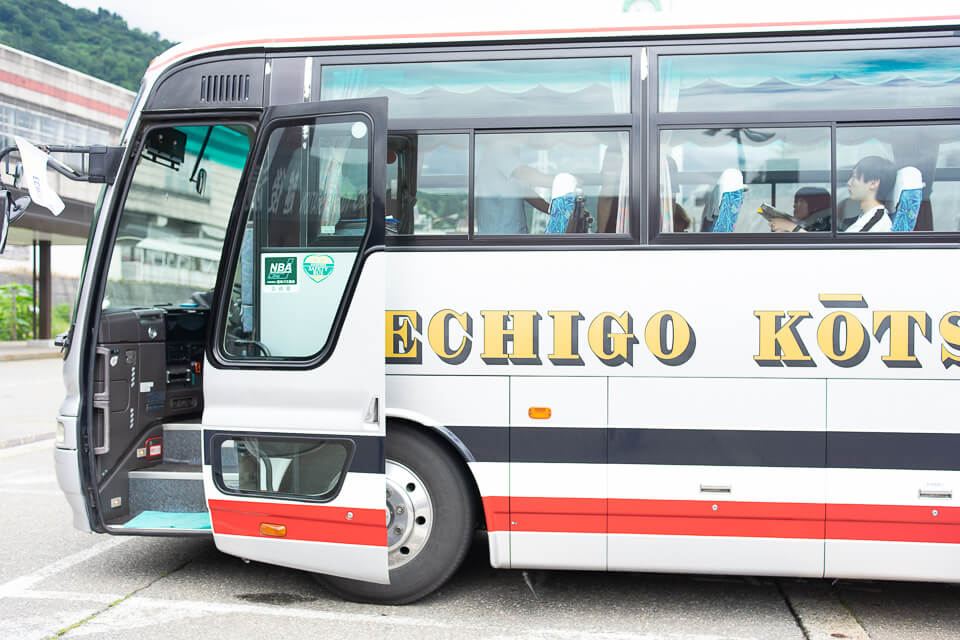 You loose no time as your journey begins from Echigo-Yuzawa station.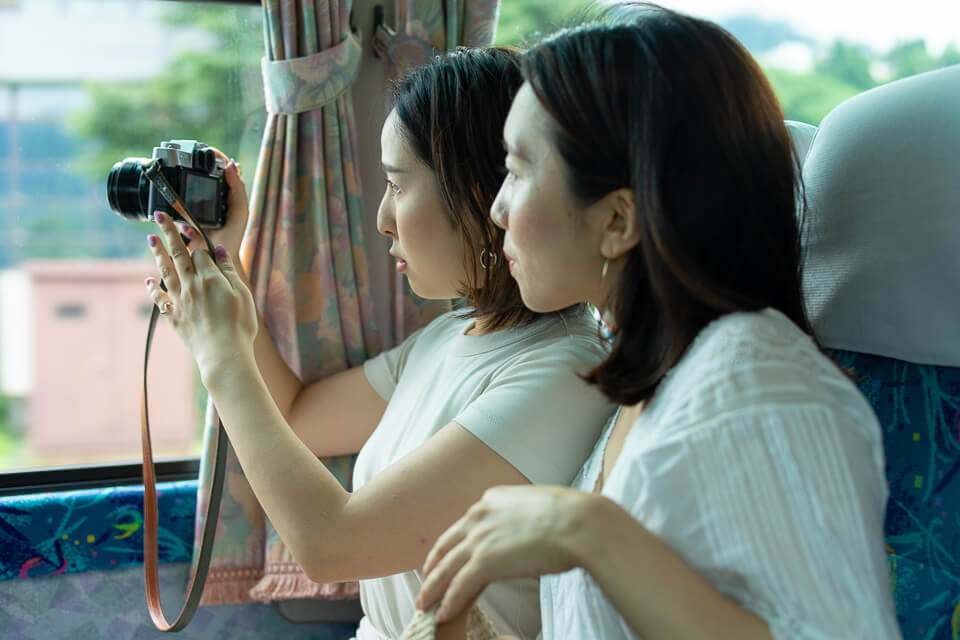 You can enjoy views from bus windows – one of the benefits of the bus tour.
The bus departs from the east exist of the station. You feel almost relaxed as you listen to an experienced local guide sharing history and stories of Tokamachi-city. You enjoy the scenery from the window as the bus goes.
Set out to a journey of exploring artworks in Satoyama. The tour stops at artworks exclusively open to the tour participants.
"Tunnel of Light" by Ma Yangson / MAD Architects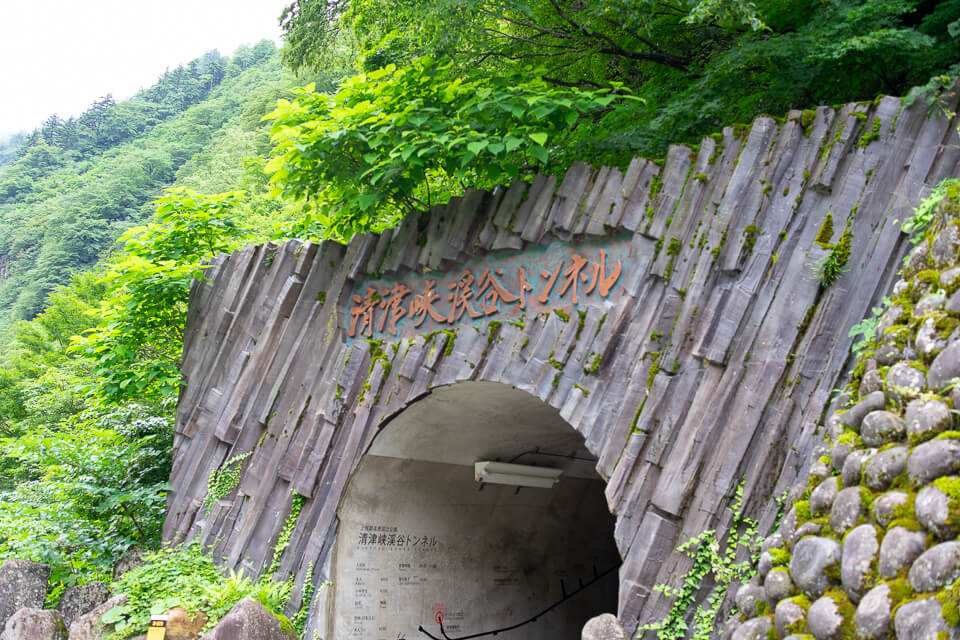 "Kiyotsukyo", one of the best three gorges in Japan and designated Joshinetsu National Park has been transformed into an artwork
The first stop, Kiyotsukyo. The tunnel which was dug for tourists to see the gorge was renovated during ETAT2018 by MAD Architects, a Chinese emerging architect practice headed by Ma Yangson. At the entrance to the tunnel is a facility housing a footbath using onsen (hotspring) which was discovered when the tunnel was dug and a café. "Tunnel of Light" spans from this facility at the entrance to the panorama station at the end of the tunnel.
There has been long queues of cars waiting for parking during holidays. We also had to wait in a line for a while although the participants in the official guided tours were given priority access. Being able to save time is also a benefit of the bus tour.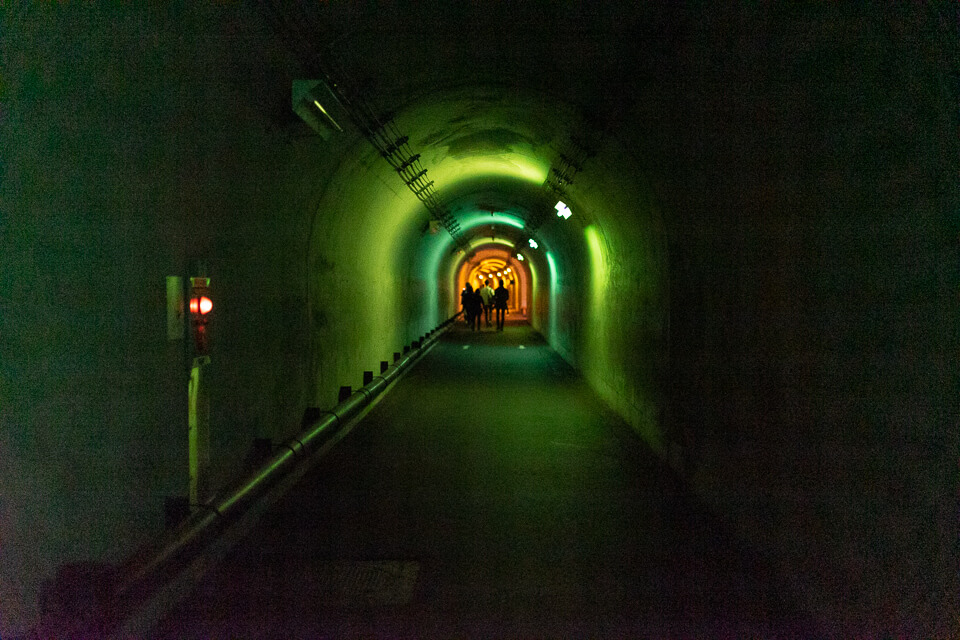 Inside the tunnel is cool and comfortable in summer.
You couldn't help feeling excited that something may happen as you stand at the entry of the dim tunnel. Inside the tunnel is so cool and totally different from the world outside. Walking along through a dimly lit up wall as you hear strange sounds from somewhere. You somehow understand why the artist, Ma Yangsong explained the artwork as "journey".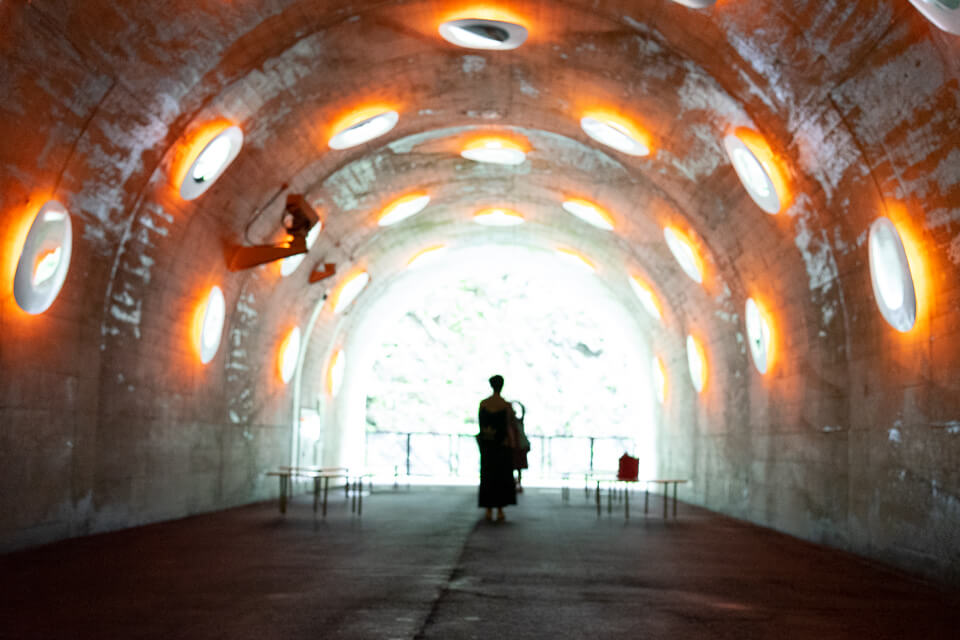 Observation decks along the tunnel are all created under different themes.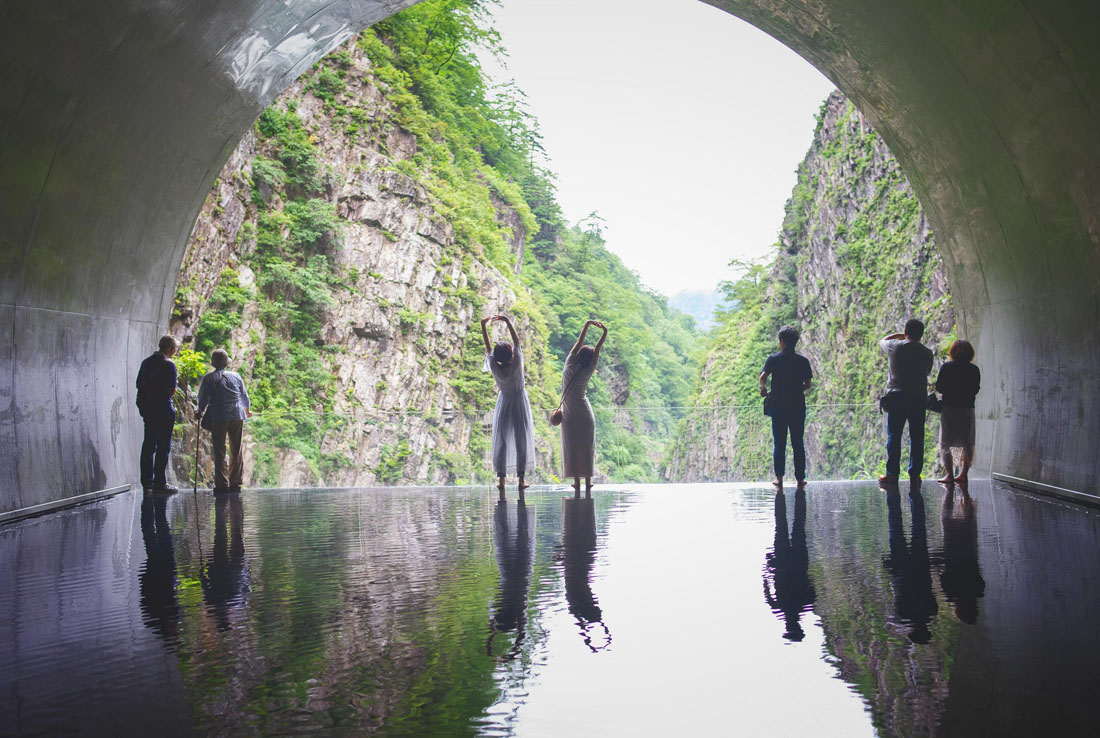 You finally reached at the tip of panorama station. Water from the gorge is icy cold and refreshing.
You will also see Kiyotsukyo gorge with rough rocky surface covered with blight greens if you stop at an observation deck on the way to the panorama station.
After walking for approximately 20 minutes, you will reach the other side of the tunnel – the panorama station where the reflection of the tunnel on the water surface and the gorge outside make the perfect space for photo-shooting. We are determined to return as we would enjoy different seasons and how the artwork resonate.
Yukihisa Isobe Memorial Echigo-Tsumari Kiyotsu Soko Museum of Art, SoKo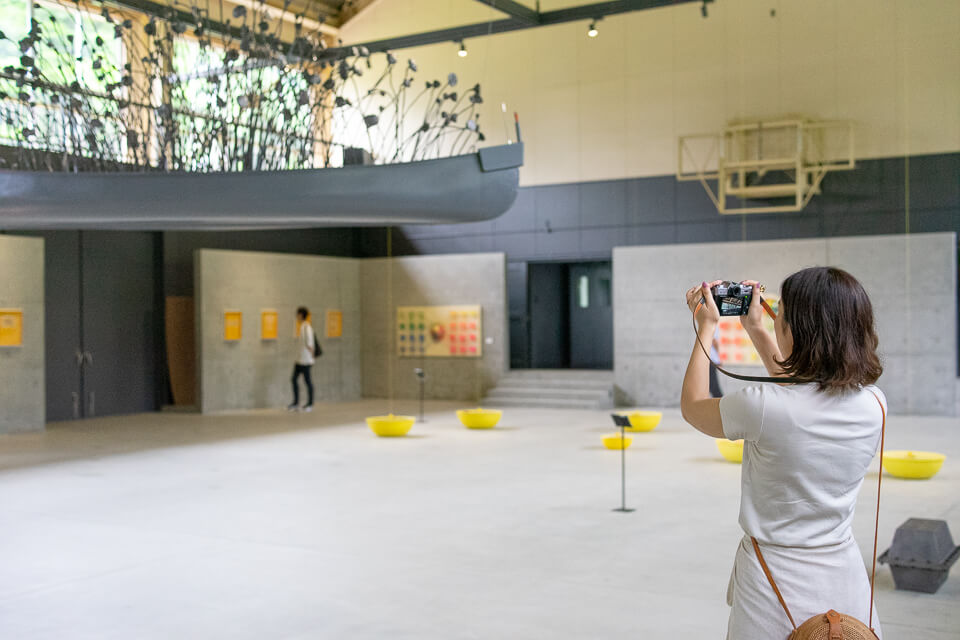 You are welcome to explore as you wish. You can enjoy artworks at your own pace.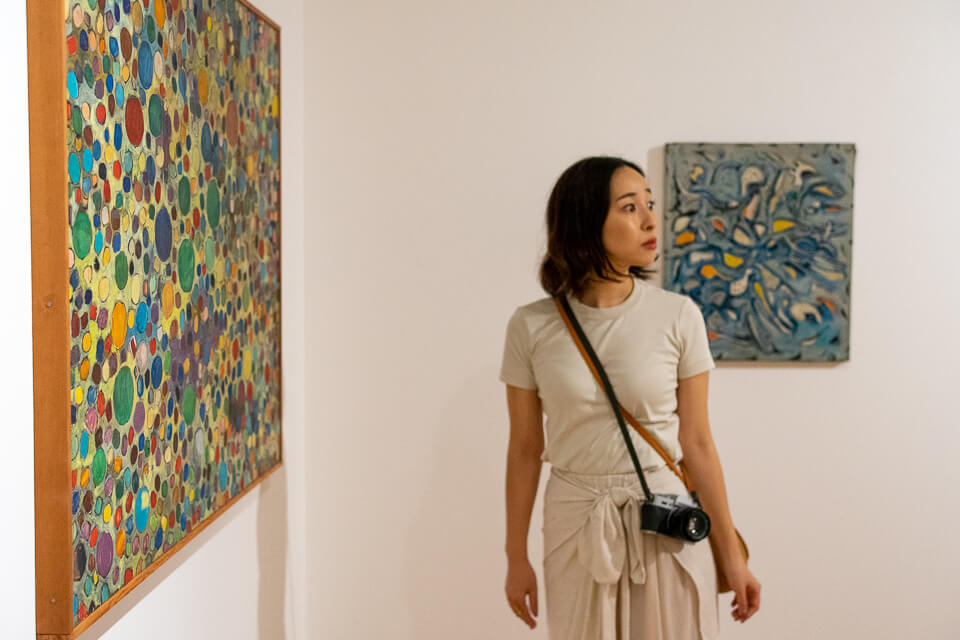 Inside the "SOKO" is filled with various artworks as the name implies.
The next stop is "Yukihisa Isobe Memorial Echigo-Tsumari Kiyotsu Soko Museum of Art, SoKo". This is a museum based upon an alternative idea of "exhibiting while storing artworks", opened in the renovation of former Kiyotsukyo Elementary School. The space hosts number of artworks including the four series of artworks featuring the Shinanogawa River including "where has the river gone" as well as "monument of mudslide" – artworks by Yukihisa Isobe who reveals and visualises the distinctive features of place.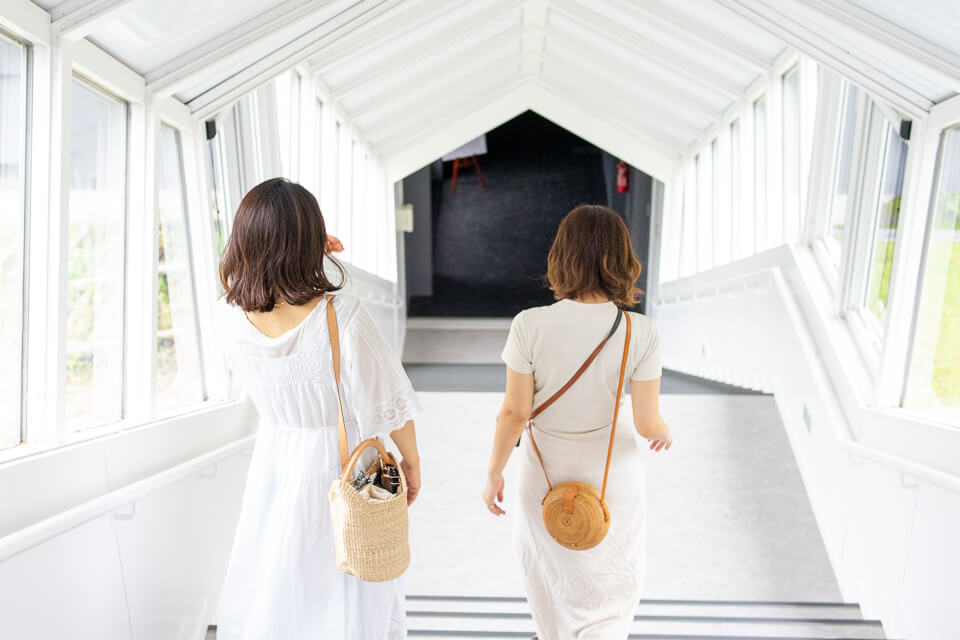 Walk through the museum in white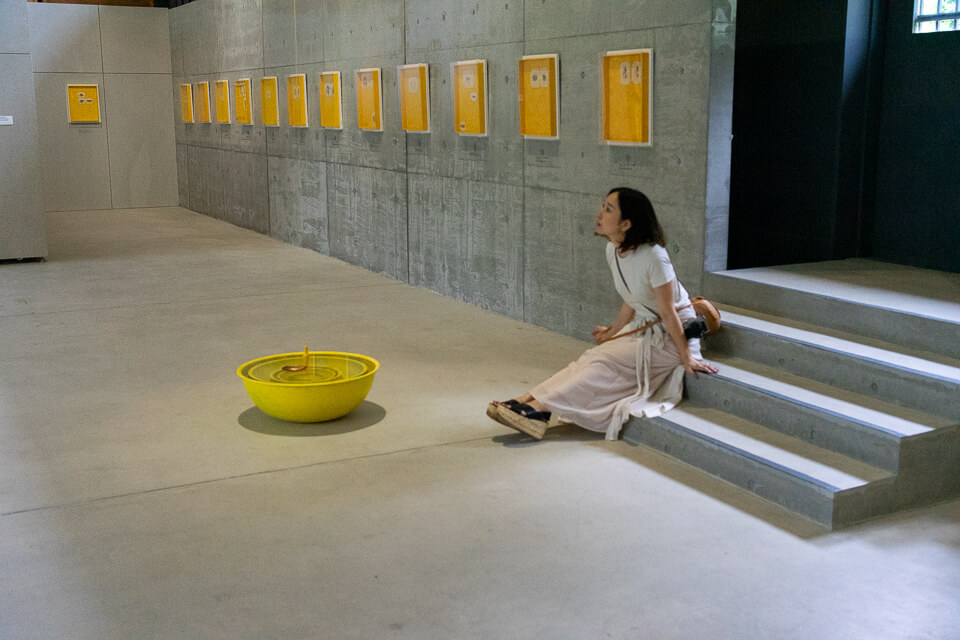 We have taken this photo – as if we pretend to be an artist ourselves.
Artworks displayed in the large warehouse space are photogenic looking from various angles. This is a place you would like to take time to appreciate artworks as you wonder about life in Niigata and its culture.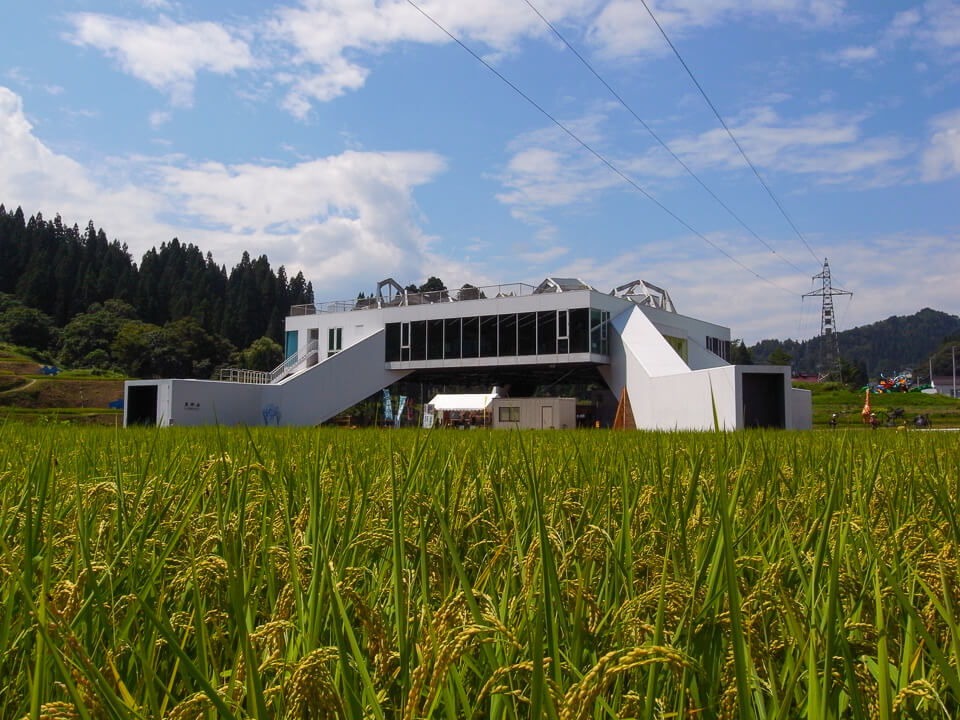 Adjacent to Matsudai station on Hokuhoku Linen. A classical train carriage is adorable. (photo by Osamu Nakamura)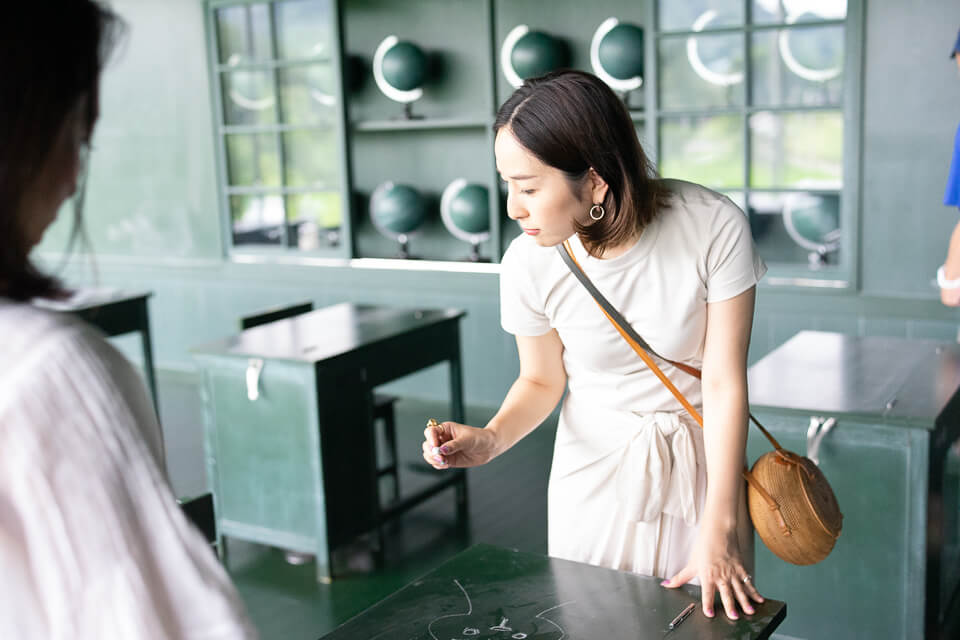 One of the characteristics of ETAT is artworks that invite you to engage. You can draw anywhere you like on the blackboard surface of this entire classroom.
We visited Matsudai Nohbutai for lunch where you can experience and learn about farming culture in a snow country. You can see exhibitions and displays distinctive to the Matsudai region known as one of the places receiving heaviest snowfall in the world.
Artworks are also scattered around surrounding satoyama landscape so we took a walk around.
"Tsumari in Bloom" by Yayoi Kusama
What captured our eyes first was "Tsumari in Bloom" by Yayoi Kusama. The artwork in full bloom that is blended in the surrounding satoyama landscape is also a favourite outdoor artwork of the artist herself.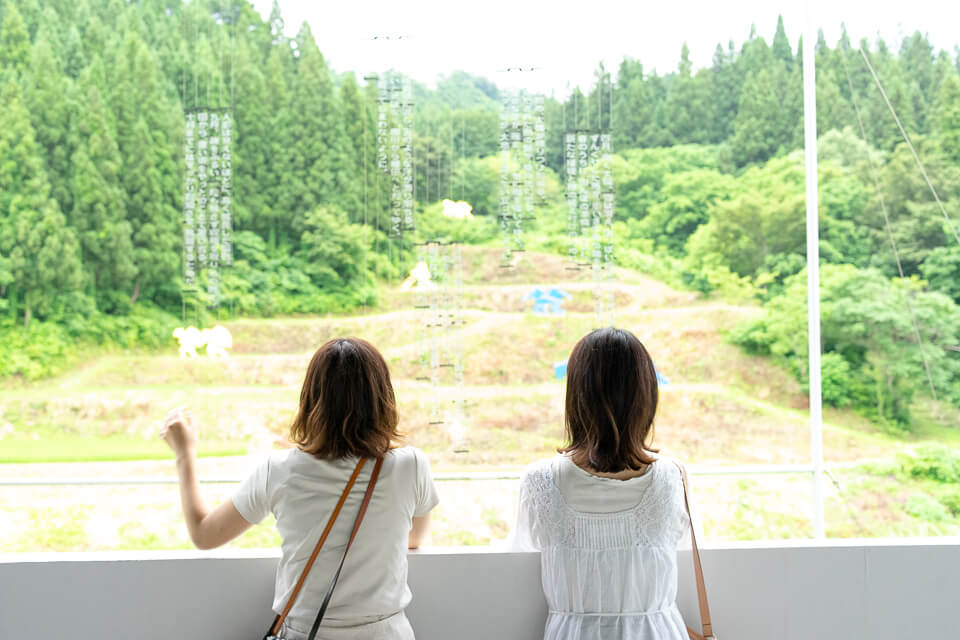 "The Rice Field" by Ilya and Emilia Kabakov
We also discovered "The Rice Field" by Ilya and Emiliya Kabakov. These sculptures represent farmers working in the terraced rice field, an iconic landscape of Echigo-Tsumari. The best spot to see this work is actually in Matsudai Nohbutai. From the observation deck you will see the sculptures in the terraced rice field through a poem on a screen which reads about traditional scene of the rice production.
Echigo-Matsudai Satoyama Shokudo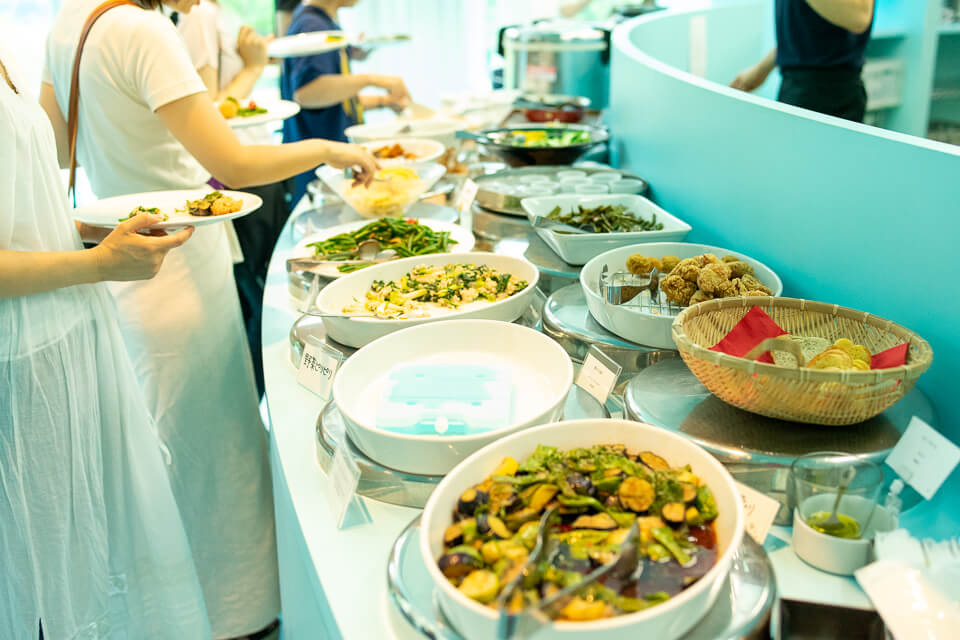 Healthy menu including mountain vegetables dressed in special sauce, Okara (soy bean) croquette, vegetable cakes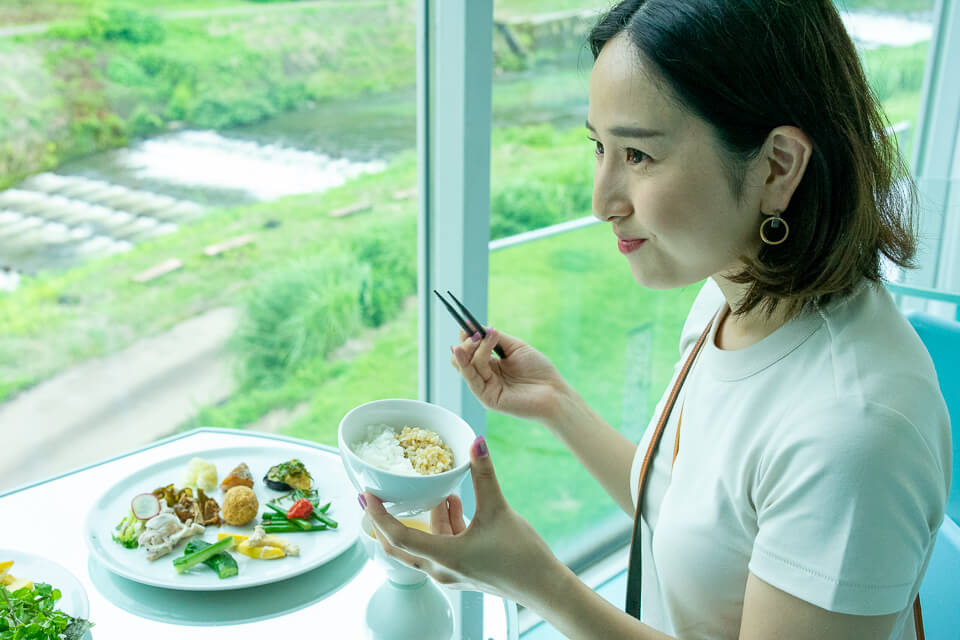 What a luxury to have lunch while overlooking the terraced rice field with the artwork by Ilya and Emilia Kabakov.
Visit Echigo-Matsudai Satoyama Shokudo located in the Matsudai Nohbutai for lunch. You can choose and pick up as you like from buffet menu featuring locally picked up sansai (mountain vegetables).
Menu changes everyday as the kitchen uses seasonal and fresh vegetables available for the day. When we visited, we had choices from colourful and flavourful dishes including greens dressed in white sesame paste, make-your-own-sushi with watercress, and chickpea curry. Rice is of course the famous Uonuma Koshihikari which has been locally produced. Each grain of rice is almost shiny and sweet flavour fills your mouth when you eat. It is such a luxury to enjoy lunch while overlooking the terraced rice field spread behind the large glass window. We are tremendously well. (Buffet style lunch is only served on Saturdays, Sunday and public holidays).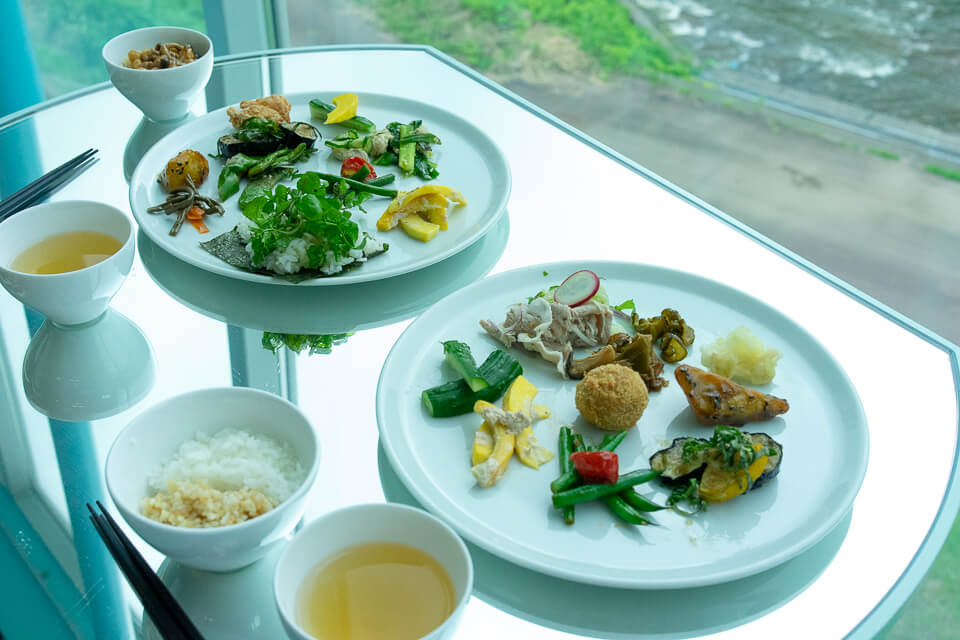 Table top uses glass and you would noticed that there are many corners that have been transformed into artworks.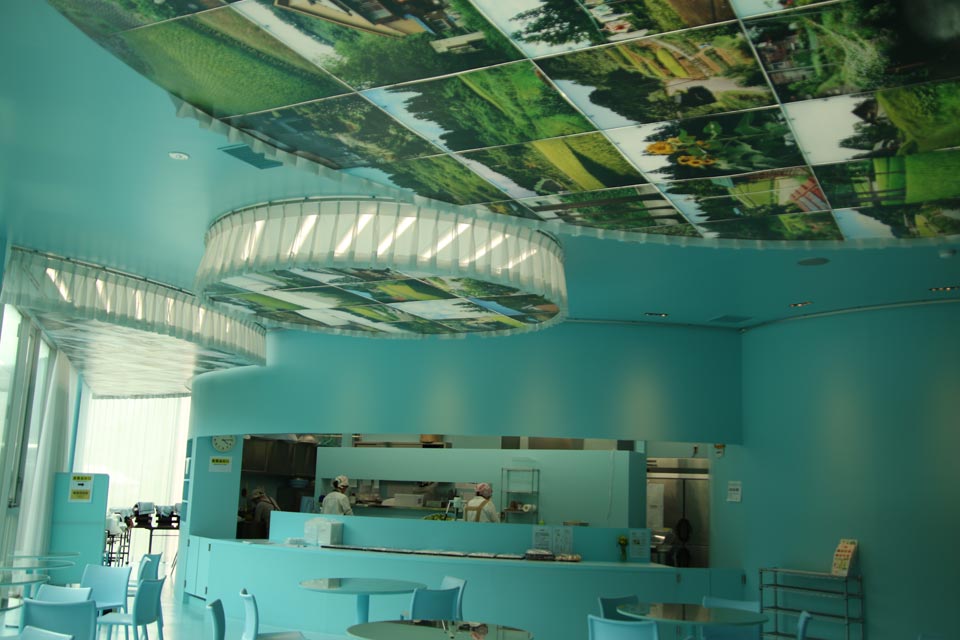 As you look up…
In fact, the entire Echigo-Matsudai Satoyama Shokudo is an artwork. Every table has a mirror table top which reflect pictures of the four seasons in Echigo-Tsumari taken by local people.
Hachi & Seizo Tashima Museum of Picture Book Art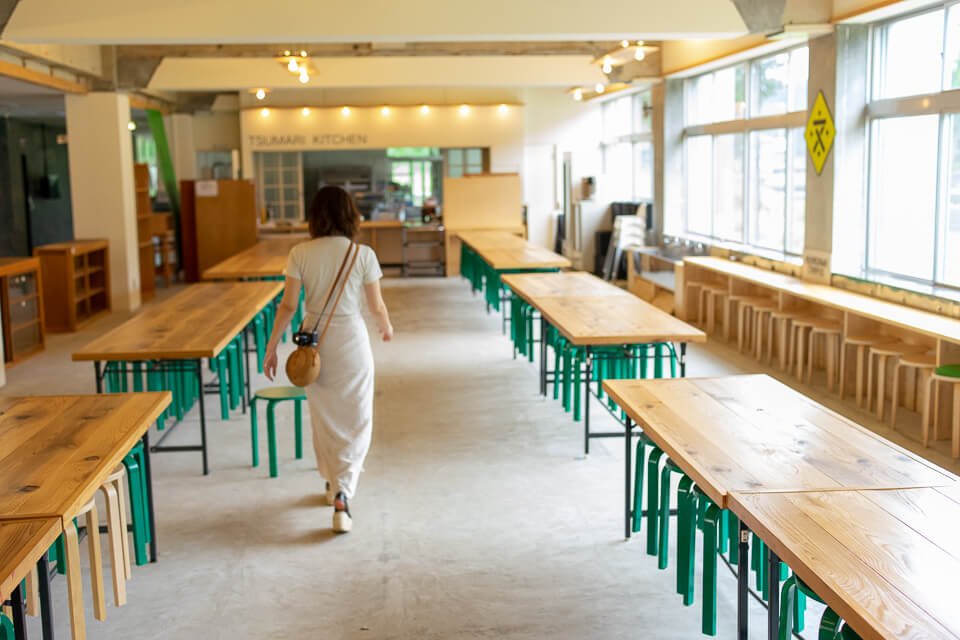 NUNAGAWA Campus offers various programs in the renovated school building.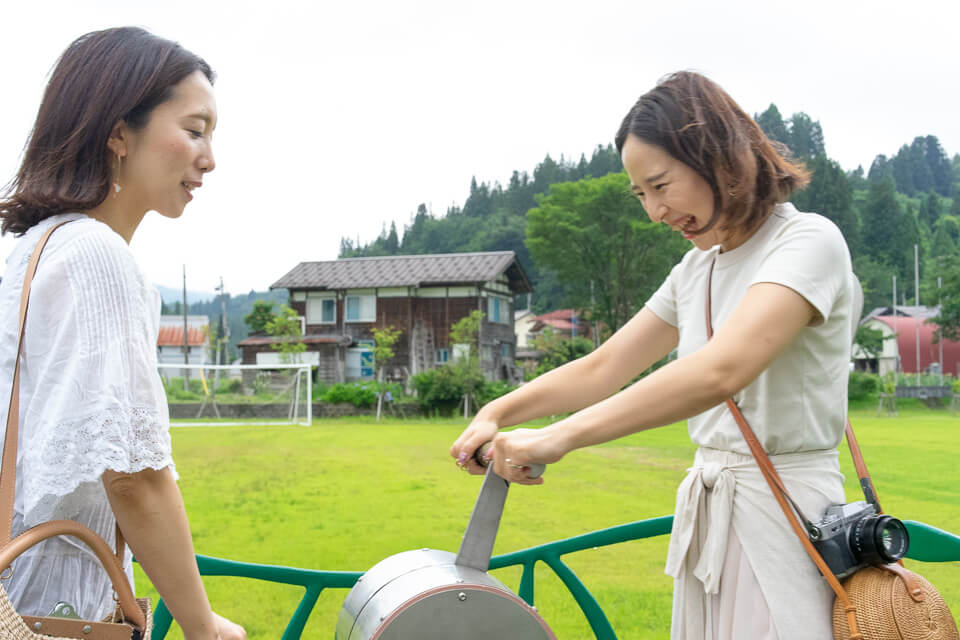 A hand-driving-trokko (rail car) in the school yard – which itself is also an artwork.
We keep exploring popular artworks from the previous festivals in the afternoon including "NUNAGAWA Camus" and "Doctor's House".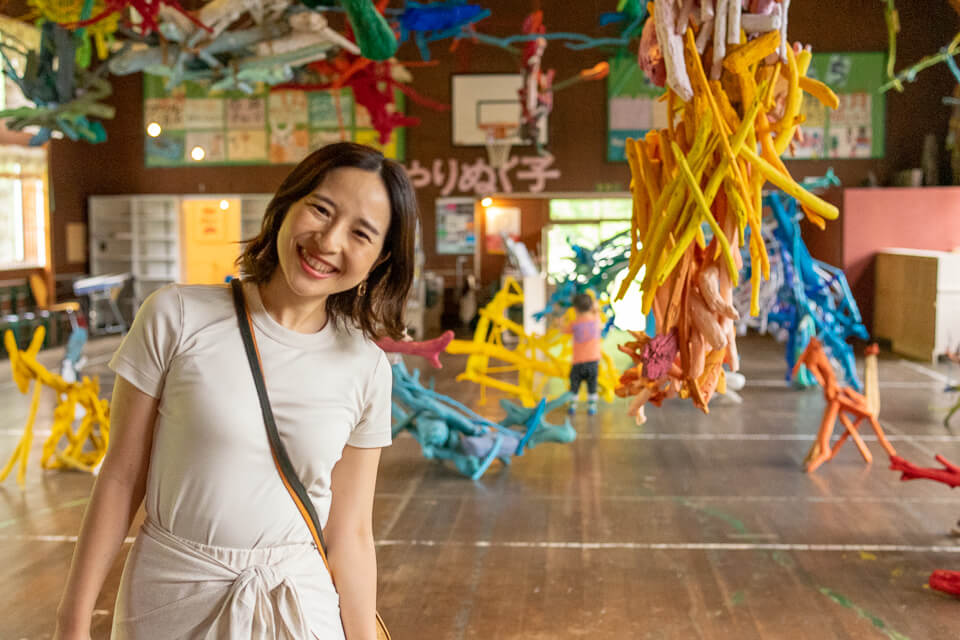 Heart-warming and soft stories - visiting the world of picture book by Seizo Tashima.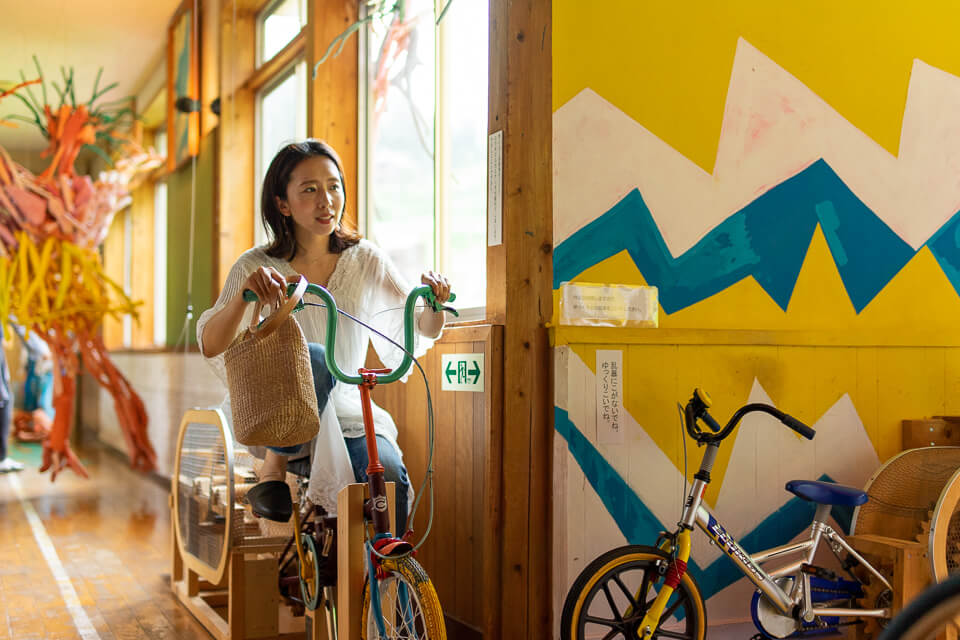 Picture books drive children crazy or movable gimmicks
We wouldn't leave without visiting "Hachi & Seizo Tashima Museum of Picture Book Art" – an old elementary school building transformed into a walk-in museum featuring a picture book story based upon the last three students and monsters inhabited the school called "The School never becomes empty". The author of the picture book is Seizo Tashima, one of the prominent picture book artists in Japan who is also an author of "Chikara Taro".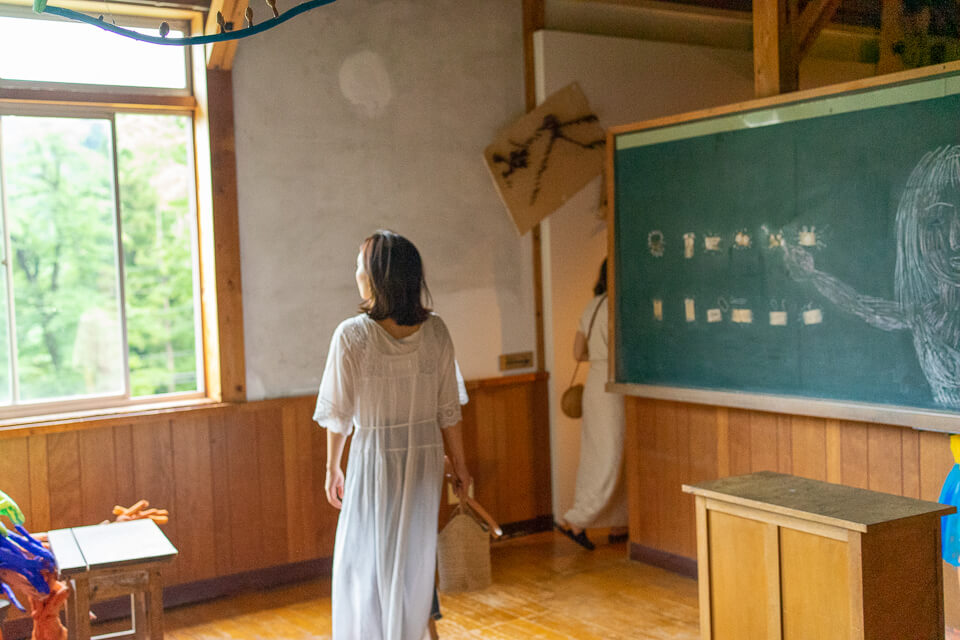 The scribbles by the last students. You will follow the story as you walk through the building.
Inside the school building is filled with objects made by driftwoods. The classroom where the scribbles were left reminds you of school days and you feel like you could hear children chatting each other. We left the artwork remembering fond memories of our own childhood and our home (where you are from) – which everyone must have something similar. As a separate note, a goat and her kid are living in the garden – one of the hidden gems to discover when visiting this artwork.
Echigo-Tsumari Satoyama Museum of Contemporary Art, KINARE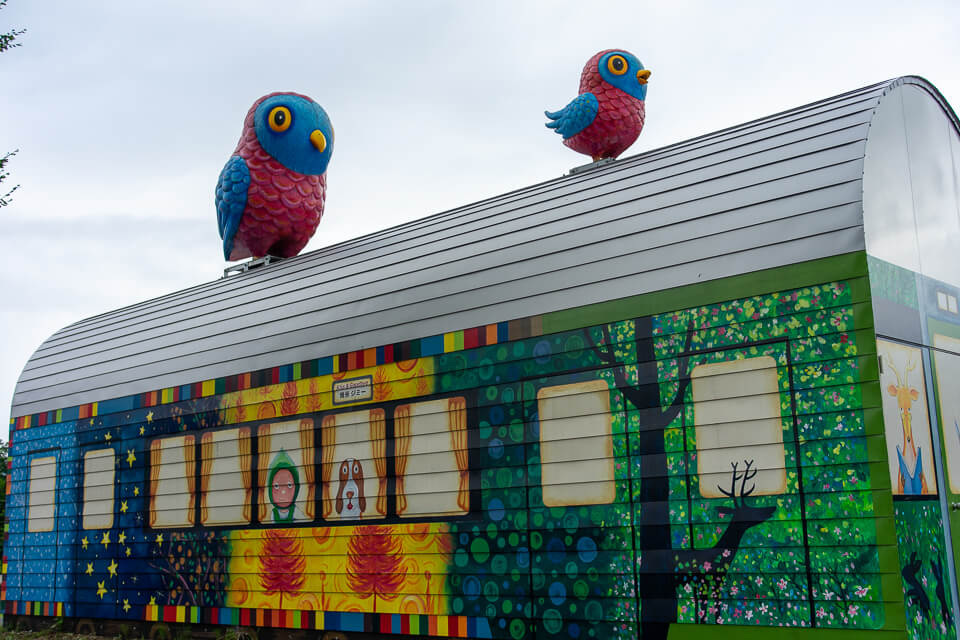 "Kiss & Goodbye" by Jimmy Liao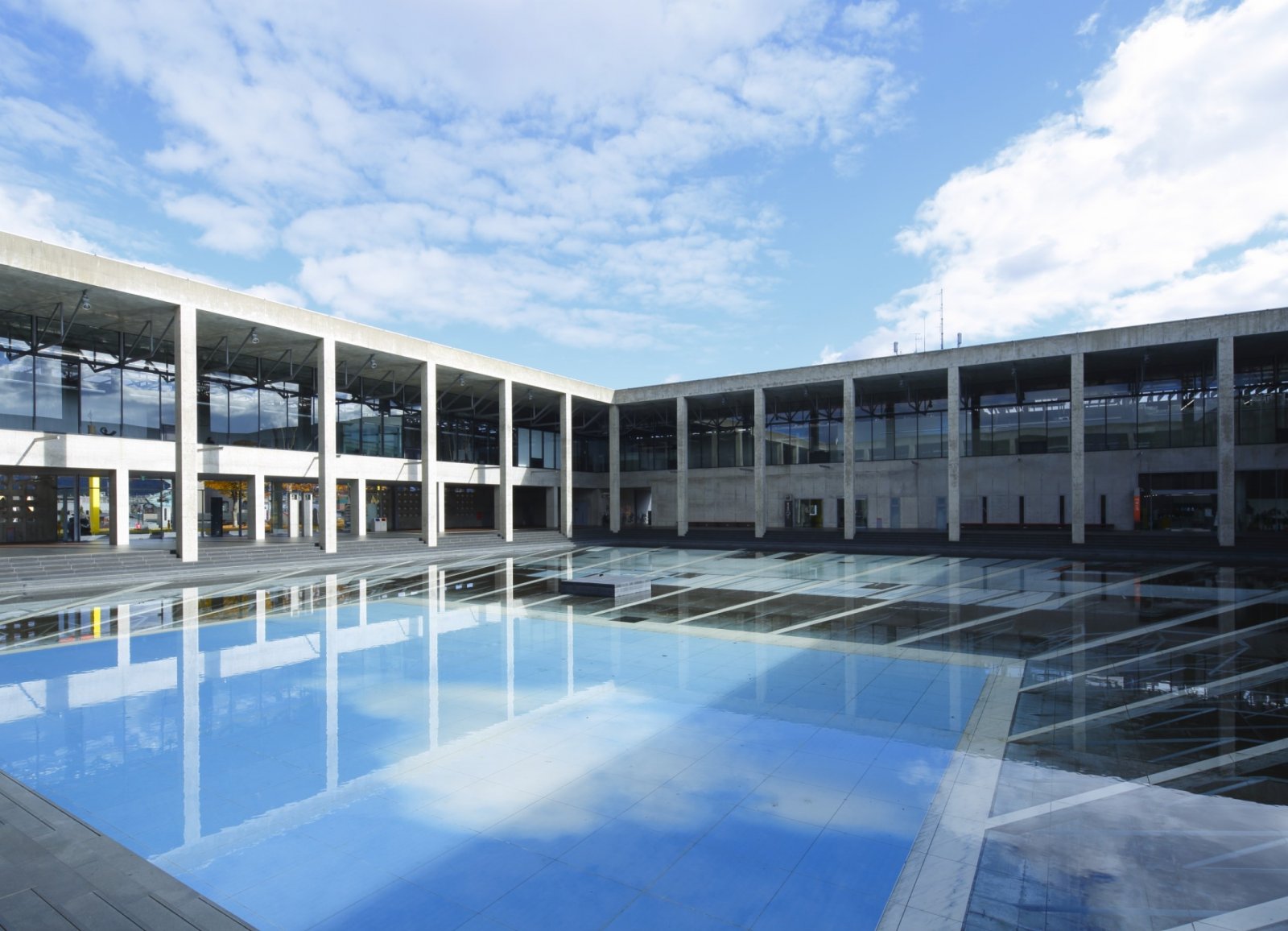 Echigo-Tsumari Satoyama Museum of Contemporary Art, KINARE
After visiting "Kiss & Goodbye" by Jimmy Liao, we head to our final artwork of the trip, Echigo-Tsumari Satoyama Museum of Contemporary Art, KINARE.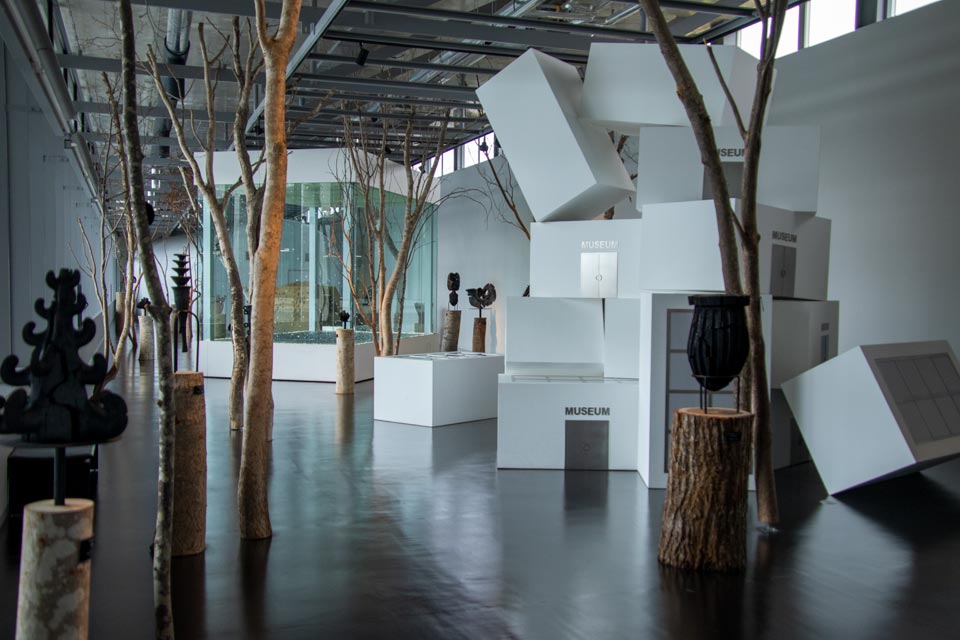 Exhibition space on the upper floor of Echigo-Tsumari Satoyama Museum of Contemporary Art, KINARE
This is one of the hub facilities of ETAT, designed and built by Hiroshi Hara in 2003. There is a large pond in the middle of thewhich is surrounded by corridor.
The drawing in the centre pond is an artwork by Leandro Elrich. The pond, building and artwork are integrated and providing strange expanse of the space. If you look at the artwork from the upper floor you will understand the intent of Elrich – so please make sure you will try. The gallery space are also filled with impressive artworks and installations that you can experience.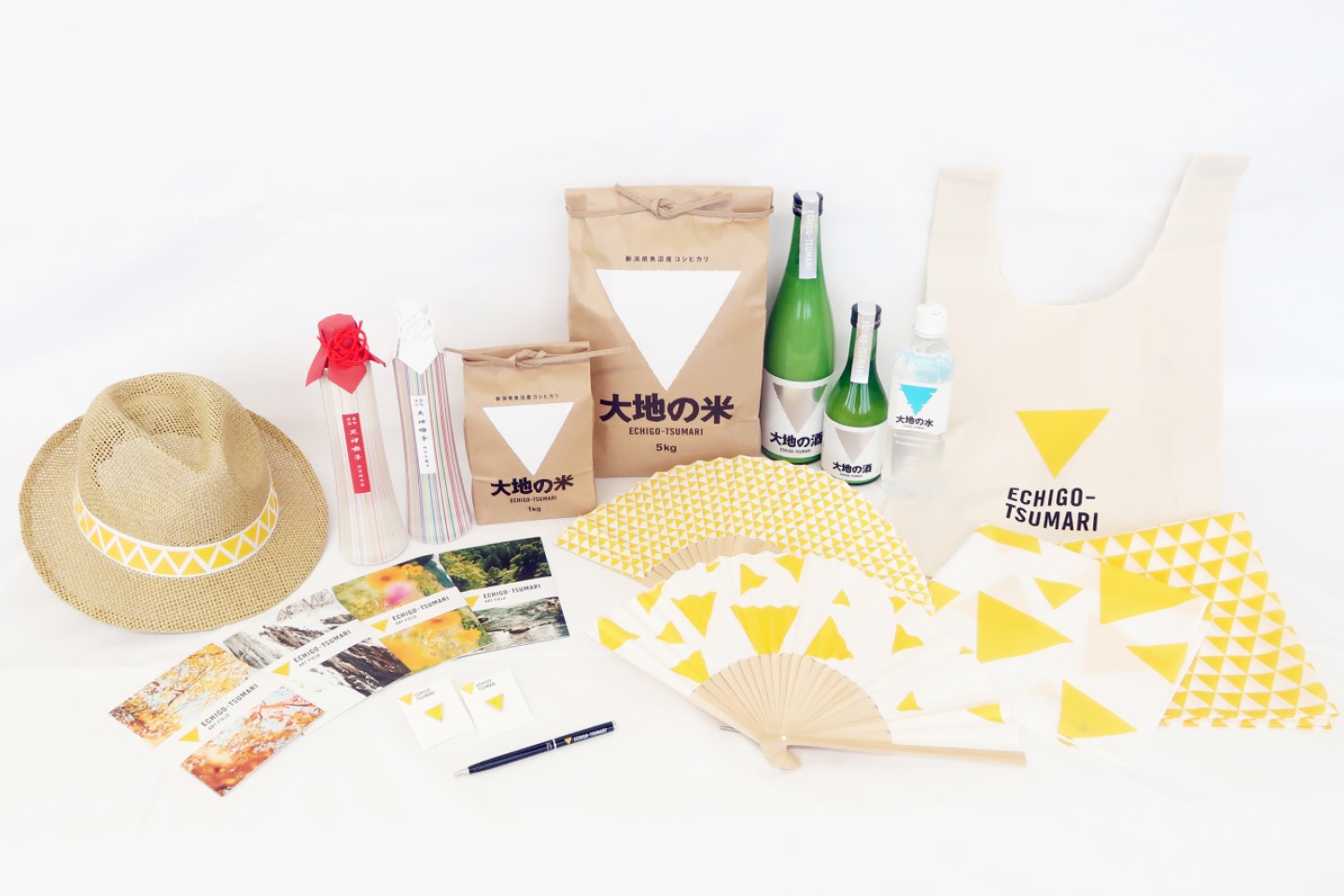 Check out exclusive products and goods only available at the museum shop
If you are looking for a souvenir, visit the museum shop on the upper floor. The exclusive products ranges from stationary featuring artworks by artists, tenugui (tea towl) to local delicacies wrapped in beautiful packages.
We are heading to return home as the evening falls. After playing and enjoying fully, you can just relax as the bus will take you to the station directly. We thank the guide and left for home by saying "we shall come back!"
When embraced by artworks in the nature, you felt as if your sense got tuned and your heart opened. We felt refreshed by participating in the day-trip even though it was just a day trip. Please visit Echigo-Tsumari Art Field where the festival is staged as there are few artworks opened exclusively for tour participants.
"Souvenir heaven" – Echigo Yuzawa station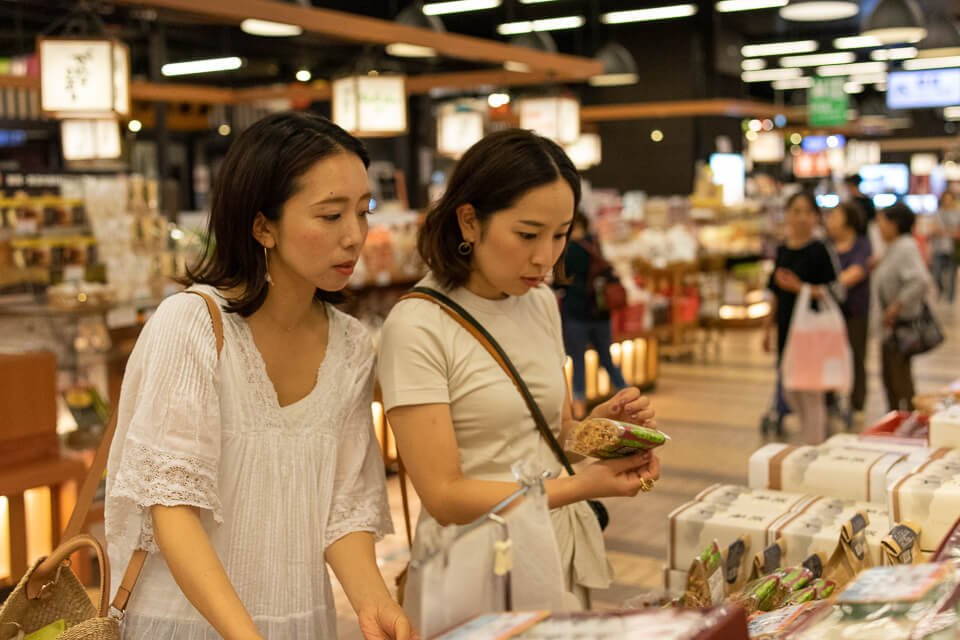 Lots of stalls with local delicacies – just strolling is such a fun thing to do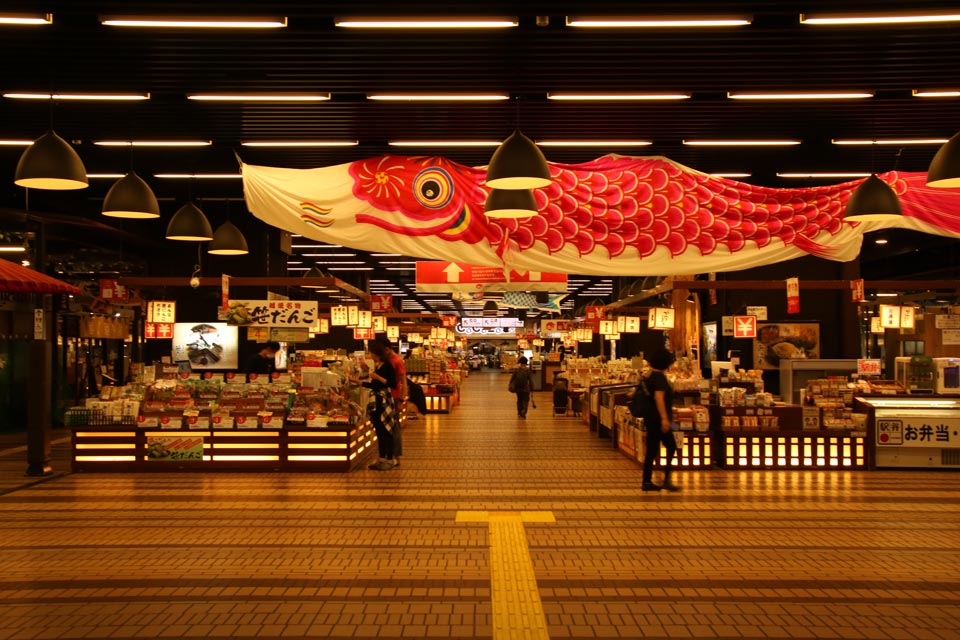 It is worth checking out as it is just located outside the ticket gate of Echigo-Yuzawa station.
When you come to "Echigo-Yuzawa" station, you may like to stop by at stalls selling souvenirs. It occupies large area in front of the station and wide range of Niigata's delicacies such as sasadango (dumpling wrapped in bamboo leaves), kakinotane (hot and spicy rice cracker in the shape of persimmon stones), kamaboko and himono (dried fish) are available for purchase. "Ponshukan" where you can try nihonshu (Japanese sake) tasting is also very popular. There are also restaurant and café. You may like to check out before you eventually return to Tokyo.