"King Lear" by Shakespeare is a tragedy set in Britain, in which the elderly King Lear is deciding to divide his realm amongst his three daughters. Becoming old and stubborn, King Lear disowns his youngest daughter, who sincerely loved him, after quarrels with her, whereas he was betrayed by his first and the second daughters. Eventually he is cast adrift, wandering through the wilderness after losing all of his wealth, power and love. Although the youngest daughter, who became the queen of France, raises an army of French troops to rescue the old king, both of them were captured and King Lear died despairing of the death of his youngest daughter in prison.
How does this story of loss relate to Echigo-Tsumari? At first Bastiaans was contemplating the idea of connecting homeless people in Tokyo with the world of King Lear using performance and video work. Some of the homeless people living in the metropolis might have held stable positions in the society once or lived in houses with their respective families. He identified something in common between those people and King Lear who lost much as he got older.
What took him in an unexpected direction was a letter he received. Sixteen years on, Bastiaans recalled the memories of those times and answered as follows:
Bastiaans:  I got a letter from Echigo-Tsumari Art Triennial asking if I could adjust my idea for the Triennial. I started to research and found out that Echigo-Tsumari is a greying society. Many elderly people are left behind while young people move away to the big cities. How do elderly people deal with such a drastic change in society, such as the farmers who are still working the rice fields? After they pass away, nobody will take care of the rice fields anymore. I realized that I can juxtapose the themes of the King Lear drama with the lives of the elder people of Echigo-Tsumari, adjusting my initial idea.
However, melding the fictional tragedy with very real social issues and asking local people to perform on stage must have presented a very delicate and difficult challenge. What made it possible for this piece to be realised was that Bastiaans focused on the universal theme of "the human condition" embedded in this play rather than attempting to superficially dramatise the hardship.
Bastiaans: I wanted to record the stories of their hardship in the past as well as their lives at present. I choose three elderly women, one blind elderly masseur, an elderly priest and a few more elderly men, farmers. The three elderly women stand for the three daughters in King Lear. The blind man is a visionary who can find his way in the dark, so important. The priest is similar to the role of the Fool in King Lear.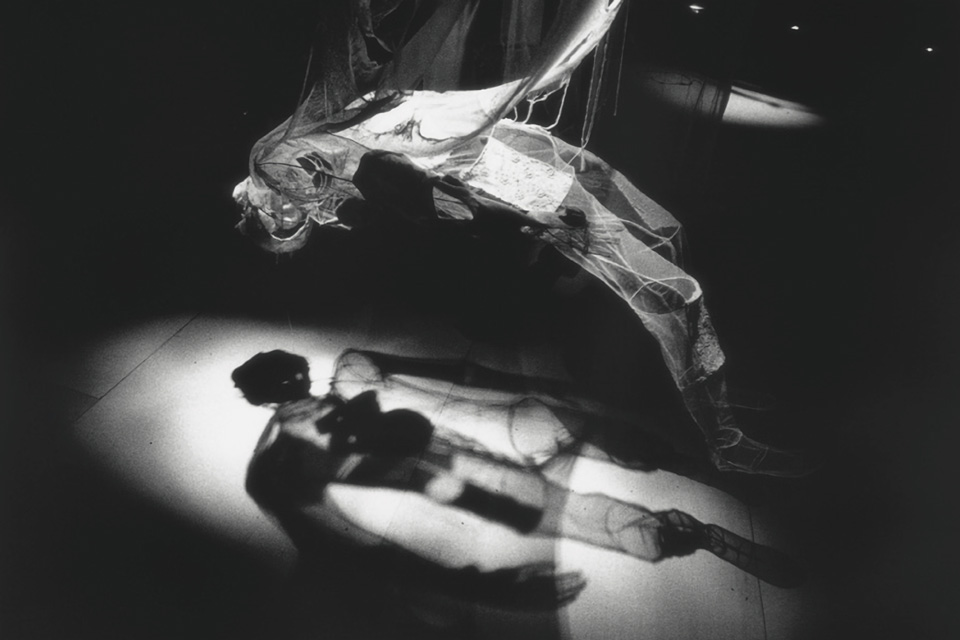 "The Real Lear in Echigo-Tsumari" directed by Christiaan Bastiaans, 2003. (Photo by MORIYAMA Daido)
Bastiaans and staff members visited ten people in their 70-90s at their homes in the mountain villages, who responded positively to the call for participation. What they did first, he laughed, was to share a drink of sake at every single house he visited. He told us that people were unexpectedly open-minded and told him their own stories straight. Such exchanges continued on for almost half a year.
Bastiaans: As the project developed, I realized that they created for themselves a happy, close community, even if nobody would take care of the rice fields after they are gone. When I visited them, I felt a happy, joyful feeling inside their houses.