What is most unique is the concept of the artwork. You will put on the suite designed to dream a dream and sleep in the bed, again designed for dreaming a dream and write down your dream in the "Dream Book" on the following morning. While the artwork was heavily damaged by the North Nagano erthquake in 2011, it reopened in 2012 after extensive renovation and "Dream Book" was published in the same year.
As you walk into the room, you will see lots of glass filled on a table. This is in fact a part of artwork. The village was dependent on well for water as the water pipe didn't exist until 2016. 24 glasses of water with reference to the area size of the house (24-ma), are presented as if worshiping such water from the well.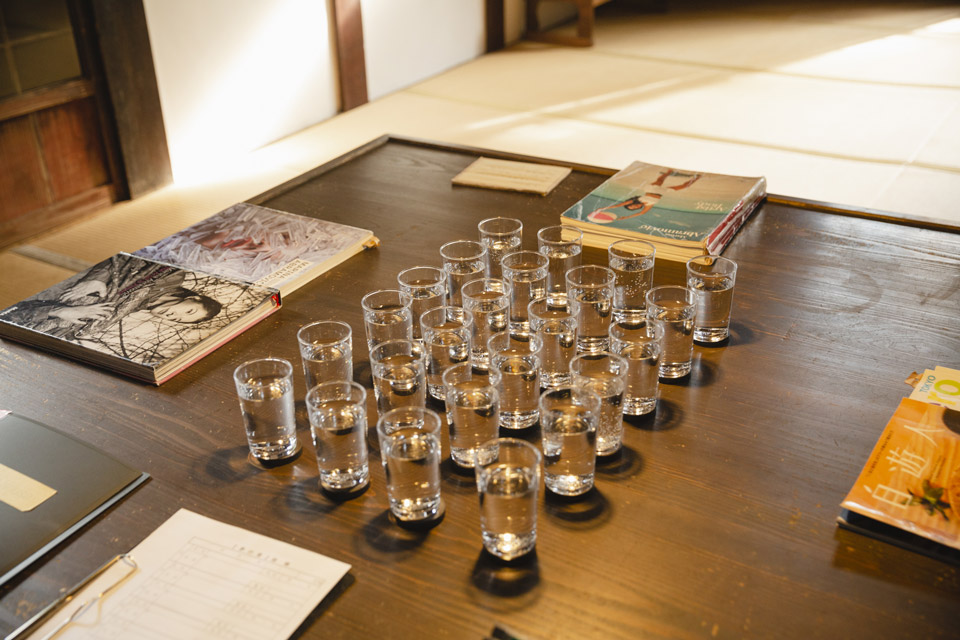 24 glasses of water on the table.
There are four rooms in four different colours, red, blue, purple and green. Each room has a bed for "dreming a dream" which looks like a coffin at first glance. You will spend solemn evening as you feel the natural energy from a pillow made of obsidian.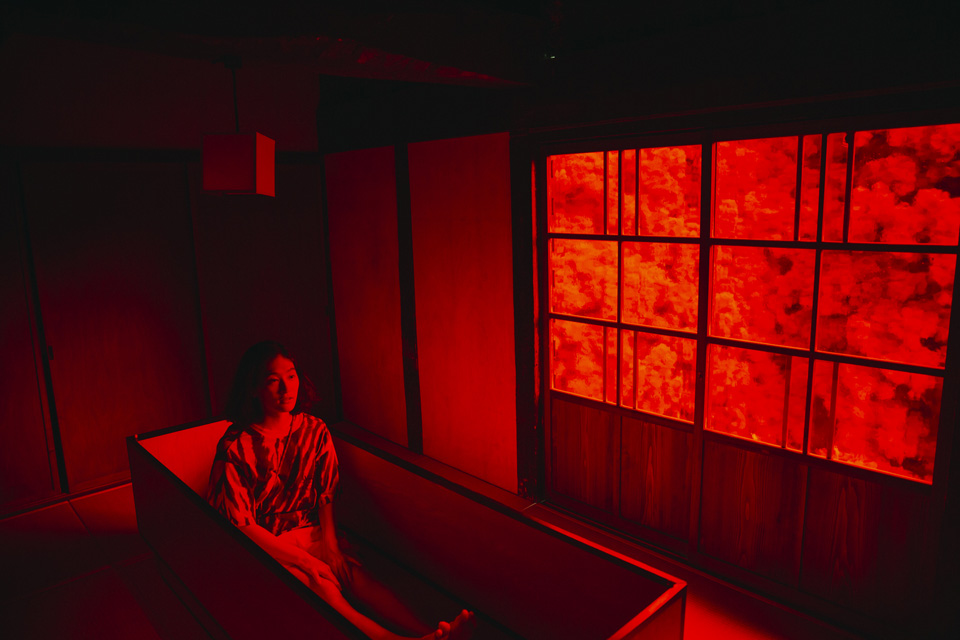 Trying the bed in the red room.
KOM_I:You feel rather comfortable on the stone pillow as you lie down. It looks hard but it feels good to sleep as it is curved. It may work well on people with straight neck. Actually I keep my dream diary. "Dream Book" is kept in the small gap in the bed which makes it easy to pick up. It is perfectly positioned to reach out and it is so beautifully done.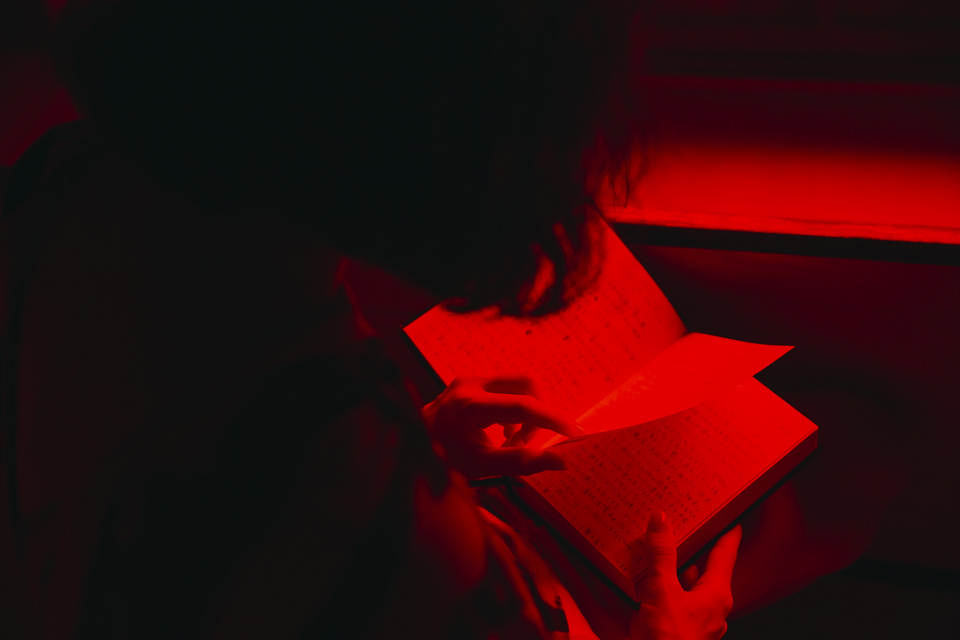 Dreams of past guests in "Dream Book"
Abramovic designed the suite for dreaming a dream. You will put magnets in the pocket to help circulate blood in the body. A message from Abramovic "spiritual recipe" is writen in red ink on the white wall in the living room. KOM_I read out a lout the sentences she was curious about by translating them into Japanese.
KOM_I:"Drink the cocktail of sperm and breast milk in the evening when the earthquake happens". What is this? It is so interesting! (giggles)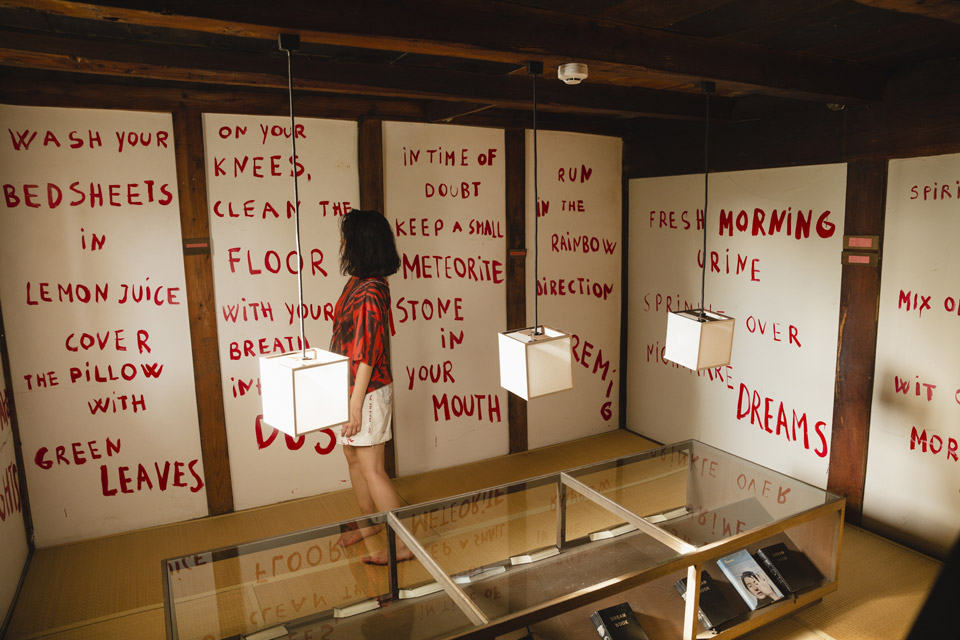 "Spirtual Recipe" by Marina Abramovic
The old classic black telephone is "telepathy telephone". The village was once out of mobile phone range and it was isolated from the world outside of the village. So Abramovic set up the phone as she thought that "while this telephone doesn't work, your thought must be reaching out to somewhere."  There is even a bath to cleanse your body before going to bed in order for  you to rethink about yourself away from the busy city life. The copper bath tab also has a obsidian pillow and you will take a bath with hearts from the garden.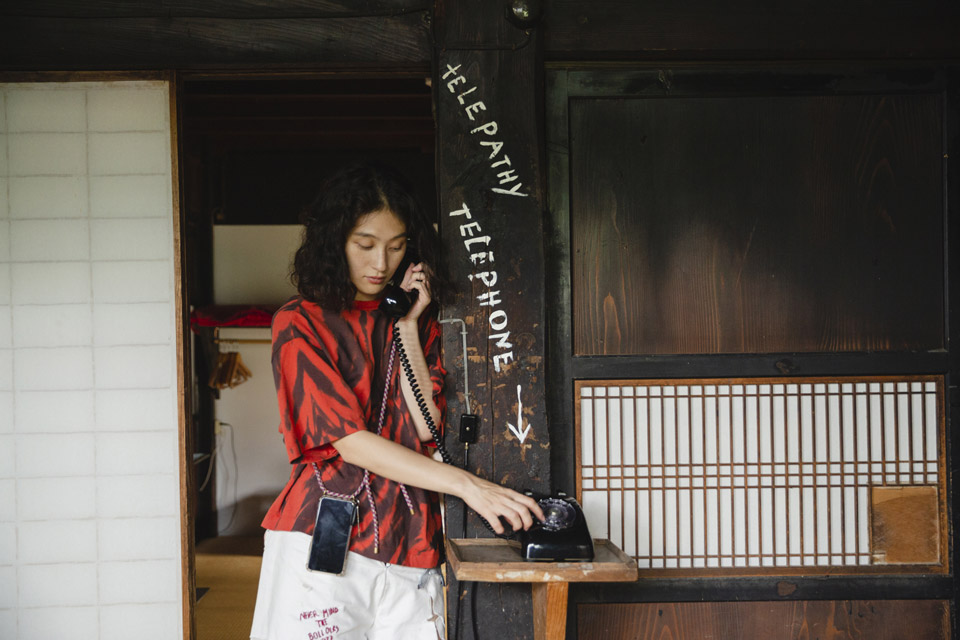 Pick up "Telepathy Telephone" which no one would answer.
KOM_I:Although the content of dream in "Dream Book" is of course belong to a person who stayed overnight, I feel like this house itself is dreaming. I don't believe in boundaries of "individual". People in the same space in the same situation somehow influence one another. For example, just by talking with someone, the way you talk or move becomes similar – you change or "metamorphose" and such sense is very realistic.
When people express something spiritual, it seems like an individual spirit at first glance while it actually not clearly defined. It is not just your own or more than you can remember. While the fantasy of "individual" is still dominant now, I am more interested in something collective. In this regard, "Dream House" where lots of individual dreams come together is very attractive artwork.