KOM_I: It looks like a ruin where religious rituals were conducted. I find it fastinating it is made of trees, earth and stones – somewhat very Japanese materials which are perishable and ephemeral.
Usually, one would wish that an artwork will last for hundreds and thouthands of years but it may well be slightly allogant. The artist may have thought that "we are living now and the work can dissapear as a part of the cycle of such life."
It has been long time since ETAT started in 2000. I wonder how artworks have been accepted as time goes by. While the artists may not be able to attend their works for long time, the artworks must have become integrated into the respective places and locals would begin to relate themselves to these works as their own. I think how the works are received is a crucial point.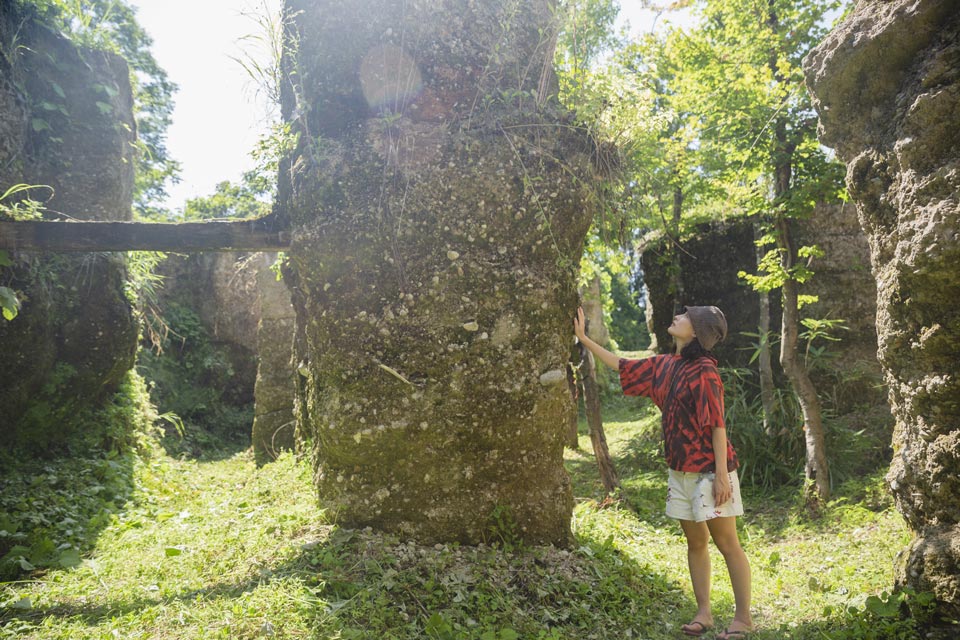 Standing for a while as she touched the earth-wall covered with moss.
KOM_I had been thinking about placenta consisting of membrace and placenta wrapping a fetus for a while.
KOM_I: Sometimes a baby is born as she breaks a membrace of the placenta. It is a fortunate event as the placenta is a sacred thing which  protects you when travelling from the other world to this world. I have visited a shrine in Suwa with "placenta faith" with Nakazawa Shinichi, a religion scholar.
There is also a theory that "Mishaguchi" means the god of stone, "Shakujin" which was also callled "Shukujin". "Placenta" and "Mishaguchi" both means "accommodate something". I heard that both "The Placenta – Misyaguchi" and "Ubusuna House" were created in the same year under the theme of "earth".  "Ubusuna" also means "conceive" and "giving a birth" which relates to this work – and make all sense.
I feel like I am tracing back in time for the ten months which was spent in my mother's belly as I walk around the circle in this work. Looking from distance, the upper part of the work are round like a belly. It also reminds me of an ancient tomb – which is a grave. It is a magnificent work if it represents both to dye and to be born in one place.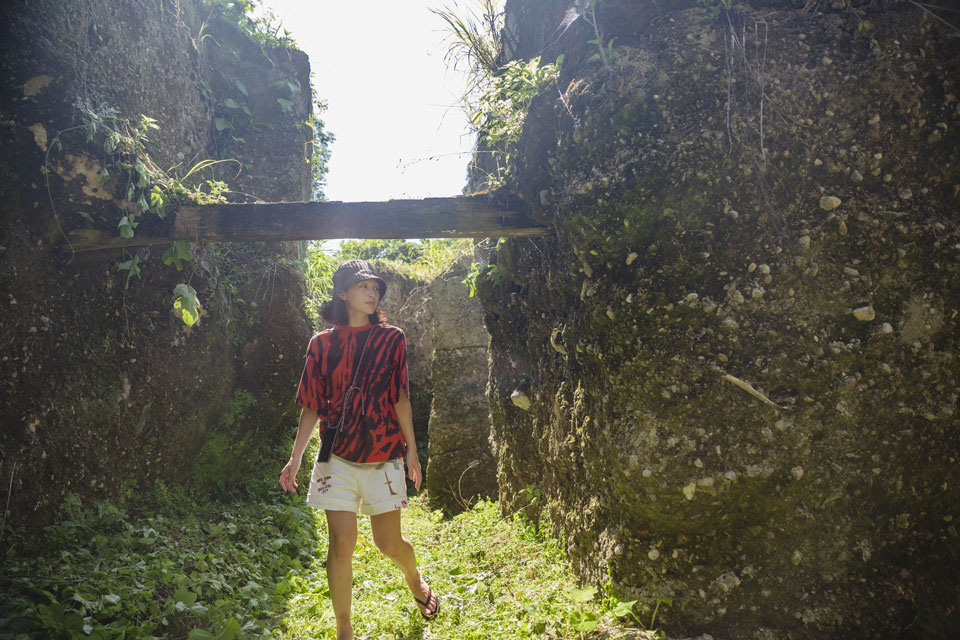 Walking around the circle inside the work. "It looks like a grave in Okinawa".
The reason why KOM_I has deep appreciation of myth and history is because she looks into history and stories of a place as she compose pieces of music.
KOM_I: There is a moment that a story makes sense to me as I pick up and connect things that occur to my mind through such research. What comes out of such process is my work. I wonder if it is somewhat similar to create an artwork.
As "art festival" has taken root in Japan as a method, more artists create works based upon the history of respective sites which are then viewed by audience. What is in common amongst people in the present time is the sense of "lost one's own roots". I guess, this is why people have a desire to return to "earth" and "put their feet on ground".