Thinking 21st century art in the world from Niigata
Echigo-Tsumari Art Field - Official Web Magazine
Story / ME AND THE ECHIGO-TSUMARI ART TRIENNALE, VOL.2-2
Mountain bounties of"Ubusuna House" are food, pottery and people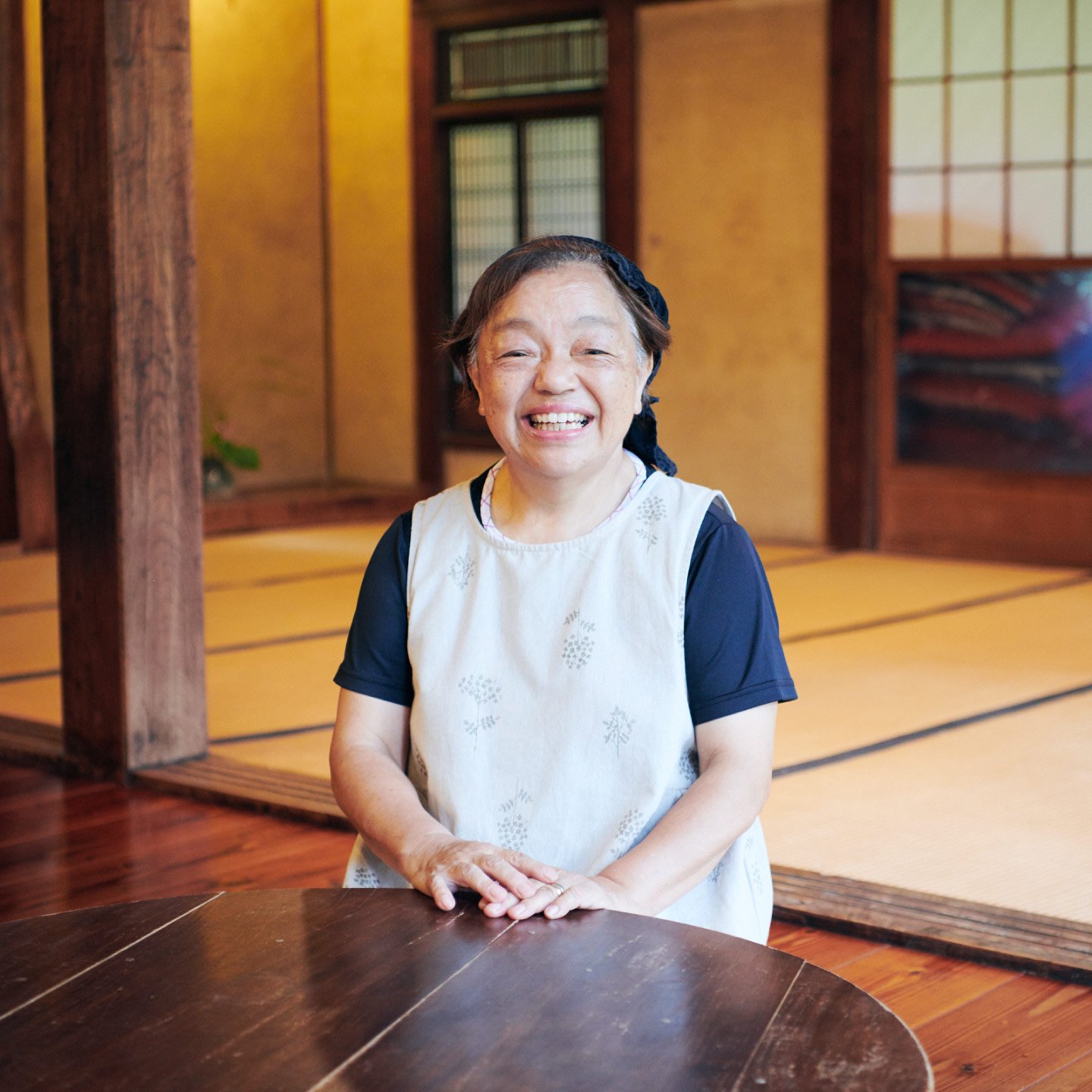 staff member of Ubusuna House
Matsuno Komiyama
Matsuno Komiyama is one of the staff members who participates in the operation of Ubusuna House. We found out about how "ETAT" and "the Chuetsu earthquake" provided her a chance to engage with Ubusuna House. In this article, we will ask her about her love for cooking, everyday life and unexpected meeting with Fram Kitagawa, the General Director of ETAT.

Text by NAKAJIMA Haruya / Photo by TOYOAHIMA Nozomu / Edit by UCHIDA Shinichi, MIYAHARA Tomoyuki (CINRA.NET editorial team) / Translated by Miwa Worrall
What is ETAT for you?
"Treasure in heart" through encounters with people
---
28 December 2019
You can do your best when someone rely on you
Higashi Shimogumi in Tokamachi-city is collections of villages in the mountain surrounded by terraced rice fields and vegetable fields where snow falls heavily in winter. What kind of life does Matsuno leads in everyday in this part of the region?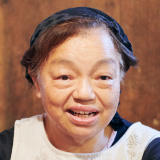 We do what it is called "multiple agriculture" where my son takes charge of the field while my husband and myself grow eggplant, leek, and rice. We sell our produces and make living out of them. While Ubusuna House is open, I work there and also look after five people in the facility called "Group Home". I have six people in my family including myself. As I am always with five to six people, I don't feel lonely at all. I get lonely easily by nature but I am grateful for leading cheerful life thanks to everyone.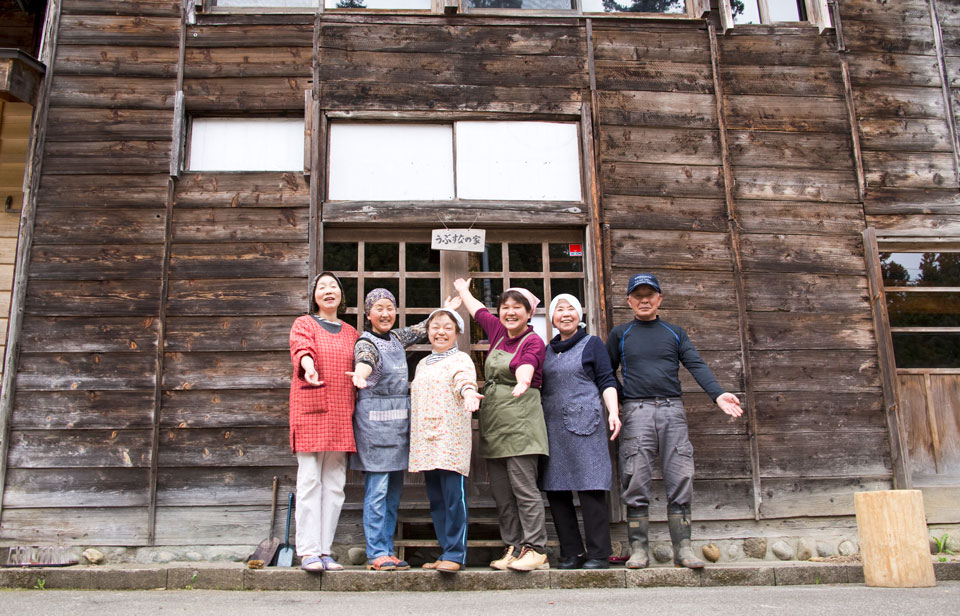 With other staff members in front of Ubusuna House (photo courtesy: ETAT)
At Ubusuna House, staff members talk and discuss their shift in accordance with booking of visitors.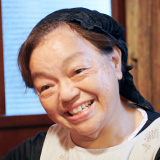 We discuss like "we can have three of us here tomorrow" or "two of you should be able to manage"- in order not to overspend on labour expense. Shizuko Mizouchi, the leader, always trust us – that is wonderful and make us think "Oh Shizuko needs us. We should do our best".
The menu of the day is flexible and decided dependent upon produces and mountain vegetables they pick up in the morning. Vegetables from Komiyama's field are of course part of the ingridients. The food filled with mountain bounties are simple but rich in flavour. Matsuno is good at cooking since she was young and she even received an award in the past.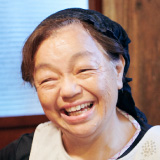 I always liked cooking even since I was a little girl. I received the best award for lunch-box contest organised by Agricultural Cooperative. I mixed Tsukena (pickled greens), distinctive winter flavour with rice, turned a scallion into pink in shiso-leaves and sprinkle sansai (mountain vegetables) to finish off. I would call it "bashful mountain bento" – isn't is lovely? I don't have particular cooking I would say I am especially good at but I have always been making my family content.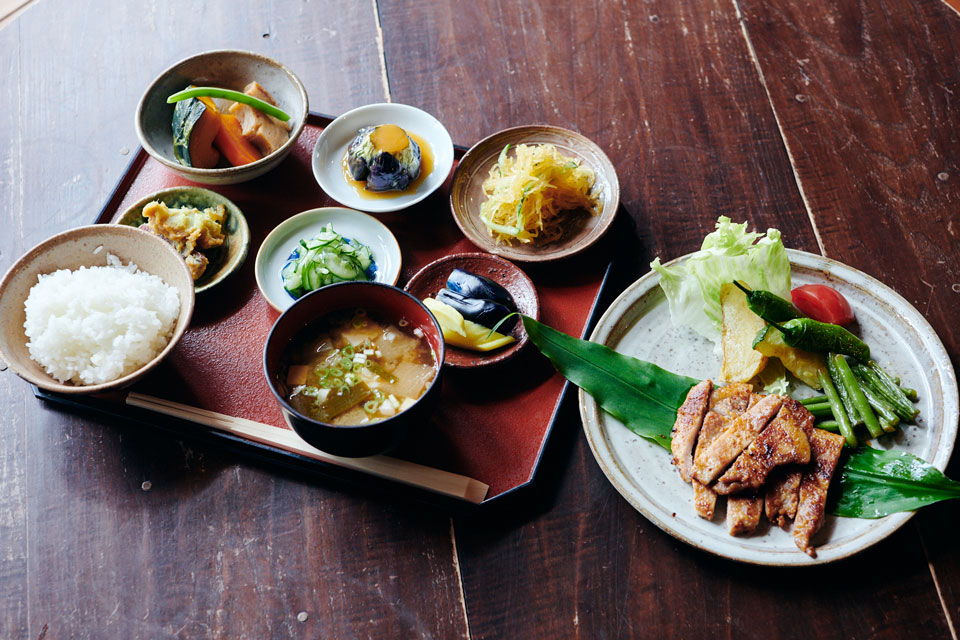 Menu at Ubusuna House make the best use of local ingridients such as bounties from mountains and Tsumari Pork
Some visitors have become great fan of Ubusuna House as they are attracted by food and people working there such as Matsuno keep returning from Chiba, Osaka and across Japan.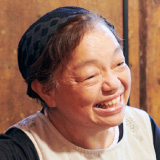 We exchange contact and I sometimes give a call to their phone. We are like friends. I received a phone call from one of those people saying "I saw you on TV" when I appeared with my husband on a TV show called"NHK Nodo-Jiman" (a TV show encouraging people to participate in a singing cotest) at Koide Cultural Hall. It made me feel happy. I even receive a phone call asking"do you happen to have that ingridients I ate last time I visited Ubusuna House?"I feel most happy when people rely on me in such manner and I pack the vegetable and send it straight away.
With people who gather at this "house"

Seeing off visitors by singing and dancing to "Tokamachi Kouta"
"Ubusuna House" has been blooming in the community and bringing new connections beyond the region. We were lucky to coincide our visit with visitors leaving Ububuna House as we could see how Matsuno and other staff members see them off. "Tokamachi Kouta" sings about Kimono which was once the major industry of the region, snow, koshihikari rice. Singing and dancing Tokamachi-Kouta to see off guests are even well received by people from abroad.
Matsuno deals with anyone with her friendly smile and cheerful talk. She has had "friendly" exchange with Fram Kitagawa, General Director of ETAT.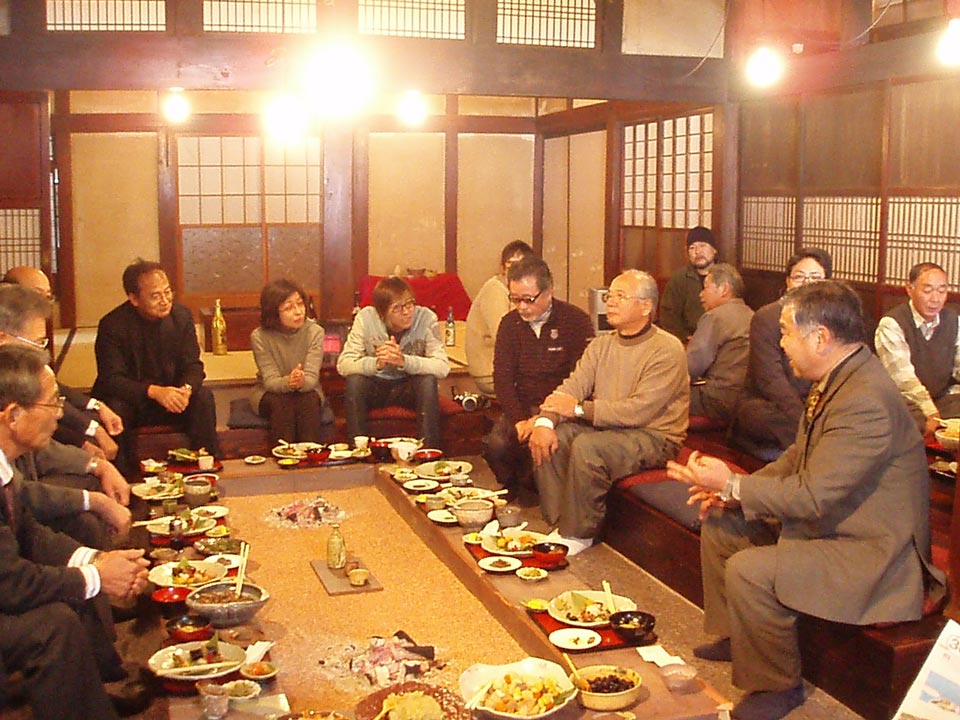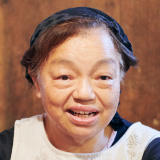 When I met Mr Kitagawa for the first time, I touched his beer belly by saying "what is this?" – and then he said "don't you touch my belly". I wasn't aware he was unhappy and continued to ask "are you wearing it for colour TV?" by pointing out his rather outstanding striply shirt – and he replied "this is the only shirt I have." I thought "I had never met anyone that grumpy." He kept visited us and said"keep going" to us working in the kitchen as he left. It made me think that "he is so invested into this house. We shouldn't let it go". 
The quiet Kitagawa and cheerful Matsuno may be a great contrast but there may be a chemistry between them.
Matsuno told us about her serious resolusion to "Ubusuna House" with her usual smile.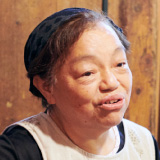 I found my job in the community I live where I can meet visitors, make friends and use vegetables I grow. I cant ask more. That is why I would like to enjoy and do my best to keep this house.
What is your favourite artwork?
"Tsumari in Bloom" by Yayoi Kusama (2000)
I would regard "Ubusuna House" as one of the artworks but what I would chose in  order to introduce the festival except for Ubusuna House is definitely this artwork. My first imression was "the gigantic mushroom grown by a strange woman". I may be scowled. But everyone knows about this artwork and it has been so strogn that I can never be able to forget since my fist sight. 
photo by Osamu Nakamura
What is ETAT for you?
"Treasure in heart" through encounters with people